DONUT 1: Mavs at Memphis ...
The
Dallas Mavericks
are 28-21. They are one game ahead of the Grizzlies at 26-21. The duel is for the eighth and final Western Conference playoff spot.
All of which means ...
"It's a big game," said Dirk Nowitzki. "You don't really want to say in February it's a playoff game, but it definitely will be that kind of intensity.''
The Grizzlies are good (especially with center Marc Gasol back since the middle of last month). And the Grizzlies are hot. Before Monday's 86-77 loss at OKC, they'd won 11 of 12 games, including five in a row.
"We've got our hands full,'' Dirk said. "It's going to be a tough game. It's going to be a playoff-type atmosphere."
DONUT 2: Fish on FOX ...
We'll have the telecast on FOX Sports Southwest featuring Dana Larson and Bob Ortegel joined by me in the pregame and postgame with Mark Followill and Derek Harper on the call, the action beginning at 6:30 p.m. I'll also have updates throughout the day and night
here with FishSports on Twitter
and of course on
DB.com Boards, where the Mavs-Grizzlies GameThread is up and running!
DONUT 3: A Mavs/Evan Turner trade? ...
Rumors that have Dallas chasing the Sixers' very available Evan Turner suggest that the Mavs are undergoing a shift in organizational philosophy. He's a young talent on the market, so isn't that a fit in Dallas?
From inside Mavs HQ, their philosophy on these matters and
their opinion of Turner as it relates to the rent-a-player concept. Trade Rumor Traffic
... a MUST-read at this time of year for Mavs fans!
DONUT 4: Dirk's gift ...
"It's like a gift. It really is.''
When Dirk said this on Monday night, he was referring to the light minutes he was able to register in Dallas' 124-107 win over Cleveland.
Dirk checked out for his usual rest with 6:53 to play in the fourth and the Mavs up 11. Thirty seconds later the lead was down to 10, but then quickly pushed to hover around the 16-to-17 point region … and Dirk was allowed to sit and rest through it all, his night done, his rest begun.
Nowitzki played 29:34. Oh, and Ellis played 33:43. Each of them were about three minutes below their average, and as they prep for Memphis, that is indeed a gift that can keep on giving.
But
"It's like a gift. It really is''
also fits the following ...
DONUT 5: Our 'Win The Dirk-Signed MFFL Choas Card' Drawing …
There are two of the MFFL Conduct Cards with the mention of Mavs "Choas'' that did not go into the trash.
I own them. Dirk has signed them for DallasBasketball.com. And I'm giving them to you.
Your entry in the Nowitzki autograph giveaway is a simple process: You only need to
be a member of DB.com Boards (it's free)
and then
post in this thread a quick thought about Dirk. ... and your T-shirt size.
Shortly after the All-Star Game, we will randomly draw two winners ... and you'll get the "Uberman'' T-shirt (long-ago endorsed by Nowitzki himself as "very cool'') and the almost-one-of-a-kind Dirk-signed MFFL "Choas'' Conduct Card.
If you are a newcomer or if you already a member of DB.com Boards, of course, you are eligible either way ... simply post a quick thought and a shirt size (and any other Dirk/Mavs-related gibberish you find entertaining) and you are registered!
Thanks to Dirk for playing along with us ... and thanks to you for hanging around and supporting DallasBasketball.com!
DONUT 6: Disarray embodied ...
The Mavs are 28-21 following Monday's dominant 124-107 crushing of the Cavaliers, a team increasingly incapable of putting up a fight. ... except maybe with one another.
While Dallas' top guns played with efficiency -- the Mavs shot 55 percent and got double-figure scoring from six guys -- the Cavs often looked like five guys searching to take five different taxis out of here.
That club is what "disarray'' truly looks like. They didn't provide Dallas with much of a test. But they did provide us all, maybe, with some perspective.
Want the
most complete coverage of Mavs games? Mavs-Cavs is here
with Video Visits from the locker room, insights from courtside and whispers from inside the front office.
Go Mavs and Go Premium!
DONUT 7: Dirk's Video Visit ...
Dirk in the locker room is just one of the many Video Visits we do here from games and practices ... go through
the DB.com Archives to find more gold and the most complete coverage of your Mavs anywhere!
DONUT 8: M-Dug's digging ...
Our Michael Dugat does the digging to discover ...
Dallas is 13-0 when shooting at least five percentage points above their opponent.
Is there a hopeful conclusion to be drawn from this? Maybe so: It's possible the Dallas defense doesn't have to be shut-down great, but rather that it just needs to be solid in comparison with its offensive performance.
DONUT 9: Shawn's status ...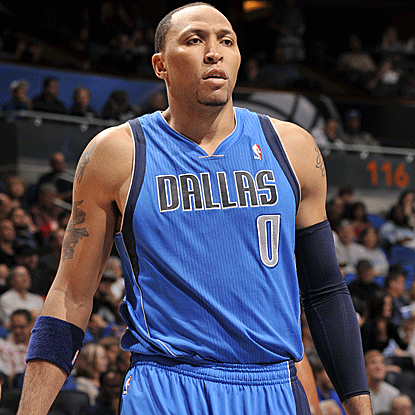 Shawn Marion practiced Tuesday despite a shoulder problem and plans be back in the starting lineup tonight.
"I feel good," said Marion, who sat out the last two games while still feeling the aftereffects of that nasty Jan. 7 fall against the Lakers. "My flexibility is back 85-to-90 percent. I've felt better the last few days and there's no setbacks. I feel like I can be good to go."
DONUT 10: Quoteboard ...
"I have no plans on breaking in (new NBA commissioner) Adam (Silver). I'll let him keep his 'fine virginity' for awhile.'' - Mark Cuban.
DONUT 11: Disgruntled Deng? ...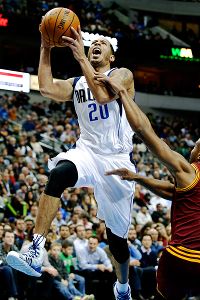 Amid talk of Luol Deng being a) likely to re-up with Cleveland with an extension and b) disgruntled with the way the Cavs roll, I think Mavs fans and NBA fans will find great value in this DB.com exclusive:
"Mavs Will Still Eye Traded Deng As Free Agent.''
DONUT 12: The Final Word ...
"Offensively, we are gifted,'' Devin Harris said. "But we have to step it up defensively.''
Tonight would be a good time to combine the "gifts'' with the "step-ups.''
DONUT 13: The Finest Dentists in North Texas! ...
At
McKinneyDentist.com
, Dr. Berlin, Dr. Markham, Dr. Lynch and Dr. Wood have been providing the finest in everything from technology to chair-side manner for years, to our family and to so many of you. Their great work has part of us bringing our Mavs coverage to you since 1995 ... And we're proud to be associated with The Finest Dentists in North Texas ... McKinneyDentist.com!