Since the end of last season and building up to last June's NBA Draft,
Dallas Mavericks
owner Mark Cuban vowed repeatedly to oversee a "quick rebuild" of the roster. He expressed once again his distaste for the "Treadmill of Mediocrity.'' But he did one new thing:
Tony Cubes talked of "making noise in the playoffs,''
which is code for "somehow getting there and not getting crushed 4-1 by OKC or San Antonio in the first round.''
The bar has been lowered -- understandable, in a sense, because once you win that 2011 NBA Championship, there is pretty much no place to go but down.
The discussion bar will be raised again. That will happen next July 1, when Cuban will head discussions with whatever free agents hit the market. It didn't happen with LeBron, Deron or Dwight in the past, but Dallas will swing again, this time maybe on the LeBron level (though his contractual status in Miami means he can bypass free agency), maybe on the Carmelo level, or more likely on
the Luol Deng level
and Lance Stephenson level.
But there are problems inherent in all those pursuits -- and frankly, in Dallas' cocksure approach to those sort of courtships.
Consider Donnie's recent quote regarding a summer plan:
"We're confident because the fact that this is a market that players want to come to. There's lots of great reasons. We know that, so waiting for the right opportunity is key. It's a decision that is made within the organization, but it also depends on what's out there. ... We know that Dallas is an 'A' market. We know that it's a place that people want to come to. It's just picking the right time."
Ah, but it's more than time and place. It's years and money.
Players get five-year deals to stay put and four-year offers to leave. Which do you think they take? Furthermore, in free agency, there are generally only a handful of players worth pursuing at the highest level. (At the next level down, there are the Calderons and the Ellises, and to be fair, Dallas has done a fine job securing that level of player at reasonable prices.
But Dallas' insistence that free agency is the primary shopping time is simply wrongheaded. There are steps we've outlined in the past in this space that, if followed, put the Mavs in far better position than simply uttering "Because It's Dallas'' year after year ... and getting free-agent shrugs in return.
Some of those steps -- and how the Mavs are doing in following them.
1. Take the draft seriously.
It doesn't have to be a wild crap shoot. There needn't be a "Superstar-or-bust" mentality. We went into last summer's draft urging Dallas to be happy "hitting a single or a double'' because a real, live NBA rotation-caliber player is an asset that can be used later in so many ways.
The Rick Carlisle-directed selection of point guard Shane Larkin fits that philosophy.
So far, so good, in terms of what the Mavs did on their last actual draft day. Larkin absolutely has the look of an NBA rotation player. It's a start.
Also so far, so good, in terms of what the Mavs did not do on trade-deadline day. They valued those two second-rounders. They didn't treat them as throw-ins, as meaningless "sweeteners.'' That's a start, too.
Ah, but one flaw: Mark's contention that this "value of picks'' is somehow a recently-recognized offshoot of the new CBA.
Recent? As we detail
here, we've been talking about this, beating this drum, emphasizing this point ... in print, on radio, on TV ... for two years!
2. Free-Agency Plan B.
The mindset: If we miss out on superstars, spend the $18M or so in available cap room on long contracts for several mid-talent players to create a low-rung playoff team.
That's exactly what's happened. The Mavs, with Ellis and Calderon supporting Dirk, are a second-tier contender. They also got bargains with Devin Harris and DeJuan Blair. They needed a center and got an affordable and passable one in Sam Dalembert.
This was the plan -- modest though it may have been. This mission is being accomplished.
Again, as it relates to deadline day, credit is due.
The temptation to give away affordable labor -- guys outplaying modest contracts -- was defeated.
Success!
3. Rebound in the summer of 2014 by adding a second and third superstar next to Dirk.
This still gets discussed as something reasonable when it is not. There will be a hold on re-signing Dirk until Dallas knows how much room it needs. We continue to believe that number won't be "a minimum'' or anything close to that. Say it's $10 million.
That's likely to leave you enough cap room left in 2014 to add one max player, not two.
History says free agents don't generally move. But if you can convince a Deng or a Stephenson to do so, you have certainly added a good player to your team. Not a superstar, though. And certainly not two superstars.
4. Re-Read that CBA.
We find this to be so basic that we can
scribble it out quickly on a DB.com Boards post
... and review it ... and kind of like the simplicity of it as we wonder whether there are very real CBA factors that Cuban & Co. failed to correctly predict:

*shorter contracts
* real free agent market due to
a - shorter contracts put players through the market more often
b - veteran extensions killed, so all players become free agents regularly
c - killing sign-and-trade control, which puts more players into real free agency
*all together, cap mistakes last shorter, cap hell is shorter and less severe
*teams, knowing the next set of free agents is only a year away, are more careful with spending
Combine all that with the tax penalties and restrictions, and teams no longer spend just to spend. Expiring contracts offer limited-to-no value, because you're getting a rent-a-player that half the league can steal in free agency. The most prized assets are bargain contracts and draft picks, both of which expand talent without expanding payroll.
Maybe to really be the smartest guy in the room, you can't just read the CBA.
Maybe you need to re-read it ... to make sure you read it right the first time.
Click this Premium Discussion Board link and we can talk about it in more detail.
And note: We're not calling for the tar-and-feathering of Cuban here. (Let's leave the foolishness of calling for owners' heads to dull-minded Cowboys followers.) He did his best to gauge what the rules would mean. We dare say he worked harder at thinking it through than any other owner in the NBA.
But none of that guarantees that any of us are going to predict correctly.
5. Recognize the most realistic place to gather talent.
This one is DB.com's stated view, not the Mavs' -- and it's where, mid-February's purposeful inaction aside, we fear they are dropping the ball.
The new CBA puts financial limitations on teams to retain their star players. But we don't see those players moving to teams with space in July; we see a better way:
Orchestrate movement with assets in February. ... and year-round.
How did the Nets get Deron? How did the Knicks get Carmelo? How did the Rockets get Harden?
Those were trades.
We believe that the Mavs' front office should be filling up the cupboard with trade assets. To a degree, they've done some of that with this roster (much more than last season's roster, no doubt).
But we also entered the writing of this story (about a month ago) preparing to state this:
We believe that Cuban has a general reluctance to "break up'' a team before its been allowed to grow "organically'' in an optimal direction. It's a fascinating concept ... But it's how Roddy B didn't get traded a couple of years ago, and it's how Vince and maybe Marion didn't get traded last year.

The Mavs should be approaching this deadline with cap room to offer, with players to offer, with what somebody else might view as "a final piece'' to offer. Don't be afraid to give up on the 2013-14 Mavs ... who aren't really going anywhere, anyway.


An expiring-but-talented player like Marion or Carter should be treated like an asset. Let the market come to you, because someone needs him. Or just keep him until the market changes. But don't waste a pick to move him – you should be getting a pick to let him go.
Nailed it.
Listen to Donnie's explanation of the "no movement'' reasoning:
"For us, the nucleus is there to have a nice push for the second half,''
Nelson told reporters in a post-deadline presser at the AAC.
"When you do make changes, even if it's at the end of the roster, it takes a certain period of time to bring guys in. In the West, it's so thick from top to bottom, you bring new guys in and drop a couple, three games here, it could be the difference in making it or not.''
Time will tell. But history already tells us plenty. Last summer, it was rumored that the Mavs might give a pick to get rid of Marion (in order to gain room). Dallas did in fact give a pick in order to unload Jared Cunningham.
That's backwards.
Cuban saying he wants Vince and Marion to finish their careers in Mavs uniforms?
That's pointless.
This team should not be looking at Carter and Marion (or Larkin or most anybody else) as jerseys to be hung in the rafters. These are human beings and fine men and all that, but they are, for the purposes of running this basketball business, ASSETS.
Dallas should've been willing to explore Marion and Carter trades all year long. (Maybe they did, of course.) And if Mark wants them to finish their careers as Mavs? Fine. After their existing contracts expire, go ahead and bring 'em back to Dallas on minimum-wage deals.
We fully recognize the fine line we are demanding be walked here. "Don't give away assets!'' AND "Explore ways to move assets!''?
But that's the job description for The Triangle of Trust. Do it right, and Mavs fans can again boast that their management team is the equal of the Spurs', the Thunder's, whomevers.
Trip off that highwire and Mavs fans are left with bittersweet re-watchings of their 2011 championship DVDs.
The Mavs must be bottom-line operators here. The acquisition of players is an asset-gathering exercise, with the goal to be to cash in, cash in, cash in, move, move, move, until you acquire a star.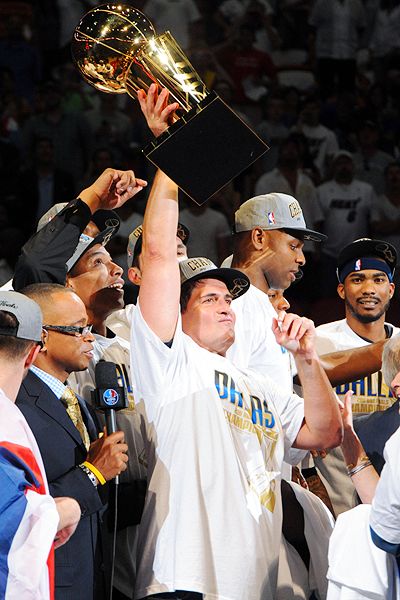 Cuban's "quick rebuild''? As we (and he?) have learned, it doesn't work that way. The 2011 title team was actually a gradual build and since then, Dallas has built a series of Bridges To Nowhere.
It is time to recognize that the most realistic place to gather talent is not July 1. There will be a handful of available stars to court. But throughout the year there are literally countless combinations to be explored. We believe that was done at the deadline. Thumbs-up. We believe it's been a problem as it relates to handling draft picks. Thumbs-down.
Is there a singular superstar coming to take the torch from Dirk? Maybe it happens. Are there building blocks to speed the Mavs' avoidance of the "Treadmill of Mediocrity.'' Almost certainly ... if Dallas is willing and able to see blueprint realities.