DONUT 1: Beneficial schedule ...
The
Dallas Mavericks
are not unaware that their recent record bunches -- four straight wins, a 9-2 mark in the month, a 10-2 record in the last dozen games -- is built on creampuffery.
"I thought here in February we'd be winning some games, but really you look at the schedule and it's all games we're supposed to win,'' Dirk Nowitzki said. "Really besides the Charlotte game, where we were pretty bad, other than that all the games we're supposed to win we've won ...''
The only losses for the Mavs during this stretch? That regrettable 114-89 loss at Charlotte on Feb. 11, and a moral-victory 117-106 loss at home on Feb. 18 to the two-time defending NBA champion Miami Heat.
DONUT 2: But going forward ...
... That all changes.
Beginning with tonight's visit from the 31-26 Bulls, the upcoming path is occupied by speedbumps.
Or roadblocks.
Four of the next five Mavs outings are against teams over .500: Chicago, at San Antonio, at Denver, Portland and Indiana … with the Nuggets, record-wise, as the only "supposed to" in the group.
It's worth noting that the last time 36-23 Dallas faced Chicago, the Mavs won in a 105-83 blowout on the road on Dec. 28.
But it's apparently not worth
over-noting
it.
"The last time was a long time ago,'' coach Rick Carlisle. "They're playing much better basketball right now. ... They've won eight out of 10, so they're one of the hot teams in the league.''
There are obviously areas of success that can and should be re-applied to tonight, of course.
"But,'' Rick said, "this is a different night, a different place and a different time.''
DONUT 3: Ellington over Crowder ...
On Wednesday, for the third consecutive game, Wayne Ellington took the minutes that have gone to Jae Crowder for the majority of this season. In return, Ellington continued his hot shooting in a win over New Orleans, converting a blistering 66.7 percent behind the arc over that stretch, including 4-of-5 against the Pelicans.
On a per-minute basis, Ellington and Crowder have been similar in most categories, with a couple of glaring differences (numbers below are per 36 minutes). From Michael Dugat's digging:
| | Pts | FG% | 3Pt% | FT% | Rebs | Steals | TOs | +/- |
| --- | --- | --- | --- | --- | --- | --- | --- | --- |
| Crowder | 10.1 | 43.3 | 32.3 | 69.0 | 5.1 | 1.8 | 1.2 | +5.7 |
| Ellington | 13.8 | 43.7 | 42.9 | 90.0 | 3.7 | 1.5 | 0.9 | 0.0 |
While the eye may be drawn to that plus/minus number that stands firmly in favor of Crowder, the 3-point percentage may be more significant at the moment, especially when considering that in his 19 games since Jan. 15th, Crowder has seen his efficiency disappear behind the arc, hitting only 20 percent of his tries.
DONUT 4: Off to Frisco ...
Crowder, along with Shane Larkin and Bernard James, practiced with the Mavs on Wednesday, and then were informed by Carlisle that they were being sent on assignment to Frisco for Thursday's Texas Legends game.
And after the brief session, Crowder was asked by Carlisle to remain in the office, and the two visited for an additional 30 minutes for what amounted to a "pep-talk meeting.''
"It was very positive,'' Jae told me. "Coach was just telling me that he believes in me, and that I've got to keep working.''
DONUT 5: Legends 121, D-Fenders 103 ...
Much was accomplished in the Legends' win -- a success that snapped a 10-game losing streak.
Crowder got his groove back.
Larkin worked up a sweat.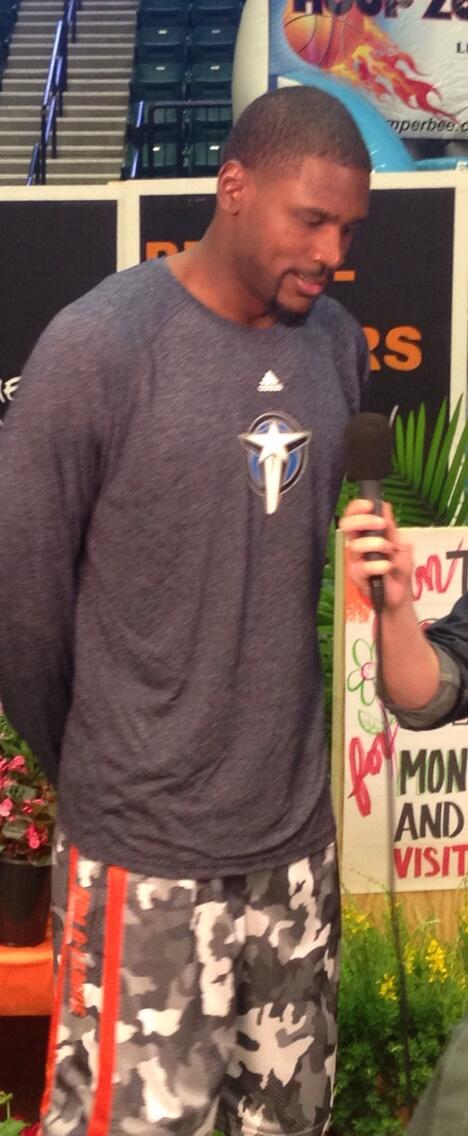 And Sarge took out a half-season's worth of aggression on the opponents.
At halftime, the Mavs' fourth-string center was 13-of-13 from the floor for 28 points. By game's end, James had filled the boxscore by scoring 38 points on 18-of-20 shooting, with 18 rebounds and four "Bernarded'' shots.
"He had a lot stored up inside him, frustration he wanted to take out on somebody,'' Crowder told me. "He let it all out.''
Crowder's numbers indicate he had some of the same: 23 points, 18 rebounds and 10 assists. Yes, a triple-double against an LA team featuring kids with NBA experience like Terrence Williams, Xavier Henry and former Mav Shawne Williams.
Larkin didn't fare quite as well as his buddies, but had nine points, nine assists and five rebounds.
"The backup guys get to work in practice, and we're going 100 miles an hour, but the (rotation guys) are working on other things,'' Larkin told me. "So the chance to go full-speed, we're all for it.''
Added Sarge: "I just wanted to play. I totally understand our situation (with the Mavs) but it's great to come up here and get minutes. ... I haven't had a chance to play like this in a game since college.''
There will be more chances. The Mavs sent the kids to Frisco along with the suggesting that it might be a "cameo'' for the three of them. But DB.com has been told of the plan:
While Crowder goes back to the Mavs today and will spend the full weekend with them, James, Ledo and Larkin will spent the weekend bouncing back and forth. They'll be at the AAC all day today getting ready for the Bulls. But then those three (not Crowder) will boomerang back up to Frisco for a Saturday night game. And then the group will hustle from there to Love Field for a late-night Southwest Airlines flight down to San Antonio to join the Mavs for a Sunday evening game against the Spurs.
Saturday night in Frisco? The Bernard James Pick-and-Roll Show continues ... and will be fun. We'll have the game on Channel 47 at 7, or come join us by getting your
Texas Legends tickets here.
"The have a basketball IQ that is very high, way above the normal D-League,'' Legends coach Eddie Najera said of the three Mavs. "They made everything we normally try to do look so easy.''
Here's our entire telecast of the Legends' win featuring the three young Mavs:
DONUT 6: Best steaks in DFW! ...
Thanks to Dee and the incredible staff at
Dee Lincoln Steak and Burger Bar
for our wonderful Mavs pregame dinners ... the legendary DFW restaurateur has done it again.
Dee Lincoln Steak and Burger Bar is becoming THE "upscale casual'' place to dine before you attend events in Dallas, including tonight's Mavs-Bulls game ... And the gang from DB.com looks forward to seeing you there thi weekend!
DONUT 7: By a thread ...
From the Wednesday win over New Orleans: For the 20th time this season, the Mavs allowed their opponent to convert at least 50 percent of their field-goal attempts.
As you can imagine, that's not a winning formula. The Mavs are 8-12 in those games, and have managed to win when they have because Dallas deals with the pressure of having to shoot better than that. That's happened five times and the Mavs have posted a 4-1 record.
But here's the bacon-saving number: The Mavs' winning percentage when allowing their opponent to hit at least half of their shots is .400 … the league as a whole was 57-211 (not including Wednesday night's games), a winning percentage of .213.
Meaning ... Dallas' defense is rough. But Dallas' offense is so good that it is twice as likely to manufacture a win against a hot-shooting team that the NBA-at-large is.
DONUT 8: Happy birth(week), Devin! ...
Devin Harris turned 31 on Wednesday and our Video Visit finds him in a reflective mood:
DONUT 9: Quoteboard ....
"Is there 2 Mark Cubans?'' - The incomparable Dwain Price, on Twitter.
DONUT 10: Mavs 108, Pelicans 89 ...
After closing the first half with a 12-4 run, the Mavs would not look back, leading by as much as 14 in the third and 23 in the fourth on Wednesday before finalizing a 108-89 win over the Pelicans.
At that moment, Dallas was the No. 6 seed in the West ... and as we sit here today, still looking to climb.
Come inside the locker room with us
for Video Visits with Dirk, Vince, Rick and Monta and review the win!
DONUT 11: The DB.com Mavs Podcast ...
We have our infamous
DB.com Mavs Podcast here on iTunes
and up and running below as well ... with a very special cast of characters:
Mike Fisher
,
Kevin Turner
and
Mike Marshall
pull up a chair to the hoops roundtable to kick around the issues as we dish about MavsWorld.
The DallasBasketball.com Mavs Podcast, y'all!
DONUT 12: The Final Word ....
This stretch we've got coming up is pretty tough, a lot of good teams, some of them on the road, so it should be a good test. I think after Friday we only have a couple game left against the Eastern Conference and none on the road, the rest is just Western powerhouses. It's going to be tough, and if we want to make the playoffs we've got to keep winning at a pretty high clip.'' - Dirk.
DONUT 13: The Finest Dentists in North Texas! ...
At
McKinneyDentist.com
, Dr. Berlin, Dr. Markham, Dr. Lynch and Dr. Wood have been providing the finest in everything from technology to chair-side manner for years, to our family and to so many of you. Their great work has part of us bringing our Mavs coverage to you since 1995 ... And we're proud to be associated with The Finest Dentists in North Texas ... McKinneyDentist.com!