DONUT 1: First, the fun stuff ...
We've got a loaded weekend of TV, radio, Mavs and ... Whataburger!?
Yup. Here's the schedule:
*Mavs at Sixers tonight, with "Mavs Live'' at 5:30 on FOX Sports Southwest featuring Dana Larson, Bob Ortegel, Mark Followill, Derek Harper and me.
*On Saturday morning, DallasBasketball.com is up and runnin' with
105.3 The Fan as Nathan Wood and I co-host from 10 a.m. to 3 p.m. (listen live here)
... and we do the show in conjunction with the Mavs at
the Whataburger at 2741 N. Stemmons in Dallas.
It'll be a day of of fun, games, giveaways, appearances by the Mavs Dancers, ManiAACs and mascots. ... and Whataburgers!
Bring the family in and meet the guys and gals, plus test out your skills on the Flying Fry toss, and shoot baskets with the Mavs Street Team. Oh, and I'll be giving away Mavericks game tickets every 15 minutes, plus autographed prizes and even an autographed team ball.
Also, I can help you register at the event to win dinner and shootaround with Mavericks guard Shane Larkin and lower-level tickets for four!
*Saturday night? Back on FOX Sports Southwest and in the "Fish Tank'' at 6 for Mavs at Detroit.
*And then Sunday, back hosting on 105.3 The Fan from 4 to 7 p.m.
You want Mavs talk on TV and on radio ... plus ticket giveaways, game coverage and Whataburger? You've come to the right place this weekend!
DONUT 2: Fascination and frustration ...
It was with fascination and frustration that we listened to Mavs owner Mark Cuban's remarks on Tuesday regarding one of the reasons he predicted major deals might not get completed by Thursday's NBA trade deadline.
"Teams value picks a whole lot more than they used to,''
explained Tony Cubes while climbing that pregame stairstepper of his.
"Teams now value receiving picks a whole lot more than they used to. I think they'd rather not do a deal than do a deal without picks and I think that could lead to more action during free agency. Teams have sort of defined their strategy during free agency where either you went all-in and the team you got is the team you got, or you go all-under with young players and you're mining for draft picks…
Our response to this: Teams are just NOW figuring this out? The Mavs are just NOW figuring this out?
DONUT 3: 'Have you read the CBA?' ...
By January 6, 2012 -- and of our own volition and not as a response to Mark's playful media-directed taunts -- we had indeed read the new Collective Bargaining Agreement. It was at that time in assorted stories that our David Lord led the charge in asserting the increased value of draft picks.
On February 25, 2012, we stressed it again, one of our many CBA-related conclusions in regard to the increased value of the NBA Draft:
"From now on,''
Lord wrote here
,
"every team will have about the same-sized payroll. To gain a talent advantage, it will be necessary to have players who out-play their contracts, and there are three sources for such bargains that tend to be the most reliable: talented draftees (typically high picks) who are better than their rookie scale contract, low-priced veterans (priced at or near the minimum) who fail to attract much attention in free agency but can contribute far more than a minimum salary level, and true superstars (who are bargains because their production exceeds maximum salary limits)."
It seemed clear to us. And we believe we expressed our impressions clearly.
DONUT 4: Banging the drum ...
We have since continued to bang the same drum. We've made the argument that under the new CBA, draft picks aren't "sweeteners.'' They can't be simply given away (as was the case in the swap-out of Jared Cunningham, and of course, ultimately, in the drafting of him.) They probably shouldn't be given away to increase free-agent-chasing cap room by a fraction. Maybe they shouldn't be tossed into the Lamar Odom Bottomless Trash Barrel.
What
Lord wrote on June 27, 2013:
With low-to-medium picks, focus on turning them into usable assets.

"A superstar or bust" mentality has been killing the team when picking later in the draft. Be willing to take singles and doubles (which can become trade assets), rather than swinging for the fences when picking outside the top 10.

The draft is about creating assets, even if you can't get the pick to draft the star. Assets can be traded, and trades can bring stars. During the year, accumulate picks (even if protected) so you have picks to trade; you never want to have to trade yours except on Draft Day.
Are we being clear yet?
DONUT 5: The limits of today ...
And now here we sit in the aftermath of trade-deadline day. And Mavs' activity was for naught ... why?
Because, among other reasons, first-round draft picks are gold - and the Mavs had no gold.
Because Dallas does own two second-rounders (including a valued Boston pick) and I'd been told by multiple other teams that the Mavs did not wish to part with that Boston pick.
Because those 2's are the closest thing the Mavs have to the sort of value the CBA essentially ORDERED them to accumulate two years ago.
Again, lots of reasons. But among them, the Mavs hoarding the draft scraps that they own. ... because, according to Mark, "Teams now value receiving picks a whole lot more than they used to.''
DONUT 6: Benefit of the doubt ...
We're left to assume/hope that the Mavs were somehow bluffing, playing coy, playing possum, playing dumb ... something ... by treating this draft-value philosophy as if it is innovative a and new.
Because if the Mavs didn't see that two years ago, they whiffed on something our reading of the CBA left us considering obvious. Truly, we thought it was pretty basic analysis in January 2012, in February 2012, in June 2013, and today. ... as the Mavs could be better-poised to make a deadline move had they adhered to the strategy ... and, trades aside, would possess more assets on their roster right now had they done so.
DONUT 7: A hint of cynicism ...
Along with that benefit of the doubt, though ...
Long-time readers know my position on respecting coaches for being smarter about coaching than the media and fans. Same thing with general-managing. Same thing with ownership.
But a hint of cynicism is probably healthy here.
So as we review our reading of the CBA, and the Mavs' reading of same, and as we review our interpretation of what it was all going to mean, and their interpretation of the same ...
*Where are all those big-monied stars being given away for nothing by cap-strapped franchises?
*Where are the benefits of having dry powder?
*Where are the punishments for teams and players silly enough to chase each others' shiny objects rather than be as cap-smart as Dallas?
*Where is "Nuclear Winter''?
*And where is the Mavs cupboard-full of draft picks entering an era when we KNEW they'd have greater value than ever before?
DONUT 8: OK, enough griping ...
Having gotten that off our hairy chests ...
While we all want new presents under the tree for every NBA holiday (playoffs, Draft, free agency and trade deadline), I truly believe there is so little shame in failing to make a deadline trade that "failing'' is the wrong word.
There is zero value in "Do Something!'' It's an exercise in completing a transaction because it creates the illusion of activity and keeps the critics at bay.
"Look, we made a trade! Can't say we're not trying!''
But Mavs GM Donnie Nelson is right when he says, 'We definitely did not want to do anything that was lateral. We weren't afraid to do something if it took us to the next level, but that ultimately did not present itself.''
Obviously not.
But is there anything that
almost
"presented itself?
Yes, as you can read here in our "No Joy In Mudville'' deadline-day wrap-up.
Thanks to Dee Lincoln for helping fortify us through our deadline coverage with the finest steaks in town ...
The reviews of Dee Lincoln's Steak & Burger Bar are almost as impressive as the "casual-upscale'' dining experience!
DONUT 9: Stat O' The Day ...
The trend continues: When you play the Mavs, you have a 40-percent chance to put up a season-high in scoring.
That's been the case in nine of the Mavs' last 22 games. To wit:
*Jan. 3: DeAndre Jordan's 25 for the Clippers.
*Jan. 5: Kenyon Martin's 14 for the Knicks.
*Jan. 11: Eric Gordon's 27 for the Pelicans.
*Jan. 15: JJ Redick's 33 for the Clippers.
*Jan. 22: DeMar DeRozan's's 40 for the Raptors.
*Jan. 24: Mirza Teletovic's 34 for the Nets.
*Feb. 9: Chris Johnson's 14 for the Celtics.
*Feb. 11: Anthony Tolliver's 22 for the Bobcats.
*Feb. 18: LeBron James's 42 for the Heat.
Martin's 14 aren't earth-shattering but they were important in a Knicks win. In the cases of Jordan, Redick, DeRozen and Teletovic, these aren't just season-highs, but also career-highs. Oh, and only Johnson's 14 points didn't help his team beat Dallas.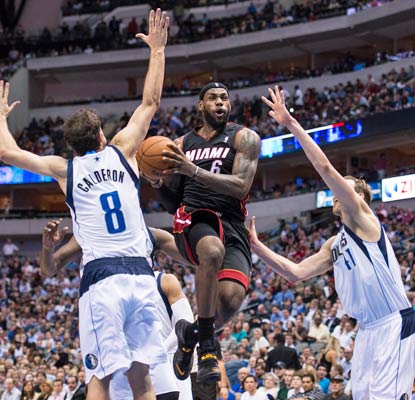 And you are likely aware of the damage done by LeBron. If not,
allow us to catch you up here with the deepest game coverage in the business -- exclusive analysis and Video Visits in the Mavs' locker room.
DONUT 10: Mavs at Sixers ...
The Sixers were 15-40 and a mess even before the trade deadline, which saw them ship off starting center Spencer Hawes and leading scorer Evan Turner among their four swaps.
They did land Danny Granger in the Turner deal. And they acquired Eric Maynor from the Wiz. And they got Byron Mullens from the Clippers.
The chances of all those guys getting to know each other in time to appear cohesive against Dallas? Slim -- especially when you remember that the existing guys on the roster are coming off an embarrassing 114-85 loss to Cleveland.
"We understand the effect it has on human beings when you get beaten like we've been beaten recently, and that lack of self-esteem or lack of confidence or wondering what the future brings, it's my job to help them navigate through this,'' Sixers coach Brett Brown said. "But that beat-down effect rears its head in a bunch of ways, and I see it now in them."
Philly, losers of nine straight, is historically vulnerable to Dallas, having lost five of six to the Mavs. Philadelphia will try to compete tonight with a lineup featuring Thaddeus Young and sensational rookie point Michael Carter-Williams, who -- in keeping with negative Sixers news -- is battling the flu.
The Sixers are the embodiment of Team Tank ... and maybe tonight we see evidence of just how fun that isn't.
DONUT 11: Quoteboard ...
"We're just going to war with the guys we've got." - Dirk Nowitzki.
DONUT 12: The Final Word ...
Among the reasons given by Dallas for "no movement,'' as Donnie termed it, is "chemistry.''
"I had a chance to sit down with Mark (Cuban) and Rick and just felt like that the price of change was too high. ... This group has done some really good things in the past week and giving them an opportunity to continue that is important.''
So along with the aforementioned lack of assets and the argument-worthy reading of CBA tea leaves, the Mavs move forward with the same roster because The Triangle of Trust believes in it. Believes that at 32-23 and having won six of their last eight games, this group still has wonderful things in front of it. Believes that this is a playoff-level team capable of making the much-talked-about "playoff noise.''
At the Sixers tonight. At the Pistons on Saturday. What an opportune time for "this group'' to reward The Triangle of Trust's faith in it.
DONUT 13: The Finest Dentists in North Texas! ...
At
McKinneyDentist.com
, Dr. Berlin, Dr. Markham, Dr. Lynch and Dr. Wood have been providing the finest in everything from technology to chair-side manner for years, to our family and to so many of you. Their great work has part of us bringing our Mavs coverage to you since 1995 ... And we're proud to be associated with The Finest Dentists in North Texas ... McKinneyDentist.com!