PRE-DONUT 1: Me and a wrench ...

As of this morning, DB.com Boards is down. I'm told serverblahsomethingblahalmostfixedblah. I'm in there with a wrench, I'm out here with a wrench, and I owe y'all an apology and a beer. Thanks for hangin' with us ...
DONUT 1: Today's the Dirk-autograph deadline! ...
I found out about the MFFL Conduct Cards and secured a look at them. I'm the tight-ass who informed the Mavs' front office that they'd misspelled "chaos.'' I thought it was kinda cute; what's more chaotic than misspelling "chaos''?
The Mavs, however, responded by throwing in the trash can the entire printing of the unique cards.
Except for a couple.
Which I have in my possession.
The
Dallas Mavericks
are printing up new cards without the misspelling. Those will be hard to get, too; a Mavs staffer tells me, "We won't be handing these out like candy. Two here, three there, to fans who are the most Rowdy, Proud and Loud.''
So the Mavs' policy is that the Dirk-signed MFFL cards cannot be gifted. They must be earned ... one "choatic'' moment at a time.
Except, I've found a way to break policy.
Our 'Win The Dirk-Signed MFFL Choas Card' Drawing …
Maybe as my reward for serving as the Mavs' spell-check, there are two of the MFFL Conduct Cards that did not go into the trash.
I own them. Dirk has signed them for DallasBasketball.com. And I'm giving them to you.
Your entry in the Nowitzki autograph giveaway is a simple process: You only need to
be a member of DB.com Boards (it's free)
and then
post in this thread a quick thought about Dirk. ... and your T-shirt size.
At tipoff of tonight's game at New York, we will randomly draw two winners ... and you'll get the "Uberman'' T-shirt (long-ago endorsed by Nowitzki himself as "very cool'') and the almost-one-of-a-kind Dirk-signed MFFL "Choas'' Conduct Card.
If you are a newcomer or if you already a member of DB.com Boards, of course, you are eligible either way ... simply post a quick thought and a shirt size (and any other Dirk/Mavs-related gibberish you find entertaining) and you are registered ... but get it done today!
DONUT 2: Speaking of tonight ...
We've got "Mavs Live'' on FOX Sports Southwest beginning at 6 p.m. and featuring Dana Larson, Bob Ortegel, Mark Followill, Derek Harper and yours truly as we preview the Mavs-at-Knicks game as only your "home team'' can ... see you on the tube at 6!
DONUT 3: The Maturation of Ricky Ledo ...
There is a story I've unearthed that demonstrates the importance of the big club having a true relationship with its D-League affiliate.
And this story is all about The Maturation of Ricky Ledo.
I'm told the Mavs organization -- not just the Legends, but higher up -- became convinced that despite Devin Ebanks' talent (and it is considerable), he was something less than a positive influence on the maturation of Ricky Ledo.
That doesn't make Ebanks a bad guy; in my dealings with him, he's been a prince. But the Mavs and Legends know what they know.
And you should know this: The Mavs wisely didn't throw in the second-round rookie Ledo into trade proposals in order to make the present roster only marginally better.
As much as we all wished for the thrill of a Mavs deadline deal, cheap talent is the second-most important thing in roster-building now. (Behind the superstar.) That policy counts for Crowder, too; he's a cheap functional NBA player. And it certainly counts for Devin; I hope his relationship with the club causes him to re-up next year under something similar to this year's vet's-minimum deal. Maybe this works for Gal Mekel; we'll see. And absolutely this works for first-round rookie Shane Larkin.
Not that you should fall so in love with your "Boys in Blue'' that you are cemented to them. Just that the days of "sweeteners'' must end around here. Those "sweeteners'' can be YOUR sweeteners.
The care and feeding of Ricky Ledo -- just a baby, really, 21 years old and getting guidance from a firm-but-doting father who has moved to DFW to pitch in -- is so important to the Mavs that they guided the Legends to dumping arguably the D-League's best player, Ebanks, to make sure Ricky's cared for and fed properly.
I believe this applies to DFW native Harris (traded away alongside Ebanks) and I believe it applies to P.J. Hairston (still here alongside Ledo, even though Hairston isn't Mavs property).
The Mavs (and the Legends) are taking care to do everything exactly right to get Ricky Ledo ready to someday serve as an extremely affordable, emotionally mature, NBA rotation player.
That is of critical importance in roster-building now. And that's the story of how the Ebanks D-League trade -- which seemingly had nothing to do with the Mavs -- actually has everything to do with Dallas.
DONUT 4: Now, why no Spencer Hawes ...
It bears repeating:
As much as we all wished for the thrill of a Mavs deadline deal, cheap talent is the second-most important thing in roster-building now.
Yeah, so why not be in on Spencer Hawes, the Sixers center who went to Cleveland for "only two second-round picks''?
Wouldn't Dallas have sacrificed its two 2's in exchange for a real, live NBA center with some offensive game who is also pulling down 8.5 rebounds per?
Forget for a moment Hawes' impending free agency, and know this: Cleveland didn't just give up two 2's. There was also, according to our calculations, the trade-matching salary of $4.4 mil or more than had to be tossed in.
Ah, sweeteners.
So Cleveland tossed in Earl Clark. No biggie.
Had Dallas been interested in beating that offer, it could've done so.
All the Mavs had to do is give up the two 2's (painful) and give up $4.5 million worth of contracts. Like, say, Vince + Devin + Crowder. Or Wright. Or Marion.
For a solid offensive center entering free agency? Would you really do that?
What happened here is actually a feather in Dallas' Asset Management cap. Cleveland had LOTS of bad contracts to peddle to Philly as a throw-in.
The Mavs do not.
Vince is outplaying his contract. Crowder is cheap talent and outplaying his contract. Devin is cheap talent and wildly outplaying his contract.
One more time:
You build with 1) True superstars, 2) cheap talent outplaying their contracts and 3) draft picks.
DONUT 5: The red carpet ...
In Philly on Friday, the Mavs defense -- especially in the first half -- continued to roll out the red carpet for opposing scorers.
We've got your official NBA highlight reel here ...
And here,
our "Space Jam 2'' game analysis
starting with Rick Carlisle saying, "The first half was an unmitigated failure ...''
Seriously, I was so disappointed at the way that game was unfolding that when you read my game story, you'll almost think Dallas kinda lost a game in which they won, 124-112.
Because they kinda almost did.
DONUT 6: MontaBall in Detroit ...
Dallas followed up that odd victory with another one featuring some outliers ... but so many positives.
Here's the official NBA highlight reel from the 113-102 win at Detroit ...
And those oddities and outliers?
Ellis had 11 assists by the half, but had missed his only two shots from the field. But then Ellis scored 10 points in the final half-quarter.
And in the end, MontaBall -- on the opening day of Dallas training camp a phrase coined by Ellis that was interpreted by some of us to be a hint at selfishness -- netted the Mavs a 12-point, 13-assist night.
"I thought Monta's floor game was phenomenal," said Dirk Nowitzki, who scored a team-high 24 points. "They trapped him off the screen-and-roll, and he found the open guy. And in the fourth quarter, they didn't trap him any more and that's when he got in the lane and basically took the game over for us."
Weirdly, in the two other Mavs games in which Monta's notched 11 assists, Dallas lost. But that's an aberration. Him contributing as a distributor on a night when he wasn't seemingly going to be a scorer - after three quarters he'd missed both of his two field-goal tries - creates some feel-good mojo regarding this team's BBIQ, unselfishness and unity.
"They've been inspired, and it's not by me," Carlisle said. "They've taken the challenge and we've just got to continue to do it."
Our game coverage
of the "MontaBall''-led win is here.
DONUT 7: Best steaks and burgers in Dallas ...
Thanks to Dee and the incredible staff at
Dee Lincoln Steak and Burger Bar
for our wonderful Mavs pregame dinners ... the legendary DFW restaurateur has done it again.
Dee Lincoln Steak and Burger Bar is becoming THE "upscale casual'' place to dine before you attend events in Dallas ... And the gang from DB.com looks forward to seeing you there this week!
DONUT 8: Why no Jet? ...
Veteran guard Jason Terry was traded from the Nets to the Kings at Thursday's deadline. This after having been dumped by the Celtics onto the Nets.
But he won't be a King this year. And I bet if he has his way, he won't be a King ever.
This year, Terry averaged 4.5 points on 36-percent shooting. There's not much left there, except wonderful memories of Jet helping win a title in 2011 with the Mavericks.
Knowing Jet, he's not ready to let go. The Kings say he'll engage in "rehab'' for the rest of this year and my understanding is he'll do that from his home in the DFW area. Terry does have $5.8 million left on his contract for next season -- and maybe that's a reason to not "let go,'' as well.
But maybe the next time we see Jason Terry, it will be at the AAC. Wearing a suit. And his ring. And accepting applause -- and a front-office job I'm fairly sure Mark Cuban has waiting for him.
DONUT 9: Join DB.com Boards! ...
Mavs conversation about ... well, everything? The best discussion forum in the NBA, The
DB.com Boards,
is in its 14th season and membership is free, fun ... oh, and sometimes frustrating! But mostly free and fun!
If you do, you'll get Easter-Egged. (That's a good thing.) Because not only will you be informed, but you'll also find ways to win Mavs merchandise, free Mavs tickets and even
a $100 dinner on my tab at Estilo Gaucho
!
DONUT 10: Mavs at Knicks preview ...
All of the weekend machinations put Dallas at 34-23 and in eighth in the West. The Mavs have won nine of 12 games and are averaging 107.5 points during that stretch as they look to sweep this three-game roadie.
The Knicks have lost eight of their last 10 and are 21-35 and sinking out of East contention.
And tonight? It's a Mavs team with a nasty defensive habit of allowing guys to post season scoring highs ... against a Knicks team with a similarly nasty habit of allowing guys to post career scoring highs.
That's a red carpet for Dirk (averaging 24.5 points on 57-percent shooting and 49.1 percent from beyond the arc over the past 12 games). But this matchup might also be a red carpet for Melo, who scored 62 in a game earlier this year, the NBA's top output for 2013-14.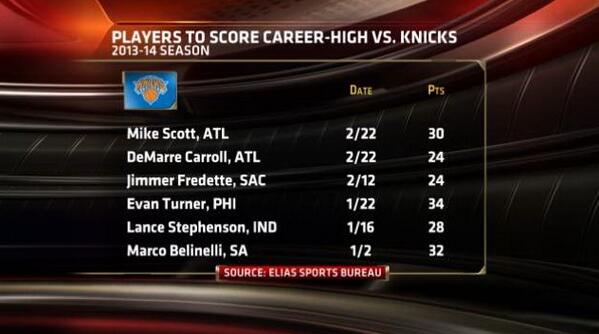 Tonight, last team to stop either team's anybody wins.
DONUT 11: Inside story on Danny Granger ...
Danny Granger is working his way to a buyout escape from his post-trade destination of Philly. How much does the former Pacers standout have left in the tank? Where will he land? And when observers tie him to a future in Dallas, do observers have any idea what they're talking about?
DB.com has the Granger-related scoop from inside Mavs HQ.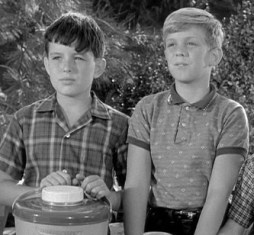 DONUT 12: The Final Word ...
Contrary to what many belief, we CAN legislate behavioral morality. (If you're old enough to remember when Americans casually threw their trash out of the window of their moving cars, you know to agree.) But ...
There is no Caucasian executive in the entire NFL with the qualifications to create a "No N-Word Rule,'' as the league is preparing to propose.
Back down, Whitey.
DONUT 13: The Finest Dentists in North Texas! ...
At
McKinneyDentist.com
, Dr. Berlin, Dr. Markham, Dr. Lynch and Dr. Wood have been providing the finest in everything from technology to chair-side manner for years, to our family and to so many of you. Their great work has part of us bringing our Mavs coverage to you since 1995 ... And we're proud to be associated with The Finest Dentists in North Texas ... McKinneyDentist.com!