DONUT 1: The race ...
Dallas (38-26) enters the weekend in a virtual tie with Memphis (39-27)for seventh in the West ... and the Mavs will be sitting on their hands and hoping throughout the night.
Well, and practicing at the AAC.
Tonight we'll all check in on Grizzlies vs. Raptors and hope that Memphis -- with its post-All-Star Game record of 10-2 -- can get knocked off. In the Grizz' favor? Zach Randolph is averaging a double-double since Feb. 19. Giving Toronto (and Dallas) hope? The Raptors are 8-3 in their last 11.
Meanwhile, the Suns (trailing the chase by two games) play the Celtics. And the Warriors (holding onto sixth) play the Cavaliers.
Fasten your seatbelts, it's going to be a bumpy night.
DONUT 2: Since the Break ...
Gauging a team's performance "since the All-Star Break'' seems like grabbing at an arbitrary cutoff point; and hey, the
Dallas Mavericks
won that final game in impressive fashion at Indy before the Break so why not start the ticking of the arbitrary clock in a way that includes that credit?
Problem is, that's not the way teams themselves think of it. "Since the Break'' isn't arbitrary to them because that All-Star seasonal intermission is a traditional time to refresh, reload and take stock.
So ...
Dallas is now 7-5 since the All-Star Break. ... which, when looked upon that way, sounds less than impressive. The Mavs have found a way to salvage back-to-back road trips by winning the butt ends. And, mercifully, they have only two more back-to-backs over the final 16 games.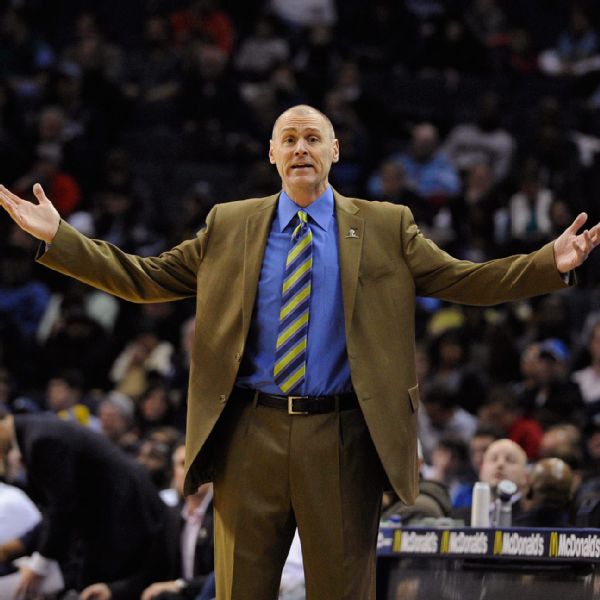 The first of those begins this Sunday in Oklahoma City (I'll be a part of the FOX Sports Southwest team that brings you that telecast at 5:30 p.m.) and then home against Boston on Monday.
The other b-2-b is in early April in Los Angeles against the two LA teams.
Coach Rick Carlisle is right when he says, "It's all going to be coming fast and furious.''
DONUT 3: Want the good news? ...
Since the Break, the Mavs offense has been elite, ranking third in the NBA in offensive rating. Dallas' offense comes at you in waves now, with Vince Carter, Brandan Wright and Devin Harris allowing the Mavs to accomplish what
they did against ..... when their bench outscored ....' ...
However, this has coincided with some serious defensive slippage.
DONUT 4: The banana peel ...
Our Michael Dugat helps us look at some key defensive "pre-Break'' vs. "post-Break'' numbers:
| | Games | Rec | O-Rat | D-Rat | Net Rating | Reb% |
| --- | --- | --- | --- | --- | --- | --- |
| pre-Break | 54 | 32-22 | 107.9 | 105.2 | +2.7 | 48.2 |
| post-Break | 12 | 7-5 | 110.9 | 109.0 | +1.9 | 49 |
| Net change | | | +3.0 | +3.8 | -0.8 | +1.5 |
It's nice to see the offense improve, as well as the rebounding percentage (which still only ranks 18th since the Break), but this is countered somewhat by the significant drop in their defensive rating. Obviously, the post-Break numbers come from a small sample size, but this is something to keep an eye on.
DONUT 5: All-or-nothing? …
When looking at the Mavs defense, especially after the Break, their all-or-nothing nature can be a bit alarming. As M-Dug notes, this is a team that ranks third in the league since the Break in opponent's turnover percentage, countered by allowing opponent's the third highest effective-field-goal percentage (a number that tries to capture the added value of 3-point shooting) … as well as the third highest field-goal percentage.
| | Opp FG% | Opp eFG% | Opp TO% |
| --- | --- | --- | --- |
| pre-Break | 46.1 | 51.1 | 16.7 |
| post-Break | 49.0 | 54.3 | 17.4 |
What does this all mean?
DONUT 6: A certain helplessness ...
Take that Dugat defensive number-crunching. Combine it with what you see. And here's what you get:
Since the Break, if the Mavs don't force a turnover, they seem almost helpless to stop opponents … and this includes those outstanding stretches to close the Portland and Indiana games.
Since the Break, the Mavs have held only one opponent under 45-percent shooting, and have allowed five to convert over half of their attempts.
And we come full circle, back to training camp, when we wondered whether this team had any shot at being truly sound on defense -- sound enough to supplement what we predicted would be an elite offense.
Sixteen games remaining. And thanks to the "After-the-Break'' breakdown, we're still wondering.
DONUT 7: Estilo Gaucho this weekend! ...
Our friends at
Estilo Gaúcho
are original partners in support of the Texas Legends and in celebration of the excellence of their incredible and original restaurant, they've become partners with DallasBasketball.com, too.
This is a family-owned local business offering a memorable dining experience featuring the cultural traditions of Southern Brazil. It's been named not only the premier Brazilian steakhouse in DFW but also one of the finest restaurants in the Dallas area of any kind. For lunch or dinner, David and Alex and their staff of Gaúchos make every occasion a special occasion!
Please visit
Estilo Gaúcho
this week ... and tell 'em The Fish sent you!
DONUT 8: 'Game of Thrones' ...
I'm not a "Game of Thrones'' guy. (I've never seen it. Sorry.) But I recognize how cool this intro is:
DONUT 9: The Mavs' version ...
And now we can all recognize how cool this piece of work from the Mavs creative staff is as it goes hand-in-hand with the "Thrones'' piece and figures to pump up you good AAC people:
DONUT 10: Catching you up ...
We knew this was a big game," Nowitzki said after the win at Utah. "After dropping one (in Oakland) and a bad offensive night, we talked about how we had to set a more aggressive offensive tone tonight. And I think that's what we did."
In case you missed it,
Your All-Access Pass to the win over the Jazz is here.
... complete with some record-setting work from Dirk.
DONUT 11: Join up! ...
Everybody's talkin' at you on
DB.com Boards! Sign up for your free membership to the most popular Mavs discussion spot on the planet!
DONUT 12: The Final Word ...
I've got a TV/radio tripleheader this weekend ... and I hope you'll channel-surf and join me!
Tonight I'm hosting 7 to 11 on 105.3 The Fan ... and among our guests is Rhonda Roussey ......
On Saturday night I'll be in Frisco to cover
P.J. Hairston
and the Texas Legends on Channel 47 starting at 7. (By the way, I'm told to look for Shane Larkin and Ricky Ledo to be on assignment for the Legends games tonight and Saturday.)
You can join me in Frisco and
hang out with the Mavs' D-League affiliate in person! Get your tickets for the whole family here!
And again, at 5:30 on Sunday I've got the pregame show "Mavs Live'' on Fox Sports Southwest before the Mavs-at-Thunder ...
So when you are channel-surfing, surf on over!
DONUT 13: The Finest Dentists in North Texas! ...
At
McKinneyDentist.com
, Dr. Berlin, Dr. Markham, Dr. Lynch and Dr. Wood have been providing the finest in everything from technology to chair-side manner for years, to our family and to so many of you. Their great work has part of us bringing our Mavs coverage to you since 1995 ... And we're proud to be associated with The Finest Dentists in North Texas ... McKinneyDentist.com!