DONUT 1: Haunting Hondo ...
At some point tonight, the
Dallas Mavericks
and their fans will engage in yet another Dirk Nowitzki Milestone Experience:
The Uberman has 26,383 career points and needs only 13 points to move past Boston Celtics legend John Havlicek into 12th place among the league's all-time scorers.
Nowitzki is engaged in yet another terrific season, averaging 21.5 points per game as Dallas prepares for tonight's tip at Golden State.
Dallas coach Rick Carlisle, the former Celtic, has a relationship with Hondo and assures us that the milestone change is one that comes with Havlicek's endorsement.
"One thing I can tell you for sure,'' Rick said, "is John Havlicek is a huge fan of Dirk Nowitzki and what he's done in his career, not only individually, but from a team standpoint and a competitive standpoint and wanting to take on the responsibility of winning and losing.
"John was the guy for them for a lot of years. So he understands what that's all about."
But while that assurance is nice ... can you imagine what a dope Havlicek would have to be to not appreciate Nowitzki?
Hondo's no dope. So 13 points from now, he's part of the Dirk Nowitzki Milestone Experience, too.
DONUT 2: I Coulda Been A Contend-ah ...
As of Monday afternoon ...
With 18 games left there are essentially four teams fighting for the final three West playoff spots. Entering Monday, 6 through 9 are held by Golden State, Phoenix, Dallas and Memphis, respectively, and they are separated by only three games. When we break it down, do the Mavs have a chance to be a contend-ah? Do they have a chance to be somebody?
We've got
that final-18 forecast here
and ...
DONUT 3: About Last Night ...
The only standings-shifter on a light Monday schedule in the NBA is Phoenix' 112-105 loss to the Clippers. So Dallas remains in seventh at 38-26, two games back of 40-24 Golden State.
With a big chance for a standings-shifter tonight.
DONUT 4: The weekend that was ...
We often discuss in this space the challenge of "enjoying the ride,'' especially in the wake of a 2011 NBA title run that might cause some of us to grow impatient and even spoiled with anything less.
So come into the locker room with us and check out
the quotes, analysis, stats and Video Visits with the players
from over the weekend, wins over Portland and Indiana that can be building blocks for the team ... and pacifiers for the rest of us as we nervously await the next final score.
One click, it's all there ... and thanks for enjoying DallasBasketball.com as you do!
DONUT 5: Monta's night ...
Last year, Monta Ellis walked away from a Milwaukee contract that would've paid him $13 mil a year to instead accept what would eventually be Dallas' three-year, $25-million deal.
It was, he says, the result of a search for satisfaction that is about more than the dough ... a search that's been ongoing since his very best years playing for the Warriors team he opposes tonight.
"It's not even about the money,'' Ellis said. "One thing about me, if I wasn't getting paid to play basketball, I'd still play basketball. I do it for the love, the joy and the winning.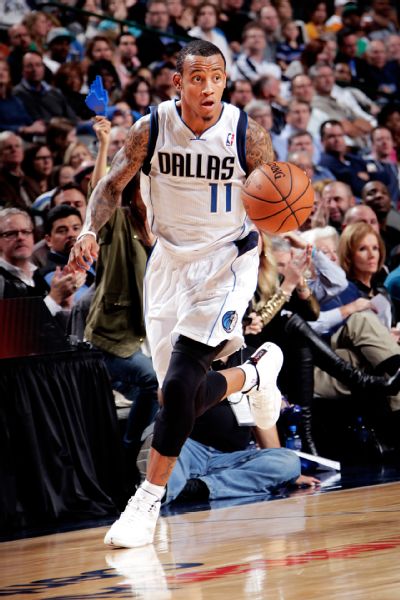 "Milwaukee, I didn't know what they wanted to do. And this season tells it all that I made the right decision to leave that money on the table, to come over to this organization and be happy."
The last time Ellis was this happy? "Probably 2007,'' he said, recalling his emergence as a star in Golden State. "(In Dallas, we've just got a great group of guys. Everybody's staying together. Everybody enjoys being around and that's the biggest thing. Everybody enjoys playing with each other. It makes basketball so much easier."
Monta says he "cherished my great years at Golden State." But now, it's Mavs coach Carlisle who cherishes him.
"He's been a godsend for us," Carlisle said. "He fits what we're doing. He fits with Dirk. He's been extremely coachable. ... And going against Monta Ellis, you game plan as hard for him as an individual as any player in the league. I just thought anytime you get a guy like that on your team, it's a coup."
DONUT 6: Thanks, Red Rock! ...
Our man Barry (a devoted Mavs fan himself) and his great staff at
Red Rock Bar & Grill
is always ready to mix up some game-night specials for DB.com readers!
Go hang out with the gang at Red Rock, see the Mavs on the 200-inch screen and tell 'em The Fish sent you!
DONUT 7: Meet 'Harris Bueller' ...
DONUT 8: Series review ...
Golden State is 9-2 since the All-Star Break and can look at this week's schedule as its own special challenge, as the Warriors get Dallas tonight and will be at the Clippers on Wednesday.
What can the Mavs hang their hats on to do their part to make the Warriors' challenge into a pair of losses?
Hang onto huge leads.
As you know, the Mavs have a disease: They are good enough to get up 17 points in games, over virtually any opponent ... but are then a threat to end up losing those games ... in virtually any circumstance.
The Warriors represent two such circumstances.
On Nov. 27, Dallas was up 17 points but hung on for a 103-99 win over Golden State.
On Dec. 11, Dallas was up by 18 points over Golden State and lost, 95-93.
At this point, Dirk is only half-joking when he says he almost wishes the Mavs wouldn't get ahead by so many. Tonight, if and when Dallas is ahead by a wide margin, you probably shouldn't relax.
More importantly, the Mavs probably shouldn't relax, either.
DONUT 9: The Closer ...
The Mavericks' largest concern here might be points allowed, especially on the road. Dallas has allowed an average of 109.8 points in their last five away games.
Meanwhile, in its last six home games, Golden State that has scored 108.7 per.
The change-up that might fuel change?
Let's see if Harris Bueller ... er, Devin Harris, is once again used as the closer at point guard.
Jose Calderon has been instrumental in helping Dallas get many of those 16-point leads. But in these last two wins, Devin's been the closer. And his two-way skills have helped the Mavs shut down Portland and Indy thusly:
Over the final nine minutes of the last two games (four against Portland, five against Indiana) the Mavs outscored their opponents 27-7, allowing a combined field-goal percentage of 13.3 percent.
Something akin to that, one more time, would come in mighty handy tonight.
DONUT 10: Injury issues ...
Two injury issues for tonight:
Steph Curry is expected to play against the Mavs despite a troubling right quad strain. Curry is normally a 37-minutes guy, but he's been kept in the range of 30 per in the last two Warriors outings as they attempt to manage the problem.
Meanwhile, a rough patch for Jae Crowder continues. He'd fallen out of the rotation, did extremely well in an assignment at Frisco, and then was contributing again when he got hurt in the Pacers game. It's an abdominal strain and Jae didn't make the trip to Oakland. Depending on the results of an MRI, he could join the team in Utah for Wednesday's game.
I'll keep you posted here and
on Twitter.
DONUT 11: Quotable ...
"W've got to rally and do it together. We're not constructed to where we can throw it all on one guy. As great as Dirk is, we've got to have 13 guys in uniform ready to go at it each night." -- Rick Carlisle.
DONUT 12: The Final Word ...
Radio again tonight!
I will co-host all week, 7-to-11 p.m., on 105.3 The Fan. Mavs talk (and yes, Cowboys talk, too) will be included and you can
listen live to 105.3 The Fan here!
Tonight's guest list: Earl K. Sneed checking in from Oakland, old friend Gloria Campos, and former bunkmate Mike Modano. ... Join me!