DONUT 1: Super Bowls ...
In the immediate wake of
Rick Carlisle's "21 Super Bowls remaining" comment
, the
Dallas Mavericks
fell on their face against the Denver Nuggets, failing to compete as they were dominated in a game most felt they had to win with the next three coming against the Blazers, Pacers and Warriors.
That disposition that failed to show itself against the Nuggets shifted drastically Friday night against
Portland in a tough teeter-totter win that saw a 30-point lead vanish before an 11-0 run sealed it.
Sunday, the Indiana Pacers came in riding their first three-game losing streak of the season … something Dallas was intimately aware of, having ended their own three-game streak the previous game.
With the league's toughest defense (a league-best defensive rating of 95.3 coming into Sunday), the Pacers looked to end their drought.
But the Pacers collided with a Mavs squad still determined to bury the no-show against the Nuggets. Dallas burst from the gate to lead by as much as 12 in the first, 17 in the second. The margin would shrink, but once more it was Dallas closing the contest out strong at both ends of the court on their way to a 105-94 victory.
DONUT 2: Devin Again ...
Just as it was in the fourth quarter against the Blazers, the lead story may be the dynamic play of Devin Harris, who was once more on the court to close in place of Jose Calderon.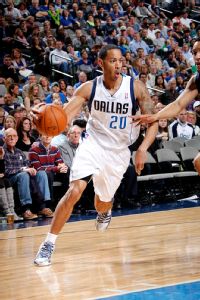 Following a nightmare five-game shooting stretch, when he converted just 14.8 percent of his field-goal attempts, including 10.0 percent behind the arc, and averaged just 3.4 points Harris appeared reborn, the punch returned to his step, the fluidity to his pace. On display were quick shivers, hard attacks and shots without hesitation on a reclaimed confidence.
It's cliché, but only because of how often it rings true: basketball is a game of rhythm. One day, the minutia between bounces of the ball doesn't stack just right, the results falter. The next, the rim yawns wide, the dance steps align, and what was lost clicks into place.
Over the last two, Harris is the Mavs third leading scorer, trails only Brandan Wright in field-goal percentage, leads the team in plus/minus (+20.0 per game) and has been on the court to close out two huge wins, averaging: 16 points, 66.7-shooting, 71.4 percent from the arc and only one turnover.
Against the Pacers, Harris set season highs in points (20), 3-pointers made (four) and steals (four) … and scored five times as many points as the entire Pacers bench (20-to-4).
"He was active defensively, he was hitting shots, making plays and he brings an extra dimension to our guard rotation," Carlisle said. "I thought all of our guards played well, but he stood out because he had the ball a lot and he made good decisions and timely plays at both ends all night."
Devin's Video Visit:
"My confidence is up now and hopefully, I can keep it going,'' said Devin, clearly emerging as a candidate to be a full-time, two-way closer.
DONUT 3: The final five minutes …
When the game entered those hallowed final five minutes, the Pacers had no answer for the combination of Harris and Monta Ellis, who keyed a 17-6 run to ensure the win.
For the second straight game, Dallas stepped up at both ends of the court in a close game against a top-tier opponent. Friday night, it was an 11-0 run as Portland missed their final six shots as the Mavs secured the five-point win.
Here are the numbers for the final five minutes against the Pacers:
| | Pts | FG-FGA | FG% | FT-FTA | Reb | TOs |
| --- | --- | --- | --- | --- | --- | --- |
| Mavs | 16 | 4-5 | 80.0 | 7-7 | 4 | 2 |
| Pacers | 7 | 2-8 | 25.0 | 3-4 | 1 | 2 |
DONUT 4: The Closers …
Above, you see the team numbers over the final five minutes, but you don't see the individuals that made them up.
Harris and Ellis were the guards for the full five minutes, scoring 14 of the Mavs 16 points and making every shot attempt. The only other two points for Dallas came from Dirk Nowitzki at the free-throw line.
Harris in the final five: eight points, 2-of-2 field goals, 1-of-1 behind the arc (on as assist from Monta), 3-of-3 free throws, one rebound, one steal and one turnover.
Ellis in the final five: six points, 2-of-2 field goals, 2-of-2 free throws, one rebound, one assist, one steal and no turnovers.
And, perhaps where the difference between a Calderon/Ellis closing unit stands, the Pacers guards (Lance Stephenson and George Hill) finished with as many turnovers as points (one) over that same stretch.
DONUT 5: The rarity …
Dirk Nowitzki tied his season-worst field-goal percentage, hitting only 3-of-14 attempts (21.4 percent), scoring under 15 points for only the fifth time this season.
In other words, it's rare to see Dirk off like this. Against the Pacers, there's no shame in having trouble converting shots, though Nowitzki had his fair share of good looks that simply weren't falling.
Dirk's Video Visit:
"I'm proud of the way we responded," Dirk said. "Maybe we needed that Denver loss to go to the bottom to fight back up."
Dallas is now 3-2 when Dirk fails to score at least 15.
Perhaps it shouldn't be a surprise, but in these games Ellis has scored at least 20 points each time, averaging 23.4 with a 47.8 field-goal percentage.
DONUT 6: Top of your wishlists? …
The headliner for many Mavs fans' wishlists for this offseason is 23-year-old Lance Stephenson.
He was very strong in the first half, almost single-handedly keeping the Pacers in the game with 18 points on 7-of-8 shooting … though there were also five turnovers.
Stephenson would add only three points and was a non-factor in the second half.
This summer, he will force a lot of teams to quantify what exactly they will be willing to pay for potential. Right now, he's the third offensive option on a contender with a very good all-around game, but if his price starts to wander into the amounts that may make it prohibitive for Indiana to keep him, he'll likely be expected to move up the hierarchy of the team he's joining … at least, he'll be paid as such.
How high would you go?
It's an interesting discussion to have, and will likely amount to an interesting summer to watch. Oh, and DB.com is gathering some intel from inside both the Mavs and the Pacers on Stephenson. Stay tuned.
DONUT 7: Active Dalembert …
Foul trouble limited his time, but it's always a little amazing to see the stark contrast between the Mavs play when Samuel Dalembert arrives with force and determination, rather than what can only be characterized as an apathetic indifference at others.
Dalembert finished with eight points and eight rebounds in just over 18 minutes. There may be little evidence of it in the traditional boxscore, where even his field-goal attempts are misleading (4-of-9, but a few of those misses coming as he worked the offensive glass attempting putbacks), but this was an example of what this team needs from their starting center … even if it did include a horrible full-court pass late in the fourth that almost caused Rick Carlisle to explode.
Dalembert was engaged, particularly at the defensive end, whether it was limiting the offense of David West or keeping Roy Hibbert off the glass, or giving hard fouls.
When Dalembert is on, the Mavs tend to be as well.
When Dalembert gets at least eight rebounds, the Mavs are 14-5 … including wins over Memphis (twice), Houston, Portland and Indiana.
When Dalembert earns at least 22 minutes, Dallas is 20-6. When he earns at least 25 minutes, they are 9-1.
DONUT 8: The playoff race …
The Mavs will be in Golden State on Tuesday to start a three-game road trip that will end in Oklahoma City next Sunday, with Utah sandwiched in between.
Including Sunday's games, Dallas, Memphis and Phoenix are all now tied in the loss column, though the Mavs sit as the 7-seed, a game ahead of both thanks to owning two additional wins … Dallas is also only two games behind the six-seed Golden State Warriors (who beat Phoenix on Sunday night).
Leaving the Warriors out of it for the moment, there are three teams clumped together for the final two playoff spots in the West: Dallas (38-26), Memphis (36-26) and Phoenix (36-26).
The Mavs hold the tiebreaker over Memphis, and will have the tiebreaker decided with the Suns in the second-to-last game of the season (should it remain relevant).
DONUT 9: Things stay tough …
Here's a bit of the breakdown for the remaining schedule for the three teams mentioned above (opponent's winning percentages calculated by records entering Sunday):
Remaining opponent's winning percentage:
Dallas: .530
Memphis: .523
Phoenix: .505
It won't be easy for anyone, but Dallas has it the toughest based purely on winning percentage. However, it's not all doom and gloom.
| | Games | Home | Away |
| --- | --- | --- | --- |
| Mavs | 18 | 10 | 8 |
| Memphis | 20 | 8 | 12 |
| Phoenix | 20 | 7 | 13 |
The Mavs have the lightest workload and the most home-heavy schedule. Dallas will also play the Suns in Dallas and at Memphis in games 81 and 82 respectively.
Each of the team's schedules are fairly equally weighted with regard to playing either the league's elite or top-draft-pick chasers.
| | Opp w/ 40+ Win | Opp w/ 40+ Losses |
| --- | --- | --- |
| Mavs | 5 | 6 |
| Memphis | 6 | 5 |
| Phoenix | 5 | 6 |
Those totals change slightly if you include Sunday's results, when Golden State reached 40 wins. Dallas has two and Memphis has one game remaining against the Warriors … if you add Golden State, both the Mavs and Grizzlies play seven opponents with at least 40 wins currently.
DONUT 10: Mavsellaneous …
*Over the final nine minutes of the last two games (four against Portland, five against Indiana) the Mavs have outscored their opponents 27-7, allowing a combined field-goal percentage of 13.3 percent.
Devin Harris was on the court for all nine of those minutes, scoring 13 points on 4-of-5 field goals, 4-of-4 free throws, 1-of-1 3-pointers with only one turnover.
*Just take a second to look at the bench scoring numbers, their beautiful or horrific, depending on your point of view:
| | Pts | FG-FGA | FG% |
| --- | --- | --- | --- |
| Dallas | 41 | 13-25 | 52.0 |
| Indiana | 4 | 1-9 | 11.1 |
*The Pacers have the third best rebounding differential in the NBA, out-rebounding opponents by an average of 4.1 boards per game.
The Pacers will end this season having never out-rebounded the Mavs. Dallas was even on the glass with Indiana in their first matchup, and won the battle of boards 42-41 Sunday. Indy has now lost four straight overall.
*Speaking of rebounding, Monta Ellis averaged 8.5 boards in the two games with the Pacers … setting his season high in the first matchup (9) and tying his second highest total of the season (set Friday night against the Blazers) with eight Sunday.
Monta finished with 20 points, 6-of-16 field goals, eight rebounds, two assists, one steal and one turnover … and, don't be fooled by the field-goal percentage, he was big when the Mavs needed him to be.
*With about nine minutes to play in the fourth, it was great to see Vince Carter battle the Indiana bigs for a rebound, twice tipping the ball up before gaining control and showing a surge of emotion that was immediately appreciated and returned by the crowd … it was the kind of play that must be made to beat teams like the Pacers.
It was pure blue-collar effort and it led directly to a Jose Calderon 3-pointer.
Said Carlisle: "It's a spiritually lifting play for our team and everybody in the arena. They see a 37-year-old guy go up three times and then tear it down. I mean, that's big-time. He's showing you how much he wants to win."
Vince's Video Visit:
Carter finished with 10 points, seven rebounds, three assists and one steal.
*Dirk finished with 14 points and now has 26,383 for his career … merely 12 from tying and 13 from surpassing John Havlicek at 26,395 for the 12th spot on the NBA's all-time scoring list.
Next up will be Dominique Wilkens for 11th, with 26,668.
*Who deserves "The Dirkie''? Join DB.com Boards!
and join the conversation and register your vote!
*Fish will co-host all week, 7-to-9 p.m., on 105.3 The Fan. Mavs talk (and yes, Cowboys talk, too) will be included and you can
listen live to 105.3 The Fan here!
*The Mavericks recalled Gal Mekel from the D-League after the rookie point guard spent three games playing for the Texas Legends on a rehab assignment. Sources tell DB.com that he'll go with the Mavs on this road trip with plans to re-join the Legends next Friday and Saturday.
DONUT 11: Quoteboard...
Here's Carlisle's post-game Video Visit:
McKinneyDentist.com
presents the
Quoteboard, and you can dive in here.
A sampling and an explanation:
"If we play like (we did in Denver), collectively, we'll get our butts kicked, like Bella Thorne in an arm-wrestling contest.''
This person is a skinny girl who stars in "Shake It Up," a Disney program that is a favorite of 9-year-old Abby Carlisle.
Abby was pleased with the reference. DallasBasketball.com, for all our wealth of knowledge in many things pop culture, had to look that one up.
DONUT 12: The Final Word …
Sometimes, nothing can be easy. You need to fall on your face to scrape your eyes open, trip to lean forward into a sprint. The Mavs stumbled against the Nuggets a day after their coach labeled the supreme importance of the team's remaining games. Against the Blazers and Pacers, they did their best to erase that mistake, winning two games most had already penciled in as losses.
The Mavs now find themselves dancing on a razorblade, playoffs on one side, a second consecutive season cutoff at 82 games on the other.
"In these two games we've run the gamut of virtually everything," Carlisle said of the back-to-back wins. "You know, the early big lead, losing the entire lead, getting down, fighting back and having the character to fight back being down seven in the fourth against Portland. (And Indiana) is a top-two team in the league. But we did it by keeping a real even and strong disposition and we were tied together very well collectively. We had great chemistry tonight. Guys were encouraging each other and helping each other, and that's what it's going to take."
It's been an entertaining ride. Soon we'll find out what else it's going to take to extend the ride beyond 18 more games.