DONUT 1: Mavs 110, Knicks 108 ...
The
Dallas Mavericks
entered Madison Square Garden looking to secure a perfect three-game road trip. The Knicks came in winners of just two of their previous 10 games, the mirror opposite of the Mavs, losers of only two of their last 10.
The first quarter began as you might expect, with Dallas pulling away, building a lead of up to 14 early in the second. By the half, the Mavs had tasted a deficit, allowing the Knicks to score 38 points in the second quarter by shooting 73.7 percent, but thanks to a Monta Ellis 3-pointer as the clock expired, took a one-point lead into the intermission.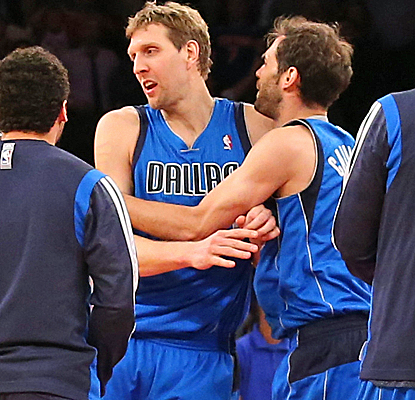 New York erased an eight-point Dallas advantage in 37 seconds to tie the game at 108 with 50.3 seconds to play, setting the stage for one of the most enjoyable "bad-shot" game-winners Mavs fans will ever experience, closing out the 3-game sweep on the road with a 110-108 victory.
DONUT 2: In Dirk's own words ...
Before we grant the stage to Dirk Nowitzki, let us editorialize for a moment.
There's something so pure in this, completely void of ego in a moment more often flooded by it. While not entirely unique -- we can imagine Tim Duncan (sorry to bring up such a name in a moment like this, Mavs fans) and a few others sharing a similar approach awash in humility -- it's a rarity nonetheless, add in an almost child-like joy from Dirk and perhaps it is unique.
As much as we'll eventually miss all that Dirk's given us on the court, memories like his postgame interview with Mark Followill and Derek Harper will be what hangs in the back of our mind, what drives us to long for the "good ol' days" when such a simple pleasure could come from what made the man that shaped much of our sports fandom.
This is Dirk, the greatest the Mavs have ever known, and the greatest many of us will ever directly root for on a hometown team, a once-in-a-generation talent with an equally rare personality, sure enough of himself to embrace self-deprecation, smart enough to do it with grace and talented enough to make it almost entirely unnecessary, but entirely welcome.
Now, that final shot in Dirk's own words:
"We're going to show the highlight," Mark Followill began to ask, "walk us through …"
"Don't show the highlight," Dirk interrupted with a laugh.
Followill would finish the question through a grin. Nowitzki would answer, a smile never far from the faces of all involved.
"That high-post-iso, we've been running that for my entire career and I feel comfortable there in that spot," Dirk said. "You know, 'Melo really moved up. I originally wanted to drive, but then kind of held the ball a little too long; at that point I just had to get one up.
"I saw the clock was going down and down. I figured, 'if I put it down now it might be too late.' So, I just heaved one over (Carmelo Anthony), but basically I'm seven-feet so I was a little lucky I still saw the rim and heaved one in. I think it hit every part of the rim, it hit the glass, it hit Jerry West on the left and then came back. It wasn't the greatest of shots, but we'll take it.
"We lost a couple before, close ones, so I guess we deserved this one … I guess you call it a shooter's roll. It was a pretty, pretty bad shot, but I'm obviously happy with the result."
This – the shot, the result, the humility, the sense of humor – this is why Dirk will slip so easily into Dallas folklore, into legend, once his playing days are behind.
Dirk didn't have one of his best games (15 points, 6-of-13 field goals, 0-of-5 3-pointers, one rebound, three assists, two steals, one turnover), perhaps feeling the weight of three games in four nights, but his sole fourth-quarter make in three attempts ensured the 8-0 run the Knicks used to tie the game was capped with just another in a growing line of New York losses.
DONUT 3: Oh, yeah. Show the highlight! ...
"It's the great Nowitzki, man. He's done it so many times," coach Rick Carlisle said. "What an incredible shot. It was only fitting, the two best players out there, man-on-man, and he just hit as difficult a shot as you're going to hit."
DONUT 4: The three 20s ...
Vince Carter: 23 points, 7-of-12 3-pointers, three rebounds and three assists.
Monta Ellis: 22 points, 9-of-22 field goals, six assists, three rebounds and four turnovers.
Jose Calderon: 20 points, 6-of-9 field goals, 5-of-8 3-pointers, six assists, three rebounds and no turnovers.
It's strange to look up and notice that Carter had only one fewer 3-point attempt than Dirk had total, just as it was strange to notice three Dallas players scoring at least 20 points and none of them with "Nowtizki" scrawled across the back of their jerseys.
Each of the three played a role in the win. Some will be quick to point out the two turnovers Ellis had in the final 1:27, though one was a debatable off-the-ball offensive foul call. Others may note the poorly conceived and contested three Carter tried with 35.9 to play … but each also shared in the story of the win.
There was Ellis carrying the offense in the third, scoring nine points to go with three assists (no turnovers), both team highs for the period, not to mention a pair of drives on back-to-back possessions with about five minutes to play in the fourth, as well as the attack and pass that helped create the space for Calderon to hit an open three with 1:55 remaining.
There was Carter playing 8:04 in the final period, hitting 2-of-3 attempts, all behind the arc.
There was Calderon hitting that key three with 1:55 to play and then grabbing a rebound, something the Mavs were having difficulty accomplishing, on the next defensive possession before finding Brandan Wright (12 points, four rebounds, 6-of-8 field goals) for the layup that put the Mavs up eight with 1:37 to play.
Carmelo Anthony scored 44 points, including 31 over the middle two quarters, but he didn't have enough help.
Dallas did.
DONUT 5: Hat-tip to Red Rock ...
Thanks to the gang at
Red Rock Bar & Grill
for having the fellas from 105.3 The Fan hanging out the other night! It's the biggest screen in Texas at 200", it's the live music, and Barry and the gang love their Mavs ... so that's on the big screen every night as well!
And Monday night? We could hear the screams of Dirk joy from inside Red Rock all over the neighborhood!
DONUT 6: Denying the trends - for the win?...
Entering Monday night's games, since February 1st the Mavs were 7-2 and had the best rebounding differential (+8.3 per game), fourth best point differential (tied with the Pacers at +6.6), seventh best field-goal percentage differential (+2.3), third best 3-point percentage differential (+5.4), fourth best free-throw differential (+7.6) and fourth best offensive rebounding differential (+2.6).
Of those categories, the only one Dallas finished with a positive differential against the Knicks was points.
They lost the rebounding battle for the second time this month (41-34), the first coming in a loss to the Charlotte Bobcats, were outshot by the Knicks 52.6 percent to 47.7 total and 42.4 to 41.7 behind the arc, but did manage to tie at 11 offensive rebounds each.
To put in perspective the improbability of this win: Dallas had been 9-15 in games their opponent had a higher conversion rate behind the arc, 7-11 when getting outrebounded by seven or more and … 0-14 when posting a field-goal percentage differential of -4.0 or worse (-4.9 in this game).
DONUT 7: Pull-up Monta ...
*A SportsVU number that may surprise you: of players that average at least 10 minutes,
Monta Ellis
is third on the Mavs in catch-and-shoot 3-point percentage on the Mavs, at 38.4 percent, trailing only Calderon (44 percent) and Dirk (41.3).
The problem isn't on catch-and shoot threes for Monta, but on "pull-up" or off-the-dribble attempts, where he converts just 14.6 percent.
DONUT 8: The official highlight reel ...
Because it wasn't just Dirk and the final seconds, you know:
DONUT 9: Mavsellaneous ...
*Dallas has its sixth winning streak of at least three games this season and are now 10-3 in their last 13 games, going back to January 26th, and have the third highest winning percentage in the league over that span, trailing only Houston (9-1) and Miami (9-2).
*Since January 26th, he Mavs have the highest offensive rating in the league (114.3), third highest rebounding percentage (53.0) and second best assist-to-turnover ratio (1.93)
*The Mavs bench outscored the Knicks counterpart 43-27.
*Vince Carter's 23 points were a season high, and Dallas is now 7-1 when he scores at least 23.
This was the sixth time Carter has made at least seven 3-pointers in a game in his career, his teams are now a perfect 6-0 in those games, though Carter's previous low in total points when hitting seven-or-more behind the arc had been 37.
*The Mavericks shot 15-for-36 from 3-point range.
*Wayne Ellington once more replaced Jae Crowder in the rotation once more, scoring five points and one rebound in just over 10 minutes of action.
Crowder played one defensive possession late in the third, defending as Melo did what he did to everyone in this game, drained a three in his face.
DONUT 10: Quoteboard ...
We made some mistakes ... but we were able to atone for it because we have one of the greatest players in the history of the game." - Carlisle.
DONUT 11: Fish on mistakes ...
The start of this week also means something less pleasant than all of this: The continuing problems with DB.com Boards.
For 14 years, that's been where you and I and thousands of other Mavs fans have hung out to talk about outcomes like this one, in which Dirk "lucked'' his way into a game-winner.
But twice in the last week, some techno glitch has gotten in the way of that shared enjoyment.
DB.com's association with Fox Sports/Scout is a wonderful one ... and they are the first to acknowledge that my partnership with them was created in part to avoid problems like this -- problems that are impacting Scout sites across the country.
I'll pass along to you that the higher-ups say they are "sorry to report we do not have imminent good news. Our repeated attempts to restore the forums database cluster from backups have all failed. ... We have simultaneously experienced problems, as mentioned earlier, with the storage media underlying the databases, one reason this has become unusually difficult to fix.
"We are currently hand-carrying additional hardware into the datacenter so we can run multiple restoration processes in parallel. We worked through the night last night, and will continue working as long as necessary to resolve the problem.''
Now, if you know me, you know that all of that is gibberish to me. I'm a sportswriter; I don't know what a "database cluster'' is.
But we've got ourselves another sort of "cluster,'' alright. And it is as frustrating for me as it is for you ... which the added displeasure that it's also embarrassing for me.
I do trust that they'll keep banging away and you can trust me: We'll pick the bar. I'm buying the first beer.
Along with my apology and the continuing content on the homepage, that's what we promise.
DONUT 12: The Final Word ....
The schedule has been kind to the Mavs in February, where (using team's records entering Monday night) Dallas opponents had a combined winning percentage of .464, including the Knicks game, but the Mavs have done what they must with the circumstances: win.
As we noted, many of the positive trends the Mavs have set in February were reversed against the Knicks. Yet, as improbable as it may have been, as contradictory as it may appear in relation to many of the numbers, a victory was captured.
A win is a win, and this was a good one, if for no other reason than how bad of a loss it could have been. Dallas (35-23) once more moved into the seventh seed in the West, percentage points ahead of the Suns and 3.5 games ahead of the ninth-seeded Memphis Grizzlies.
Much like the final shot, it wasn't pretty … but it was a win.
Once it went in, I didn't even feel like celebrating,'' Dirk said. "It was so ugly."
That's OK, Dirk. Once it went it, we did plenty o celebrating for you.
NEW YORK -- Dirk Nowitzki drained a jumper from the top of the key at the buzzer, and the Dallas Mavericks escaped with a 110-108 victory over the New York Knicks on Monday night at Madison Square Garden. How it happened: After the Mavericks lost a 108-100 lead with 97 seconds remaining, Nowitzki bailed them out. His dominance at MSG continues. He scored just 15 points -- none bigger than the final two.