It's Spurs (1-0) vs.
Dallas Mavericks
(0-1), Game 2, 7 p.m. in San Antonio. ... and an assortment of storylines that need to have happy endings for Dallas to avoid being down 0-2:
Dirk's turnaround
I have said many times that if
Dirk Nowitzki
is your team's problem, your team pretty much doesn't have any problems.
But Dirk's Game 1 failure -- 4-of-14 shooting for 11 points, his lowest point total in a playoff game in the last seven years -- was central to that 90-85 loss.
And yet, listen to teammate Devin Harris.
"Dirk is our least concern,'' Harris said. "He is going to get his shots and we know he's going to make them."
Dallas also has faith in Dirk's bounce-back history. The last time Nowitzki scored 11 points in a playoff game was in 2006 against Phoenix, when he came back with 50 against the Suns, leading the Mavericks to a Western Conference title.
"You don't want to overthink it," said Nowitzki. "You don't want to go completely crazy and just hoist everything you see because some of those shots are contested. They've got to be within the flow and within the rhythm of the game."
But make no mistake: The "flow and rhythm'' will be about Dirk in his sweet spots, about Dirk as a pick-and-pop receiver, about Dirk getting to 20 points in an efficient way.
Dallas' offensive production
It's not all Dirk, of course.
Monta Ellis
was also 4-of-14 for 11 -- about half his desired output as well.
The Mavs won 49 games this year on the strength of their offense (and have traditionally done it just that way) and yet look at Dallas' scoring in the last eight meetings with the Spurs: During this span, Dallas has managed to score as many as 91 points just once.
And those 85 points by the Mavs in Game 1? That number is tied for third-fewest by Dallas in any game this season.
Jose Calderon will get a chance to get untracked early (watch for him jump-shooting off screens). Harris will get minutes behind him. Supplemental guys like Vince Carter, Shawn Marion and Brandan Wright have to carry their offensive share, too.
But just as Devin's speed can get him loose against the Spurs, Monta has the quicks and the handles to get open and to get to the rim.
If Dallas tonight manages just 85 points or so, it will likely serve as an indictment of Monta and his failure at the rim, and really, an indictment of the Mavs' offensive-based philosophy.
Who can close?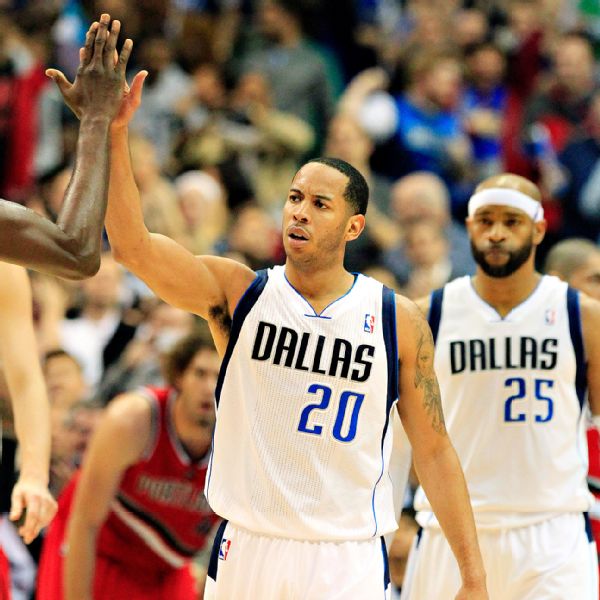 That sequence during which the Mavs watched almost helplessly as San Antonio mounted its late Game 1 run to wiped out a 81-71 Dallas lead? The Mavs have talked a lot about what they'll do if they are in that situation again ...
But what is the likelihood of that? Here's hoping the Mavs aren't wasting brainpower on that situation and a repeat of it. The Spurs are a grind-it-out team, a 24-seconds-per-possession team. Dallas needn't worry about visualizing earning a massive late-game lead.
The Mavs need to stay in this game 24 seconds at a time. And if they don't, they won't be in this game.
The statistical sacrifice
This year, in five meetings between these two teams, the Mavs have been outrebounded five times -- by an average of nine boards per.
I'm a big fan of the philosophy Bob Ortegel has long preached to me (and to you, on TV): "If every guy would just concentrate on grabbing one more rebound ...''
I buy that. And yet ...
Dalembert needs to focus more on preventing Duncan boards than on grabbing his own. And if Marion guards Parker, that means Marion won't pile up rebounds. And if Calderon is therefore not matched up with a guard, that bigger guy will outrebound him.
And on it on it goes.
It's not a fluke. It's not accidental. It's personnel, philosophy and unfavorable matchups. And I don't have much confidence that it's a winnable area.
The top strategic nugget
Dallas' switching on defense (more in Game 1 than in previous meetings, I bet) and use of the zone will again be part of the plan; there might be situational changes, but those two features remain central to the Mavs' plan.
But here's the one that's worthy of reconsideration: Should Dallas continue to crowd the arc defensively (thus hoping to repeat a Game 1 success when the Spurs made just three of 17 bombs) or should the Mavs alter their commitment on defense to deny Tim Duncan single-coverage looks inside, where on Sunday he scored 27?
All of this is part of the chess game that will be conducted tonight between two of the NBA's best coaches.
"Why don't we just give him 'Coach of the Century?''' Dallas' Rick Carlisle said of San Antonio's Gregg Popovich, named NBA Coach of the Year this week. "I mean, he's the best."
There is no sarcasm there, of course. But I'm not being sarcastic, either, when I say that Carlisle is also a master of gameplanning. He demonstrated that in Game 1 ... and if Dirk and Monta make a couple of layups in the final seven minutes, the record reflects that.
Today, somebody said to Vince, "They'll make adjustments.''
Vince's response: "We will, too.''
But there's at least one area where Carlisle probably shouldn't change up much.
I believe the Mavs' base strategy will remain to shut down the perimeter while hoping that Sam Dalembert is effective enough checking Duncan.
And if "Dalembert vs. Duncan'' doesn't inspire your trust in Dallas overcoming the historical odds in this series ... I get that.
Quotable
"The thing about all-time great players is that it's not about one day coming in and saying, `Hey, I'm going to go harder today' or `I'm going to be more aggressive today.' (Dirk) has had the same approach every day for 16 years." -- Rick Carlisle.