Sunday at the AAC, for the seventh time this year the Mavs saw a 14-points-or-greater lead evaporate, this time not fully fading away until an extra period that ended a night featuring an often-electric
Monta Ellis
, an injured Jose Calderon and a stunningly uninspired
Dirk Nowitzki
.
"I kind of hesitated too much and I was kind of always waiting on the double-team, instead of just playing my game,'' said Dirk after the 107-104 OT loss.''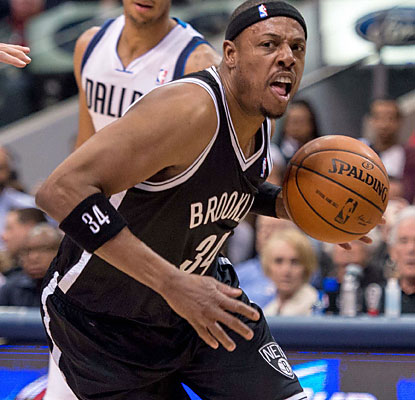 Added coach Rick Carlisle: "He had an off night, and that happens.''
It is not unfair to say that Dirk, 35, has spent much of this week looking his age. On
Monday came a "napping" accusation from owner Mark Cuban.
On Wednesday came
an OT loss to Minnesota in which Dirk scored 27 but shot just 11-of-27.
Here an uninspired Nowitzki scored only 10 points on just 2-of-12 shooting. And in this season's two losses in two outings against coach Jason Kidd's Nets, Dirk shot a lowly 7-of-27.
"We got lucky," said Kidd, who celebrated his 41st birthday in his first appearance coaching against his old club in the city where he helped the
Dallas Mavericks
win the 2011 NBA title.
J-Kidd's Video Visit:
The Mavs are 0-3 in OTs this season and in the past two years are a combined 3-11.
Much was lost here. Dirk put extra mileage on those 35-year-old tires and didn't seem very energized by the challenge. Calderon sustained a facial injury the Mavs hope will not preclude him from being ready for Tuesday's visit from OKC. Dallas wasted a 12-point, 15-rebound night from Sam Dalembert and two late Ellis 3's in OT that made it interesting and gave him 32 points. In all, this veteran club too often demonstrated a sad lack of late-game BBIQ.
"This is a very exciting time, and we've got to treat every single possession with utmost respect,'' Carlisle said. "We just had too many lapses tonight. A lot of them were on innocent plays when we had a lead, but you know, in a one-possession game, those things come back on you.''
Most of all, what is "coming back on'' the 42-29 Mavs is standings-related. Dallas slips to eighth place in the West, percentage points behind Memphis and only a half-game ahead of Phoenix.
"Eleven games left – next one's the biggest one.'' Carlisle said. "That's how it's going to be every night."