DONUT 1: Trix on Ice ...
How does
Dallas Mavericks
oldie-but-goodie Shawn Marion stay so "goodie''?
Cryogenics do wonders for the body ... but, apparently, not a damn thing for the singing voice.
DONUT 2: Sleepy Sam? ...
The numbers keep pouring in on what an effective Sam Dalembert means to the Mavs.
When the Mavs roll out the quintet designated at the start of the season as the best to start -- Dirk Nowitzki, Shawn Marion, Monta Ellis and Jose Calderon and Dalembert -- Dallas is 30-17.
There are other wrinkles. Other guys. Other combos over the course of 48. But 30-17 does not lie.
DONUT 3: Mavs at Rest ...
Our Michael Dugat is here to establish the thesis: "The Mavs Like Rest'' …
The logic is simple, basic common sense: the more rested the Mavs are, the better they perform.
While you'd expect this same logic to apply to some degree to any team, its significance may grow when four of five starters are at least 32-years-old and the sixth man is 37, as is the case for the Mavs.
Here is the study (short version):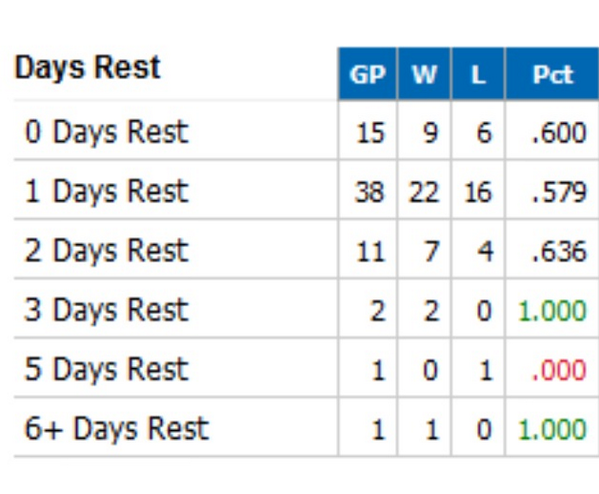 For a more expansive look at all the numbers, go here
... and you see that in almost every category, there is a clear improvement as the amount of rest before a game increases … It's all logical ... but we find it all significant, too.
DONUT 4: "Bucket Boy'' ...
Mark Cuban has great respect for the
late Jerry Buss, as you can read about in his impromptu eulogy of the Lakers owner here.
And former Lakers coach Phil Jackson? Yes, there is respect there, too -- though some of Cuban's greatest Mavs joy is a result of making Phil his "foil.''
"It's great just because of the legacy, the pedigree, the questions: 'Can he do it again?''' Cuban said of Jackson's hiring to run the Knicks. "He's won everywhere he's gone, including his first stop in New York, so can he do it again?''
There is no Mavs-Knicks rivalry ... but because it's good for NBA business, look for Cuban to attempt to eventually stir one up.
"I just hope he's vocal and picks on me,'' Cuban said. "It's been boring without him. ... I'm glad he's back. My 'Bucket Boy' is back.''
DONUT 5: Fish in Frisco ...
Most of The 75-Member Staff will assemble at the AAC tonight for Minny-at-Mavs (more on that below). I'll be stationed in for the Channel 47 TV broadcast of the Texas Legends game beginning at 7 alongside R.J. Choppy.
Come say hello and get your Legends tickets here.
DONUT 6: What day is it? ...
DONUT 7: Minny at Mavs ...
Minny is just one game over .500 (at 33-32), but led by Kevin Love (26.4 points and 12.9 rebounds) the T-Wolves have given Dallas fits of late. Paired with Kevin Martin (who is averaging 24 points per over the last five), Dallas might be overmatched on the defensive end.
Luckily, when the Mavs are clicking on offense -- and in that locker room they believe they are elite in this department -- they simply outscore you. And the T-Wolves have their issues there, allowing teams to score 102.5 points and shoot nearly 47 percent from the field.
But again, starting from the 7:30 tip ... there are matchup problems to be overcome, the central reason the Mavs have lost three of their last four games against the Wolves at the AAC.
DONUT 8: Come and get us! ...
Places to hook up with us? Do so with me
on Twitter
,
do it with the gang on DB.com Boards
and specifically
watch the game while playing around in our GameThread
!
DONUT 9: Tinkering in the Trees ...
Which of the Mavs' four centers should be playing? And when? A look at their physical characteristics and their usage with help from coach Rick Carlisle and an exclusive visit with Brandan Wright - who tells DB.com that, heck, he'll go and play more power forward if it's all the same to you.
Premium Mavs goods from inside the AAC here!
DONUT 10: Stat O' The Day ...
The Mavs are a slightly better rebounding team since the All-Star Break than they were previously ... yet they still will spend the week hovering around 18th in the NBA in that category ... and in Monday's win over the Celtics, getting outrebounded 57-36 won't help the rep.
But ...
If the Mavs do find a way to survive Love and company on the boards, it can lead to a home victory. In the 11 home games in which Dallas has outrebounded the visitor, Dallas is 10-1.
DONUT 11: Thanks, Dee Lincoln! ...
It is THE pregame hangout for Mavs fans looking for a "casual-upscale'' experience ... it is
Dee Lincoln's Steak And Burger Bar!
We'll see you there before the game during this homestand, deal?
DONUT 12: The Final Word ...
"I've got to compete and help the guys set the tone. Some nights that's defensively or rebounding, some nights it might be more scoring. I usually take pride in being a good all-around player. Especially in this homestand, if we want to make the playoffs we've all got to do a little more." - Dirk Nowitzki.
DONUT 13: The Finest Dentists in North Texas! ...
At
McKinneyDentist.com
, Dr. Berlin, Dr. Markham, Dr. Lynch and Dr. Wood have been providing the finest in everything from technology to chair-side manner for years, to our family and to so many of you. Their great work has part of us bringing our Mavs coverage to you since 1995 ... And we're proud to be associated with The Finest Dentists in North Texas ... McKinneyDentist.com!