DONUT 1: Mavs 128, Thunder 119 in OT ...
There are times when one game is enough.
Enough to capture and tangle your emotions. Enough to lift you up, slam you down and toss you out with your heart still beating a little too fast, your stomach a flittering tickle of hummingbird wings.
More often than not, these moments come in the playoffs when basketball life is so tangibly at stake: win or go home. They are the root system at the base of why we fell in love with the game in the first place … so much to be lost, to be gained, all in the flicker of an instant.
These moments are pain and euphoria holding hands, taking turns smothering you in their embrace. For all we hope to find when we tune in, these games, these memories, are what we are seeking out, what we hope to find.
Tuesday night gave us one of those rarest of instances. Two legends intertwined, a Hall-of-Fame reel spinning to life: Dirk Nowitzki and Kevin Durant combining for 75 points in a contest that couldn't be settled in a mere 48 minutes.
Even if only for a moment, there are times when one game is enough to bleach where tomorrow will find you, how yesterdays have been stacked to deliver you here … even as those very truths bleed into the moment, feeding it.
Sometimes … you can't help but sink into the depth of a moment.
Especially when your team wins.
The official NBA highlight reel of Mavs 128, Thunder 119 in OT:
DONUT 2: Setting the table …
The longest homestand in the history of the Dallas Mavericks had not begun ideally, splitting the first four games, with both losses coming in overtime. Tensions were high as the Oklahoma City Thunder arrived in Dallas in the hopes of avenging their last meeting, a 23-point Mavs victory, incidentally, the last game Dallas played before the homestand began.
Russell Westbrook, absent in the last matchup, returned and started. Kevin Durant -- "a cold-blooded killer,'' as Jae Crowder characterized him -- once more showed that he is among the very best this planet has to offer when it comes to basketball, and Dirk Nowitzki looked to shrug off a recent slump. All would prove significant.
Derek Fisher hit a 3-pointer with 1:07 to play to tie the game as Mavs fans wondered if this counted as "time with this family." After Dirk's season-high sixth turnover, Durant drained another triple to put the Thunder up three with 39.9 remaining. Jose Calderon would respond on the Mavs next trip down the court, converting a three of his own.
Determined not to let Durant beat them, Rick Carlisle sent Ellis to double Durant on the next possession, forcing a pass and a Westbrook miss. Dirk would get one more shot, a 35-foot attempt over Durant that looked good from the moment it left his hands … until it wasn't.
DONUT 3: Overtime …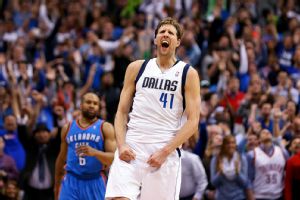 Dirk nailed a pair of free throws, followed by another Calderon three, his sixth of the night as the Mavs scored the first five of overtime, and after a Serge Ibaka dunk trimmed the lead to three, Nowitkzi drained an 11-footer and the game was never closer than five again.
Durant put on a show, scoring 43 by hitting 15-of-27 attempts, including 5-of-11 behind the arc, to go with five rebounds, six assists, one steal and five turnovers … but it was Dirk who had the last basketball word.
"I had to go back to less thinking,'' Nowitzki said, referring to his recent slump, "and having fun out there and just being me and go attacking the rim."
Fun, attacking Nowitzki finished with 32 points, 10 rebounds, six assists, four steals, one block and that season high in turnovers … according to Basketball-Reference.com, the first time in Dirk's career that he's totaled at least 30 points, 10 rebounds, six assists and four steals in a single game.
Durant may have had the bigger night as a whole, but it was Dirk's game in the fourth and overtime, where he outscored Durant 15-to-11 and shot a higher percentage (50 to 36.4) … including a dagger three over Durant's outstretched hands with 57.2 to play in overtime that put the Mavs up eight.
"This,'' said Mavs owner Mark Cuban, pleased for his team and for his friend Dirk, "is his time.''
DONUT 4: Co-Closer …
Monta Ellis was 3-of-10 for seven points entering the fourth quarter, but as has so often been the case recently, the first three periods appeared as nothing more than warm-up laps to prepare Ellis for the fourth.
Monta tied Dirk as the game's leading scorer in the fourth, hitting 3-of-5 attempts for eight points, and went on to add two more points and two assists without a turnover in overtime.
"At times,'' said Mavs coach Rick Carlisle of Monta's fourth-quarter takeovers, "it's by design. At times, we get in transition and the guys look to get him the ball to make plays. He's big for us. He had a struggling first half in terms of finding offense and getting good clean open shots. Instead of being frustrated, he just kept playing.''
He would finish with a respectable 17 points, five assists, four steals and four turnovers in almost 43 minutes.
DONUT 5: You can break the face, but not the man …
After missing all but the first 45 seconds of the previous game due to a vicious elbow/forearm to the face from Mason Plumlee, Jose Calderon returned and had one of his best games of the season.
Calderon would score 11 of his 22 points in the second quarter, finishing one point and one-made 3-pointer off his season highs in those categories.
His final numbers: 22 points, 7-of-10 field goals, 6-of-9 3-pointers, eight assists, four rebounds and no turnovers.
There was no bigger shot in this game than the clutch three that sent the game to overtime from Calderon.
For all of the advantages that may appear on paper, Calderon held his own with Westbrook, almost cancelling out his scoring production (Westbrook had 23 to Calderon's 22), but needing eight fewer attempts to reach that total, while committing eight fewer turnovers (8 for Westbrook, none for Calderon).
"He's been a total gamer for us really all year,'' Carlisle said of Calderon, who played with a face still visibly swollen. "Tonight we were down nine towards the end of the second quarter and put the ball in his hands on pick-and-rolls three straight times. I think he hit two threes and then he made a play which led to another three. That's nine points in a minute, minute-and-a-half. He kept us going right there.''
Calderon's Video Visit:
DONUT 6: The centers …
Samuel Dalembert started the game with the Mavs' first two shot attempts, converting one of them with a big dunk at the end of an alley-oop from Ellis. In return for his early looks, Dalembert did his part, playing the majority of the night with good energy and impacting the game.
Dalembert finished with 10 points, seven rebounds, one block and one steal in just over 21 minutes.
DeJuan Blair got the first look behind Dalembert, but lacked a similar positive impact and collected four fouls in only eight minutes of action, to go with two points, two rebounds and two turnovers.
But, it was once more Brandan Wright closing out the game, playing the entire fourth quarter and all but 37 seconds of overtime, coming out when the game had devolved into a free-throw shooting affair as the Mavs sat on a lead and absorbed intentional fouls.
Wright had his third lowest scoring total of the season, but came through with a big bucket in the fourth and perhaps the biggest offensive rebound of the night, a board that created the attempt for Calderon to tie the game in regulation.
Wright finished with three points, six rebounds, including three offensive boards, two steals and one block.
DONUT 7: Sixth Man of the Year …
Tracing the path from Vince Carter's early season struggles to leading the league in 3-pointers made from the bench and becoming a viable piece of the "Sixth Man of the Year" discussion can be a meandering and confusing course.
There are the 28 games he's converting 33.3-percent-or-less of his shot attempts and the corresponding 13-15 Mavs record in those games, and the 17 times he's converted 30-percent or worse, when the Mavs have posted a 6-11 record.
Then there's the 21 games he's hit at least three 3-pointers, including Tuesday night, when the Mavs are 15-6.
Carter led all bench scorers with 16 points, hitting 4-of-9 behind the arc, adding five rebounds, two steals and one block.
But whether he's up or down, if he's unguarded at the arc ...
DONUT 8: Even the great ones slump, just less often …
A lot had been made of the five games prior to Tuesday's contest -- and rightfully so -- in which Dirk Nowitzki averaged 18.8 points while hitting 41.0 percent from the floor and 30.4 percent behind the arc ...all not very Ubermanly efficiency.
However, Dirk really hadn't looked right going back to the second matchup with the Indiana Pacers. The amazing 12-of-14 performance against the Jazz six games ago (and the reason many cut their view of Dirk's slump at five games), helped disguise this fact, but the trend was there.
If you look at the eight-game stretch going back to Indiana, but remove Utah, Dirk was averaging 17.1 points, but hitting only 38 percent from the floor and 28.6 percent behind the arc in those seven.
And voila, into town from Germany jets Holger Geschwindner ... mentor, friend, teacher and ... slump-ender.
"I guess,'' Dirk quipped, "he was just tired of watching my shooting percentages over the last couple of weeks.''
Dirk's Video Visit:
And because this was such a Dirk-vs.-Durant duel, we give props to the OKC locker room with a Video Visit with KD:
DONUT 9: The Team win …
You can point to Dirk's greatness, to Monta stepping it up late once more, to Calderon's incredible shooting, but this was a game that saw almost every Dallas player that took the court make a positive contribution
Just as easily, you can point to an impressive basket by Shawn Marion in overtime, or his timely defense. You can note Jae Crowder's 10 points on 4-of-6 attempts, including 2-of-4 behind the arc. There were all the names we've mentioned previously, just as there was Devin Harris playing sparse minutes yet not making mistakes.
This was a win earned by the team, a team that put themselves in position to take the game late, to lean on Nowitzki and Ellis.
"Obviously, we need the win,'' Carlisle said. "I'm just real proud of the way the guys battled the whole way through it."
DONUT 10: Speaking of team …
The Mavs entered the fourth quarter down five after the Thunder closed the third with a 10-3 run. Momentum was in danger of burying them, then Crowder opened the final period with a three, followed by a Dirk jumper and the scoreboard was reset, tied at 89.
Dallas did what it had to in the fourth, then dominated overtime.
DONUT 11: Quoteboard...
"He's a prideful guy and I just think great players are great for a reason. They never let anything keep them down for long. He's bounced back from every adversity he's ever had in his career. This is no surprise. He was huge." - Carlisle on Dirk.
Here's more Carlisle, Rick's Video Visit:
DONUT 12: The Final Word …
Could this be the fulcrum, the point this season balanced on; lean one way and fall into the lottery, tip the other and gallop into the postseason?
Considering that Dallas keeps bobbing along from ninth to eighth to seventh from night to night, could one of the most entertaining games we've seen this season also be the point ? And because Dallas won the season series 2-1 over OKC, does this make a potential Round 1 playoff series slightly less scary?
Time will tell if this game becomes anything more than what it was in and of itself.
Sometimes, one game is enough … and sometimes it can be so much more, an introduction to fear, disappointment, joy, excitement, hope … some mix of all of these?
"That was a heck of a game, fun to be a part of,'' Dirk said. "Great win against a great team, so that was awesome."
But can it mean more?
If nothing else, we can file it away as one to look back upon with joy for what it was: one brilliantly entertaining
Dallas Mavericks
game.