So You're Saying There's a Chance?
As of late, it hasn't been much of a rivalry. The San Antonio Spurs have won nine straight games against the
Dallas Mavericks
. They are also a slight favorite to win the NBA Championship this postseason. They finished the season with the best record in the league.
So do the Mavericks stand a chance?
Short answer: Yes.
Slightly longer answer, from Dirk: "We're the eighth seed playing against the best team, so it's going to be hard. ... Yeah, it's going to be a great challenge, but also a fun one. We've got to make it fun.''
If you want an optimist's logic on the series think about it like this: The Spurs are your typical No. 1 seed; they are well-coached, they have a great roster and they are a legit threat to win it all. On the other hand, the Mavericks are not your typical eight seed. Buried inside the extremely competitive Western Conference, the Mavericks are nevertheless one of the top teams in basketball. Record-wise, they are one of the three best No. 3's of all-time under the current playoff structure.
If they were in the East they would be a three seed.
A pessimist's take: This Spurs team is really, really good. So good that it's a challenge to pinpoint the Mavs' top areas of concern, as Dallas coach Rick Carlisle notes.
"The main areas,' the Mavs coach said, "are
everything
.''
More from Carlisle following Saturday's practice:
Some of what we believe are the keys to Dallas keeping this thing competitive, starting Sunday at noon with Game 1 in San Antonio:
Spurs' Spacing
What makes the Spurs so good? It's hard for the casual fan to put a finger on it. They don't have a player who seems to dominate on a nightly basis. Their defense is disciplined, but not without its flaws. What makes them great?
Spacing.
More specifically, offensive spacing. In my years watching NBA basketball I have never seen a team with better, more disciplined offensive spacing on a nightly basis than this year's Spurs. The way that they spread the floor makes it nearly impossible to double-team a hot player.
They take advantage of that spacing with the typically excellent ball movement that we have become accustomed to seeing form a Greg Popovich team. On occasion, the Spurs half-court set will look almost like a fast break as a result of their spacing. ... that's how much a defense must scramble to keep up.
You ever watched your football team when they're down six points in the fourth quarter and just need to get a defensive stop to have a chance to win, but the other team's offense just keeps getting first downs on third down? Well, that's probably the best analogy to the Spurs' offense, which often makes you work for 23 seconds before it patiently finds your crack.
Well-Rested Players
No one-seed in NBA history has played their starters fewer minutes than the San Antonio Spurs. Not a single one of their starters averaged over 33 minutes per game. The overly exaggerated tagline on the Spurs is that they're a bunch of old geezers. Well, those players all get their rest. Their minutes are monitored rigidly.
It will be interesting to see if this changes during the playoffs. The postseason is a long process if the Finals are your expectation. Trying to dump more minutes on Tony Parker and Tim Duncan could be a dangerous trend. ... but that seems a thin thread of hope for Dallas.
It's easy to simply credit the Spurs' "system" for their success while not overworking the starters, but it's often overlooked how good this year's Spurs' bench is. It's full of players that are prepared to finish out close games if given the opportunity. Backup point guard Patty Mills is a prime example of this. Parker sat out of a crucial matchup with the Mavericks on April 10th and Mills filled in with 26 points and six assists.
The Mavericks' bench has been a strength for them as well. Everyone will focus on the superstars, but which team gets better production from their bench will go a long way in who wins the series.
Vince vs. Manu
Two players that represent those two benches are Vince Carter and Manu Ginobili. Both are on the wrong side of 36 years old, but they are both huge parts of their teams' identities.
Ginobili is unpredictable in every sense. You never know what he's going to do. That's why he's so difficult to defend. But on the other hand, you never know how much he will contribute at this point of his career. He was very much contained and basically a non-factor in the Finals last season against the Heat. He's still capable of scoring 30 points … or maybe just five points. But regardless of what his stats are in the box score, he can always make a backbreaking three, assist or left-handed layup in the fourth quarter.
Carter is a little bit easier to define. Sure, he can be a capable defender and, at times, can distribute the ball, but basically he's a scorer who typically needs a lot of shots to impact the game. It's hard to survive in the postseason relying on "volume'' shooting, but the Mavericks will be doing just that. Carter will need to score points for the Mavericks to have a chance to keep up with the Spurs. He'll be ready to hoist a few jumpers that might make you pull your hair out, but whether or not those jumpers go in is a big factor in giving the Mavericks a chance.
Saturday's Video Visit with Vince:
Dirk for 3
Dirk shot more three pointers this season than he has in 10 years. That is partly by design, partly by Nowtizki's choice, and perhaps partly just because Jose Calderon, Devin Harris and Monta Ellis are collectively aware of when to find him in position to shoot those treys.
I expect that to not only sustain itself in this series, but possibly increase. If the Spurs choose to defend him with Boris Diaw, then Nowitzki should be more than capable of scoring on him with ease. Big men Tim Duncan and Tiago Splitter could have more success on him, but they won't pick him up far out into the half-court, which might leave Nowitzki's patented transition three/secondary-break three wide open.
Nowitzki could also pull Duncan away from the basket leaving driving lanes open for Monta Ellis, who will need to attack the rim all series long -- but do so under control -- to keep pressure on the Spurs' defense.
It's dangerous to live by the three in the series, but it doesn't seem quite so scary if Nowitzki is shooting them.
Also worth noting here: If
you read Fish's practice report from Friday,
complete with video of Dirk working the left-wing and left-corner 3, you get the distinct impression that Dirk from the arc is central to Dallas' offensive plan.
By the way, it would help if Monta Ellis would heat up from the perimeter against SA, too. In the games against the Spurs, Ellis averaged 21.3 points but struggled mightily behind the arc, hitting 14.3 percent. More, he was denied attempts, taking only seven total in four games.
Wild Card
In
Friday's Donuts, Fish and M-Dug did a great job of detailing the statistical "Odds & Trends''
in this series. Among their conclusions: Devin Harris is Dallas' wild-card in this series.
I'll nominate another candidate: Dejuan Blair.
As members of the bench who have been through the basketball wars, Devin and DeJuan have assorted jobs to do. All year long at practice, they are among the guys who try to keep it loose ... and when we let you peek into practice as in the next video, maybe you get that feel ...
I've been on record as saying that Blair should often be the odd-man-out of the center rotation in order to gain some stability this season. However, I actually think he could be a key part of this series.
It's no secret that the Mavericks are at their best when Samuel Dalembert plays at his absolute best. He will start this series. But Dalembert only plays up to his potential once every couple of games. There is almost no room for error against the Spurs and you can guarantee that if he isn't getting the job done then Dalembert will be on a very short leash.
This could lead to minutes for Blair.
Blair can often be a defensive liability. He can hold his own if you have him man up another big man 15 feet away from the basket, but his version of help defense is taking charges, an admirable effort, but not ideal for a center.
But what if this series is not going to feature a ton of defense? What if it's going to be a shootout? Blair can contribute to a shootout. Offensively, he's a fairly capable player. He operates the pick-and-roll very well (Zach Lowe of Grantland pointed out earlier this week that Blair often makes the extra pass to shooters after catching the ball after rolling, something very rare for big men). He has a good floater and he attacks the offensive glass. Not to mention the effort and hustle he brings to key moments of games.
Duncan could hypothetically punish Blair in the post and he will be able to outrebound him in all likelihood, but Blair can help compensate with energy plays. And we already discussed that Duncan may rarely play for much more than 30 minutes. Blair could play every minutes Duncan is off the floor and have a lot of success against the Spurs' other big men.
Blair is like a bull in a china shop. Don't be surprised to see the Mavericks release him and see what kind of damage he does. Oh, and factor in the fact that he's an inspired ex-Spur who thinks he was done wrong in San Antonio and ...
Wild-card.
Expect a Close Series?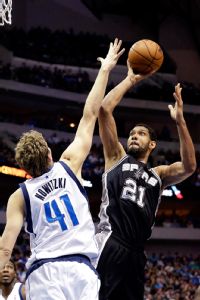 These are just a few things to look out for in the series. There are plenty of other things to break down. (Fish will host this morning, starting at 9 a.m., and you can hear him offer up Mavs talk
listen live to 105.3 The Fan here!
) But there's one thing that is obvious: the Mavericks will have to play excellent basketball to win this series. The defense will have to be adequate and the offense will have to be tremendous.
All that might make some of the games closer than they've been recently ... But not necessarily make the series long and close.
If you want to leave with another optimist's take, take it from Rick Carlisle. After losing to the Spurs on April 10th he was asked about the possibility of playing them in the postseason.
"I think the law of averages would be in our favor," Carlisle said wryly.