DONUT 1: The Wizard of Wurzburg ...
Dirk Nowitzki led the
Dallas Mavericks
to Tuesday's OT win over OKC by contributing 32 points, 10 rebounds, six assists, four steals and one block. That represents his all-time boxscore filler; it's the first time in Dirk's career that he's totaled at least 30 points, 10 rebounds, six assists and four steals in a single outing.
And it comes on the heels of what we contend is -- er, was -- a slump that really goes back to nine games ago.
DONUT 2: Tick back …
We tick back in our heads ... the 2-of-12 vs. Brooklyn, and before that the 11-of-27 vs. Minnesota, and before that the "nap'' in OKC ... and it seems like it's been a five-game slump leading up to Tuesday's contest.
And hey, in those five, Dirk averaged 18.8 points and shot while hitting 41 percent from the floor and 30.4 percent from the arc.
So it was a five-game slump.
But it was also an eight-game trend, with a terrific 12-of-14 effort at lowly Utah tucked into the fold.
Michael Dugat notes: If you look at the eight-game stretch going back to Indiana, but remove Utah, Dirk was averaging 17.1 points, but hitting only 38 percent from the floor and 28.6 percent behind the arc in those seven.
If we see this, Holger Geschwindner -- sitting in front of his TV in Germany, planning a pre-playoff trip to Dallas -- sees it. And he changes his travel schedule and he shows up at the AAC on Tuesday.
Said Dirk, only half-jokingly: "I guess he was just tired of watching my shooting percentages over the last couple of weeks.''
DONUT 3: Dirk's Video Visit …
More from Nowitzki following the win over OKC on a variety of subjects:
So now Dirk's fixed? What of the Jello legs and the strain of carrying the load and the in-game "naps''?
Holger Geschwindner's visits to Dallas -- usually quiet ones, as he's bowed to the organization's polite wishes that he not conduct in-depth media sessions -- are less about technique and more about psychology, less about mechanics and more about the "Basketball Is Jazz'' teachings that took hold when Dirk was a gangly, mop-topped tennis player goofing around in a Wurzburg gym.
I've occasionally wondered: If Holger's presence is the antidote to the few "illnesses'' Dirk's game has ever suffered ... why isn't the mentor a permanent in-season Dallas fixture? Why doesn't Geschwindner bunk at Dirk's mansion and breakfast with him and drive to work with him and play Uncle Holger with the family seven months out of the year?
Ah, but maybe Holger's swooping into town when trouble is brewing -- or when the playoffs are brewing -- is part of the magic. It wouldn't be "special'' if it occurred every day. So it occurs now ...
And the results are generally quite special.
DONUT 4: Stat O' The Day …
The morning after Dallas' eventful win over OKC on Tuesday, the numbers looked something like this: The Mavs were ranked third in points per possession.
Ever since Del Harris came here to assist Don Nelson, the Mavs have emphasized "points per possession'' as THE measuring stick for efficiency. Now, Del will tell you it's about "points per possession'' ALLOWED, too.
But this number tells us that the Mavs are, basically, one of the three best offensive teams in the game. And of course, we've been telling you since training camp that efficient and explosive offense will have to be the calling card around here because ... well, you know.
DONUT 5: About that win …
I regularly get sucked into what the boys on 105.3 The Fan now call "The Fish Trap'': Dallas loses, it's a sure sign of season-ending incompetence. Dallas wins, it's all milk and honey. "(It'll happen again Saturday when I host from 3 to 5 p.m. leading up to our broadcasts of March Madness games.)
And here I go again, wondering if what happened Tuesday is the positive tipping point, the launching pad from which Dallas vaults into the postseason as a truly frightening darkhorse.
Or maybe it was just a helluva game. I don't know.
Our coverage
-- featuring Video Visits with not only Dirk but also Rick, Jose and even Kevin Durant -- is here.
I promise you will enjoy it, whether it guides you into "The Fish Trap'' or not.
DONUT 6: Clippers at Mavs - and Podcast! …
Portland is in fifth. Dallas is in ninth. In between are Golden State, Memphis and Phoenix, with two games separating the entire pack. Tonight, into Dallas come the third-place Clippers, maybe tired but also irritated after a rare loss on Wednesday in New Orleans.
The Mavs' place in all of this? It needs to be addressed from every angle. And so it is done, with the infamous
DB.com Mavs Podcast here on iTunes
(loading as we speak) and up and running below as well ... with a very special cast of characters:
Mike Fisher
,
Kevin Turner
and
Mike Marshall
pull up a chair to the hoops roundtable to kick around the issues as the Mavs heat up ...
Among the issues:
*Dirk's self-management down the stretch
*Breaking down the stretch schedule for Dallas and its competition
*NBA hogginess
*The condition of Calderon
The DallasBasketball.com Mavs Podcast, y'all!
DONUT 7: Humblebragging …
Mark Cuban was asked about Jason Kidd turning 41 -- which he did on Sunday as the rookie coach's Nets beat Dallas -- and the Mavs owner pulled out a winning humblebrag.
"When guys hit (that age), I'll say, 'You know what, I remember that age,'' Cuban said. "It's right when I bought the Mavs.'''
DONUT 8: Shane's teardrop …
One of the best reasons to show up very, very early for Mavs gamenights: A glimpse into the pre-warmup work of the roster members who don't expect to be participating much that night.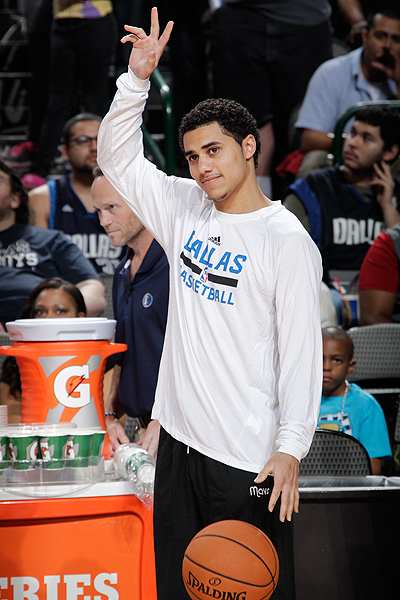 It's often a Sarge show, fourth-string center Bernard James working on a series of mid-range jumpers, trying to add a facet to his game that might someday lead to him no longer being fourth-string.
On Tuesday, Sarge was the second Mav to the floor. The first, more than two hours before tip? Rookie point guard Shane Larkin, with the focus of his work being the "teardrop.''
It's the shot that allows quick-but-small guys to take advantage of their edge (they can get by defenders) while also being able to shoot in the paint (because the giants are closing on them).
So I watched. Dozens and dozens of drives into the lane, Larkin coming off imaginary perimeter screens from the left wing
DONUT 9: Thanks to our partners …
Hey, we can't do what we do without the help of our partners like
Red Rock Bar & Grill
and
McKinneyDentist.com
! Give them a click ... I appreciate it!
DONUT 10: Hold the mayo? …
I remain, on a personal level, a fan of ex-Mavs guard O.J. Mayo. I thought he spent most of last season turning the corner on the way to true professionalism under the tutelage of Rick Carlisle.
And then, unfortunately, Game 81 and Game 82 came and went ... and so did Mayo.
Now he's in Milwaukee and it's not working ... and neither is O.J. He's noticeably heavier than he should be, as the Kings' Rudy Gay recently remarked.
"I guess when you're hurt in Wisconsin,'' Gay said, "you eat."
O.J. does look ... heavier, doesn't he?
DONUT 11: Quoteboard...
"It's do-or-die for us and we are aware of it. We just want to win and win out, and win as many games as possible. ... If we stick together and play together, we can win." - Mavs forward Jae Crowder.
DONUT 12: The Final Word …
The New York Post reported that Kimball-ex and SMU-ex Quinton Ross was dead. Ross, who was with the Mavs in 2009-10 before being dealt to Washington along with Josh Howard in the deal that brought Caron, Haywood and D-Steve to Dallas -- a championship-helping deal, as it turned out -- was supposedly found in a shallow grave stuffed into a trash bag.
Oops. The Post screwed up -- or the NY cops did. They got the wrong Quinton Ross, who is 32 and alive and well.
These things can happen. A "Mike Fisher'' died last week. I have assured myself that it is not me, and the fact that the Mike Fisher in question died at age 97 in Boise would seem to confirm my good fortune.