DONUT 1: "Scariest environment imaginable, that's all you had to say …"
The
Dallas Mavericks
spent Thursday in what we might call "emotional rehab,'' recovering from an epic-but-losing effort at the Grizzlies on Wednesday with a day off.
And now they move from the Memphis frying pan into the San Antonio fire.
DONUT 2: "Let it rip!'' …
Dallas is in the playoffs again, for the 13th time in 14 years. Dirk Nowitzki -- who needed the Thursday off to rest a sore knee that we assume isn't problematic -- has done this often enough to be the Mavs' attitudinal leader.
"I think eventually we will win one,'' Dirk said of the upcoming Mavs-Spurs duel. "Why would it not be Game 1 or Game 2?
"We are going to go out there and let it rip in Game 1.''
Reading between The Uberman's lines? "Let it rip'' is Germanglish for "The odds are so against us, we have nothing to lose.''
DONUT 3: A building block? …
Dallas took
an aggressive approach in Memphis (full coverage here)
and while it didn't pay off in advancement to the No. 7 seed or the coveted 50th win, the approach might be a building block ... and as a No. 8 seed going against No. 1 San Antonio, Dallas will need everything it can gather for the coming storm.
So many of the numbers explain why ...
DONUT 4: Goose eggs …
The Spurs are the only Western Conference team the Mavs did not register a win against this season.
Dallas went 0-2 against Miami. Understandable. Dallas was also 0-2 against Toronto and Brooklyn; we count that as "less than understandable.'' But those three are Eastern Conference teams and there is no shot, short of the NBA Finals, of retribution.
Or, maybe new commissioner Adam Silver makes good on his wise contemplation of a 16-team field of playoff contenders with no more West and no more East, starting someday.
But that day isn't today. Dallas is stuck in the same state, the same division, the same conference, with the machine-like Spurs.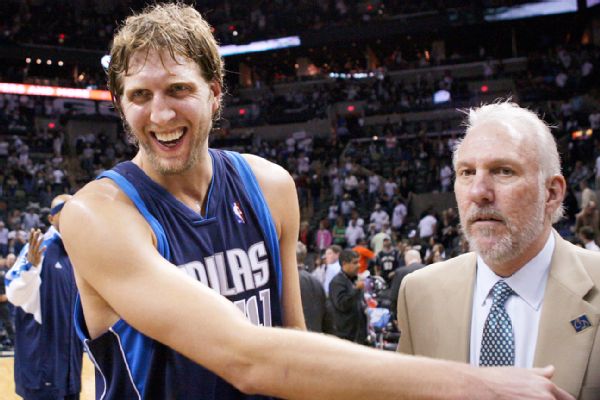 How machine-like? Put it this way: Dallas is making its 13th playoff appearance in 14 years. Impressive ... but interrupted. San Antonio is making its 17th straight postseason appearance. The NBA's second-longest active streak belongs to Atlanta. At seven.
DONUT 5: No close shaves …
The worst point differential the Mavs had against any team this season was -11.5 … to the Spurs.
The Mavs played more "close games'' than anyone in basketball this year. There were 22 games within three points. ... and the Mavs only won 11 of those.
The Mavs advanced to overtime six times this season. They lost five of those.
"The slimmest of margins is what everything rests on,'' coach Rick Carlisle said. "That's the way it's going to be in the playoffs, too."
So ... you are hoping to keep it close against the Spurs ... but even in the unlikely event you do, you are far from a sure bet.
"The slimmest of margins'' hasn't worked very well for Dallas this year.
DONUT 6: The search for the arc …
Strong shooting behind the arc was a primary weapon for the Mavs during the regular season, especially in the late going. After the All-Star Break, the Mavs averaged the 12th most 3-point attempts (24.4) and posted the third best 3-point percentage (39.8%).
For the season as a whole, Dallas averaged 22.2 attempt per game from three, and had the second best percentage in the league (38.4).
Ah, but guess who was first? For the third time in the last four seasons, the Spurs led the NBA in this department at 39.7 percent.
The Spurs did a great job limiting this weapon for the Mavs, allowing Dallas only 16.5 3-point attempts per game (their second lowest total against any opponent), and held the Mavs to a 3-point percentage of 36.4 (18th for the Mavs against any opponent). DONUT 7: But what about Monta? …
While the team numbers almost uniformly lean against the Mavs as we look forward to the series, there are some positive individual trends to note … to a degree.
San Antonio did not do a good job of shutting down Monta Ellis.
Against the Spurs, Ellis averaged 21.3 points (leading the Mavs), 48.6 field-goal percentage, 5.5 assists, 2.5 turnovers, 1.5 steals.
Now, like most everybody else against San Antonio, Monta struggled mightily behind the arc, hitting 14.3 percent, though he only took seven total in four games.
But there is a sliver of light here. San Antonio can't guard Monta.
DONUT 8: And what about Dirk? …
In the season series, Dirk hit a fair percentage of his shots, with a 48.4 field-goal percentage. But he averaged "only" 18.5 points.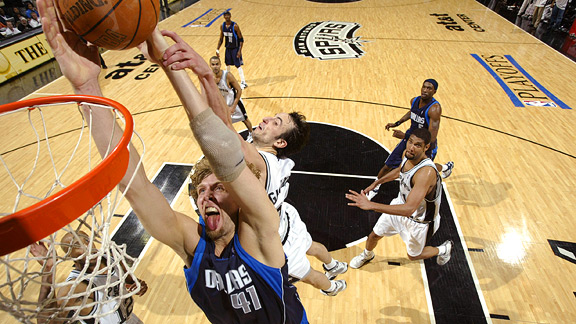 And -- surprise, surprise -- Nowitzki also struggled behind the arc, hitting just 1-of-6 over the four games.
But Dirk-vs.-Them isn't just about one season. This is a long-waged basketball war, with Pop knowing that stopping Nowitzki stops Dallas and with Dirk-vs.-Duncan the key.
How long have they been going at it? Consider that between Games 2 and 3 of this upcoming series, Tim Duncan will turn 38 years old.
DONUT 9: Oh yes, the series …
Here's the schedule for the first-round playoff series between the Mavs and Spurs:
*G1 - Sunday Dallas at SA noon TNT
*G2 - Wednesday April 23 Dallas at SA 7pm NBA TV
*G3 - Saturday April 26 SA at Dallas 3:30pm TNT
*G4 - Monday April 28 SA at Dallas 8:30pm TNT
*G5 (if) Wednesday April 30 Dallas at SA TBD
*G6 (if) Friday May 2 SA at Dallas TBD
*G7 (if) Sunday May 4 Dallas at SA TBD
DONUT 10: One more try: Ball movement? ...
Believe us. We're going through all the Mavs-Spurs stuff.
(See everything we've done this season on the Spurs covered in-depth here.)
searching here. And we end up reaching here.
Dallas prides itself on being precise in its passing and unselfish in its approach. But San Antonio takes even that away from the Mavs.
Dallas averaged 19.5 assists against the Spurs, its third lowest average against any opponent.
DONUT 11: Is there a wild card? …
Remember a few years ago when Dallas opposed San Antonio in the playoffs and once the situation became rather bleak, Carlisle "let it rip'' and put Roddy B in the game?
The Spurs were befuddled. His speed and lack of "conscience'' gave them fits.
Fast-forward to today. Devin Harris may be the brightest spot for the Mavs against San Antonio.
Harris only played in only two of the matchups and did not shoot well (23.5 percent, 25 percent from the arc), but he was the only member of the core rotation to post a positive plus/minus: +11.0 per game.
He also got to the line as much as any Dallas player, averaging four free-throw attempts per game, which tied him with Monta and Dirk, though he reached that number in significantly less minutes.
Devin can play fast, he can guard waterbugs and he can use his speed to befuddle a defense.
It's worth a shot.
DONUT 12: The Final Word …
The Spurs have taken nine straight from Dallas. In those nine games, the average margin was 14.8 points. They have won 13 of the last 15 regular-season matchups. Of those 13 Mavs losses, the final score was only within five once.
Wednesday in Memphis was, said Carlisle, "a good indication of the fight we have in us. And we're going to take that fight to San Antonio.''