DONUT 1: History ...
Time can be like a firefly caught in a windstorm: erratic, fleeting, painful, impossible to hold and/or catch … or eerily beautiful when a moment of clarity pries through, peeling away the swirling detritus to reveal the contours of something intricately delicate by the very tangle of happenstance, work and circumstance that led to existence of this one singular moment and place.
This is to say, we understand how blessed we are to be here watching these
Dallas Mavericks
and one of the greatest players of all time: Dirk Nowitzki.
With 11:46 to play in the fourth quarter, off a pass from Vince Carter, Dirk caught and went up with a 19-foot jumper over a late-to-close Jeremy Evans … and Evans experienced what so many others have come to call familiar: the helplessness of looking up to Nowitzki's release followed by the hiss of the ball slipping through the net.
It's was Dirk's 17th and 18th points of the game, the 26,710th and 26,711th of his career, and the shot that moved him into the top ten on the NBA's all-time scoring list, surpassing the great Oscar Robertson.
As far as our research could find, using Basketball-Reference.com, 3,853 players have scored a point in the NBA entering Tuesday night … Nowitzki has now scored more than 3,843 of them.
DONUT 2: DirkSpeak …
What did Dirk have to say about all of this?
Nowitzki visited with TV voices Mark Followill and Derek Harper after the game and was asked by Followill how it felt to become a top ten scorer.
"Amazing. Amazing," Dirk said. "I mean, top 10 is unreal. It's been a crazy ride passing Big O who obviously averaged triple-doubles numerous seasons. It's unbelievable. It's feels surreal still.
"I was kind of like, all night I wasn't really trying to think about it. I was trying to concentrate on the next shot. I obviously knew how many points I needed, but I wasn't really trying to think about it. I was just trying to think about the next shot, 'How can I get open,' and my teammates did a good job finding me.
"Like I always say, I think that stuff means more to me once my career is over, but this is a sweet one. Top 10 is definitely unbelievable."
It's somehow very fitting that Dirk accomplished this on a night he went 9-of-11 from the floor on his way to a game-high 21 points.
We've
collected more of Dirk's comments on the night here on DB.com Boards.
DONUT 3: R-e-s-p-e-c-t ...
In DFW, we talk a lot about whether the rest of the basketball world respects The Uberman's greatness. We wonder and we worry.
Note the Dirk respect from the Jazz announcers during the historic shot:
Rest assured. They know.
DONUT 4: Gametime - 95-83, Mavs …
The Mavericks closed out their four-game road trip in Salt Lake City looking for a clean sweep, both for the trip and for the season against the team with the worst record in the Western Conference.
Utah would quickly build a seven-point lead, but the opening quarter belonged to the Mavs as Dallas would hit 16-of-17 shot attempts, and incredible 94.1 percent, including 4-of-4 behind the arc, and surge to a 14-point lead.
Utah would not be within single digits again until 1:59 remained in the fourth, trailing 92-83. The Jazz would not score again as the Mavs sealed the victory, winning by a final of 95-83.
DONUT 5: The official highlight reel …
Because it wasn't just Dirk ...
DONUT 6: A little more history …
The Mavs first-quarter efficiency set a new franchise best for field-goal percentage in a quarter, and was the best the league has seen since early in the 2010-11 season, when the Pacers were 20-of-21 in the process of scoring 54 points in the third quarter against the Denver Nuggets (a quarter that included 24 points, 7-of-7 field goals, 5-of-5 3-pointers, from Mike Dunleavy).
It has to be frustrating to shoot 47.8 percent, as the Jazz did in the first quarter, and endure an opponent almost doubling that efficiency … as the Mavs did at 94.1 percent.
DONUT 7: Balancing act …
From the perspective of history, this night belonged to Dirk Nowitzki, but the win also found a reliance on balanced scoring. All five Mavs starters reached double digits in points, as did Vince Carter … with Devin Harris adding nine.
Of the nine Dallas players to make a field goal, only two failed to convert at least half of their attempts (Monta Ellis and Vince Carter).
The final numbers:
Dirk: 21 points, 9-of-11 field goals, 2-of-3 3-pointers, 6 rebounds, three assists and no turnovers.
Ellis: 16 points, 7-of-17 field goals, 1-of-4 3-pointers, five assists, four rebounds and two turnovers.
Carter: 13 points, 5-of-11 field goals, 3-of-7 3-pointers, three assists, two rebounds and one turnover.
Jose Calderon, Shawn Marion and Samuel Dalembert finished with 10 points each, combining to hit 13-of-20 field goals, 15 rebounds, 7 assists and three turnovers.
Harris: 9 points, 3-of-5 field goals, 1-of-3 3-pointers, six assists, two steals and two turnovers.
Balance. ... all of which leads us to the question, Who Deserves "The Dirkie''?
Our BJ Stahl
collects your Player-of-the-Game votes here ...
We know, we know. It seems so obvious. But go vote anyway, OK?)
DONUT 8: Quoteboard …
"He is a once-in-every-25-years player.'' ... My 30th year in the NBA and it's one of the rare times I've truly been in awe of an accomplishment. ... "He's going to keep eating up more people (on his climb up the all-time list). He's got a long way to go.'' -- Rick on Dirk.
DONUT 9: DB.com Mavs TV Party! …
The
Dallas Mavericks
figure to be playing a monumental regular-season-losing game next Wednesday, April 16. You need a monumental place to watch it.
DallasBasketball.com and Red Rock Bar & Grill aim to please.
The DB.com MAVS TV Party is scheduled for Wednesday April 16 at 6:30 p.m. - with the Mavs-at-Grizzlies tipoff at 7 on TXA21.
We'll do it at Red Rock Bar & Grill
, 18110 Midway Rd #208, Dallas, TX 75287 ... (972) 733-3683.
We'll have free UberMan t-shirts (while they last), postgame Karaoke, 'First Beer's On Fish' for DB.com Boards members and a drawing to win Mavs playoff tickets!
All your favorites from DB.com will be in attendance and lots of the fellas from 105.3 The Fan will, too.
How these parties sometimes roll …
DallasBasketball.com Party

Yeah. Decent. Now let's do it again. ...

DONUT 10: The playoff picture …

The standings from sixth to ninth:

6. Golden State Warriors 48-29
7. Dallas Mavericks 48-31
8. Phoenix Suns 46-31
9. Memphis Grizzlies 45-32

With three games to play the Mavs have their fate firmly in their own hands. Their "magic number" is officially two, though they could also get in regardless of what anyone else does with a single win over Memphis in their final game of the season … though we'll hope it doesn't come to that.

Here are the team's remaining schedules:

Warriors: Nuggets, at Lakers, at Blazers, Timberwolves, at Nuggets

Mavericks: Spurs, Suns, at Memphis

Suns: at Pelicans, at Spurs, at Mavs, Grizzlies, at Kings

Grizzlies: Heat, 76ers, at Lakers, at Suns, Mavs

DONUT 11: The Playoffs To Make The Playoffs

As we revel in the nerves of playoff hopes and the accomplishments of a superstar, we've seen the Mavs use a four-game road trip to put themselves in great position. They don't have to be perfect, though it certainly wouldn't hurt, and have remaining matchups with the only two teams capable of denying their playoff dreams.

We've also seen the greatest player this franchise has known rack up Player of the Week honors and move into the top 10 in scoring in NBA history.

The playoffs to make the playoffs are drawing to a close … when the real playoffs will then open.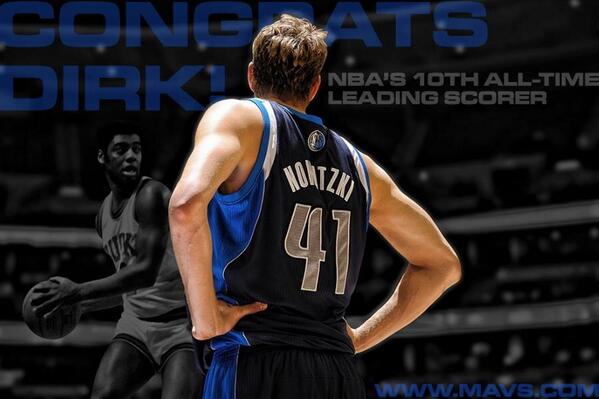 DONUT 12: The Final Word …

"Passing 'The Big O' and knowing that only nine guys in this league have scored more than me,'' Dirk said. "That's crazy to think."