A special Quoteboard, brought to us as always by
McKinneyDentist.com
... the top 10 Quotes from
Dallas Mavericks
Exit Interview Day:
DONUT 1: Shawn Marion ...
On the season: "We accomplished a lot this season. We proved all the critics wrong. We took the number one team in the NBA to a seven-game series, which was very exciting and intense. It was fun."
On what it will take for him to return to Dallas: "Not too much. This is a great city, the fans here are amazing, even media guys are awesome. It's a great environment here. Mark and Donnie have built an amazing franchise here. It's like a family here. I'm going to weigh my options out and see what it's going to take for me to get another championship ring. I would love to add to the ring I have. I'm going to retire here, regardless. I'm going to be a Dallas local here in the coming years. I'm going to make this my home."
On how many years he's got left in the NBA: "I'm looking at maybe two, a couple of more. I think I'm going to have to call it after that. I think it'll be time. It's not all about basketball. I have a son now. A lot of it is predicated on him."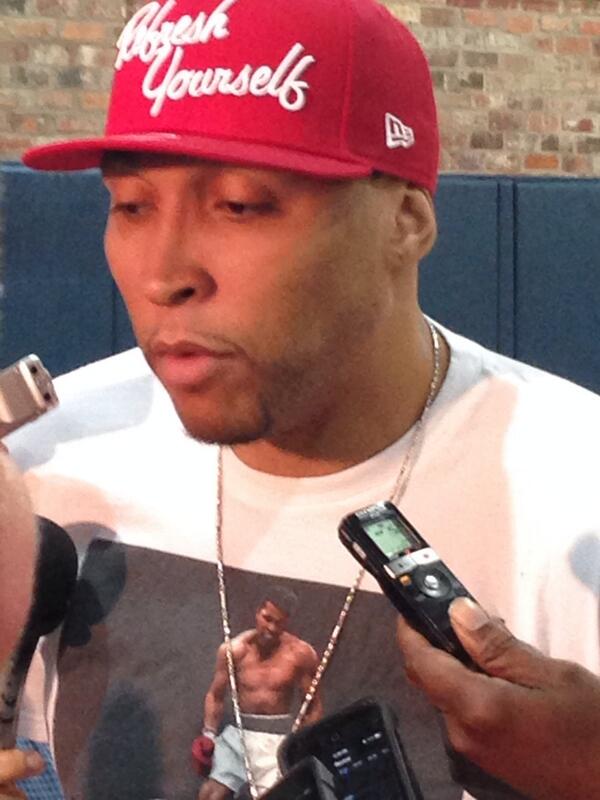 On his future role: "It's just about the situation. I've made sacrifices to my game to accomplish my dreams. I wouldn't mind doing it again, if I have to. It's just about adjusting and getting your mind set for it."
For
the full story on Shawn's Exit Interview, including his wacky vacation plans, click here.
DONUT 2: Jose Calderon …
"I think we're close to being a really good team, and we showed that in this series. ... Nobody gave us the chance to be in the playoffs. Nobody gave us (the chance) to go seven games.''
"I think you're always disappointed when the season ends. It doesn't matter when. The only thing is you always try to be positive ... At the end of the day we showed that we're right there to compete against everybody in this league and to be a really good team. ... You're always going to add a couple of pieces, but it's just believing in the system and believing in what you want to do. You keep the core together, usually every year it's going to get better."
DONUT 3: Donnie Nelson …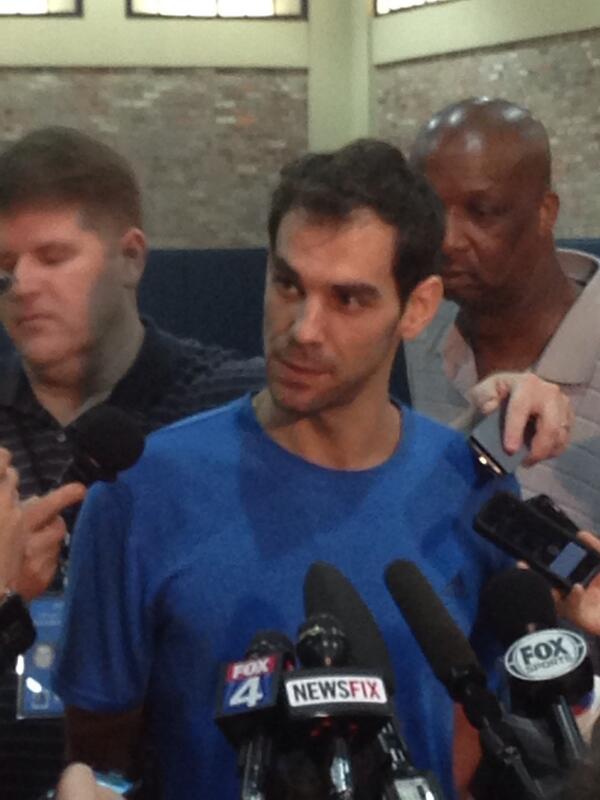 On Nowitzki: "Dirk's not going anywhere. He's built this franchise and he's been with us since Day 1. Certainly, there's a negotiation that's going to take place, but he loves this city and he wants to call it his home. We certainly reciprocate those feelings, and our hope is that we'll get something done that's not only in Dirk's best interest but also affects the flexibility of the future of the Mavericks.
On the season: "I'm really, really proud of these guys. I know our expectation was to go further, but the way they fought and the way they represented the franchise and our city, I'm just really, really proud. It's an honor to share a locker room with those guys, and we're going to make every effort to try to get those free agents that we do have back into a Maverick uniform next year."
DONUT 4: Sam Dalembert …
"In the beginning it was tough. We struggled a little bit as a team. It was like nine different players. We tried to really make it gel and make it work. We did. It took us a little longer, but we really stepped up in the second half of the season. You can see the progress we made. We were able to make the playoffs and go this far. I look at it as a good thing."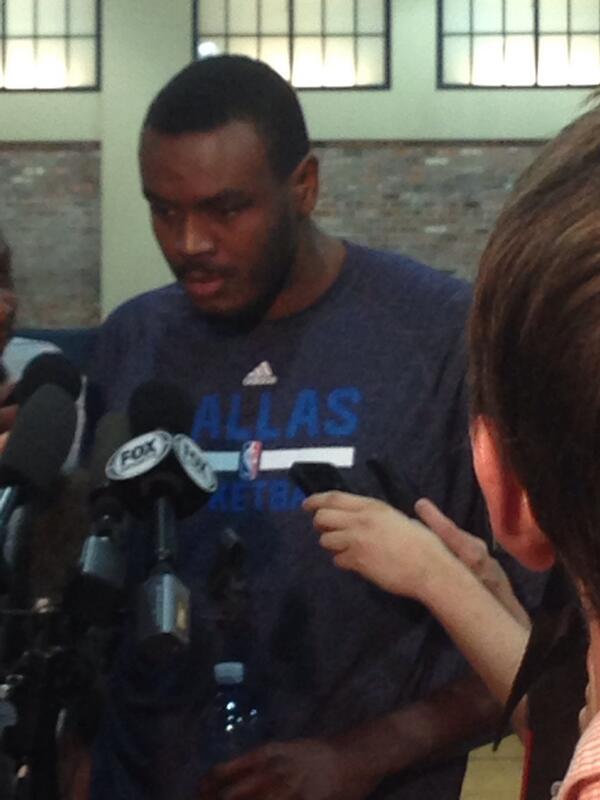 On rotating as part of a three-man center combo: "Sometimes you've got to play. You can't sub yourself in at all. You just have to wait until it is your time to be out there and make the best of it. I want to be out there all of the time, but it was a big-three rotation. When you get something going and get really in a zone you've got to wait another 14 minutes to get out there. It was tough. ... I want to play like that all of the time, but you've got to play."
DONUT 5: Mark Cuban …
"Congrats to the Spurs and owner Peter Holt." (Via Twitter.)
DONUT 6: Devin Harris …
"I think winning is most important at this point in my career, more than anything else. I'm happy here. I want to come back. ... 'My initial reaction is to come back. If everything goes like it's supposed to I'll be back.''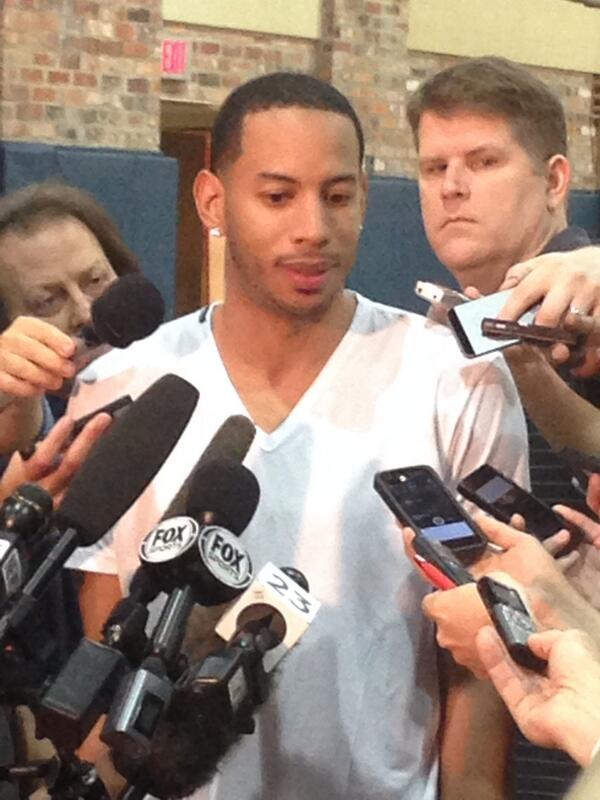 DONUT 7: Vince Carter …
"I think more than anything I'm hoping that a lot of teams that appreciate, at my age, what I bring to the table. My love for the game hasn't changed from when I was a younger guy.''
DONUT 8: Donnie on Monta Ellis …
"If he can make that mid-range shot on a consistent basis, I don't know how you can guard him."
DONUT 9: Rick Carlisle …
"With a group of a lot of new guys, guys came together in relatively short order and we had a very positive year. The last month of the season, there were lot of big games just to qualify for the playoffs and put ourselves in a position to compete hard in this series. And you know, the last game was disappointing, but I just love the way the team battled all year long.

"So, we'll work to try to keep the team together the best that we can, and from there we'll try to make the team better any other way that we see fit."
"It's never good when it ends. As Mark (Cuban) always says, ultimately we're one of 29 teams tied for last.''
DONUT 10: Dirk Nowitzki …
The
full take on Dirk's Exit Interview - and the way his contract can work to give Dallas $31 mil of cap room -- is here.
Dirk and his plaid shorts are here ...
On Mavs goals: "It's no secret. After winning it in '11, I think you always want to compete for the championship again. You don't want to compete for the eighth seed, so we'd love to get better and compete even higher. … It's hard to say, especially knowing we have a bunch of free agents again. You don't really know where this franchise is going to go. You hope it's going to go up, but we'll just have to wait and see.''
On that contract: "Honestly, it's a little early. We lost Game 7 (Sunday). I'm not even sure if Mark or Donnie themselves have even put some thought into [the future], but you know, you've got to aim high and go from there. I'm sure they'll figure something out, but now is the time to think about stuff like that. And I'm sure Mark and Donnie will get on it ASAP."