DONUT 1: "It can't rain all the time …" The Crow ...
By now, we've all heard the numbers: 10 straight, 14 of the last 16 … all The
Dallas Mavericks
losses to the rival San Antonio Spurs.
Game 1 saw the Mavs up 10 with 7:45 to play before everything fell apart.
Game 2 would once more see the Mavs build a significant lead, going up by as much as 15 in the second quarter … only to see the Spurs surge back by closing the half with a 10-0 run as Dallas lost their composure on the back of a couple of questionable calls that went against them, including Manu Ginobili (27 points, 9-of-12 field goals, 5-of-6 3-pointers) shooting three free throws after a dubious whistle against Shawn Marion followed up by a frustrated Dirk Nowitzki getting T'd up.
Their 15-point lead withered down to five, the Mavs drifted into the intermission severed from the momentum their opportunistic play at both ends had earned and a gust of sighs rolled over the Metroplex.
Momentum cannot be caged. It can only be wooed.
(There is a history to be learned from here and Dallas knows it, as explained by our David Lord.)
Dallas scored the first five points of the third and their lead was immediately back to double digits. The Spurs would never get closer than six again, as the entire Mavs roster contributed, pushing the lead to as many as 24 in the fourth on their way to a 21-point rout: 113-92.
This marked the largest margin of victory for the Mavs over the Spurs since a 22-point win in Game 5 of the 2010 series.
The official NBA highlight reel:
"I felt our ability to have emotional strength was a key,'' Mavs coach Rick Carlisle said. "In the playoffs, it's so emotional and there's so much going on that when you win, it feels like you're never going to lose and when you lose, you feel like you're never going to win again. And so you got to avoid getting into those highs and lows and tonight we did a good job of it."
DONUT 2: Defense? …
We'll get to the individuals in a moment, but must first direct our attention to the Mavs defense.
You read that correctly. We'll be talking about the Mavs defense in a glowing manner. Some things you simply can't predict.
During the regular season, the Spurs had the sixth best offensive rating (108.2) and league-leading net rating (+8.1). The Mavs had the 22nd ranked defensive rating (105.9). Against the Spurs in the regular season, the Mavs had a defensive rating of 115.2, their fourth worst against any opponent.
After two playoff games, the Mavs have the third best defensive rating in the playoffs (98.7), trailing only the Heat and Clippers, tied at 98.6.
The sample size is miniscule, making the numbers hard to trust, but it's fair to say the Mavs have had a chance to win each of the first two games because of their defense.
Here, Dallas forced the Spurs to commit 24 turnovers, tying the most for any Dallas opponent this season (Nov. 6, OKC). The Mavs scored 33 points off of those turnovers, their most in any game this season.
These turnovers also led to the Spurs attempting 28 fewer shots than the Mavs … that's how a team loses by 21 despite shooting a higher field-goal, 3-point percentage and attempting 13 more free throws than their opponent.
Who'd have thought?
On a side note, after watching these two games, it's hard to imagine how Carlisle didn't receive a single first-, second- or third-place vote in the Coach of the Year voting.
"Popovich is the greatest coach in NBA history, and I don't think it's close," Carlisle said, acknowledging Pop's NBA Coach of the Year honor. "The coaching matchup is a wipeout. I feel like I have boulders on me."
And then Rick shuffled his feet, kicked a pebble and muttered, "Aw, shucks.''
DONUT 3: Can't hold him down forever …
After shooting 4-of-14 in Game 1, we all expected Dirk to have a strong bounce-back performance. You can imagine our surprise when he missed his first six shots.
You could credit the defense of Tiago Splitter and/or Boris Diaw. They have done a respectable job of forcing Dirk to work, but this was more than the defense. Dirk was missing attempts he's spent a career proving he can make with consistency. Sure, some of it was the defense, perhaps some from the needling designs born in the mind of the "Coach of the Century" Pop (as Carlisle called him) getting into Nowitzki's head … but, to some degree, it simply appeared that Dirk was off.
There were plenty of open looks in there, enough that it was hard to purely credit the defense for his 4-of-20 start to the series.
Dirk checked back into the game for the final two offensive possessions of the first quarter, and the Mavs instantly ran the two-man-game with Devin Harris and Dirk that resulted in an open look, and Nowitzki's first make.
"It was about time,'' The Uberman said self-effacingly, I mixed one in."
After missing his first six, Dirk would make seven of his next 10 attempts as the Mavs pulled away. The final numbers still weren't great, but they were enough.
Dirk finished with 16 points, 7-of-19 field goals, 1-of-1 behind the arc, five rebounds, two steals, one block and one turnover in just under 35 minutes.
DONUT 4: Setting the tone …
In the first game, Monta Ellis was unable to capitalize on his elite ability to attack the rim, taking only four of his 14 shots in the paint, only three of those in the restricted area.
At the end of the first quarter in Game 2, Ellis had matched that total in the restricted area, and by the end of the game he had more than twice as many attempts in the paint (10), all of those attempts also coming in the restricted area … meaning he attempted more than three-times as many shots at the rim in comparison to the first game.
Don't be fooled by the final boxscore numbers for Ellis; the 8-of-20 shooting is not indicative of his production or impact on the game. Ellis set a disposition of controlled aggression that destroyed the Spurs ability to consistently defend.
In fact, we can prove it in one video snippet:
"We needed this win,'' Monta said, channeling either Jean-Paul Sartre or Malcolm X, "By any means necessary."
Ellis's elite open-court game certainly played a role in this, thanks to the 24 turnovers Dallas forced, but his attack-minded approach helped set the tone early.
Monta finished with a Mavs-high 21 points to go with three assists, three rebounds, three steals and only one turnover in just under 34 minutes.
By any means necessary.
DONUT 5: The Wild-Card …
Before the series, we noted that Devin Harris was the Mavs player to have shown the greatest level of success against the Spurs, when looking at general impact,
and noted Devin as a possible positive heading into the series.
Through two games, Harris has been great.
Before Wednesday night, the last time Devin Harris scored at least 18 points in consecutive games, in either the regular and postseason, came in the playoffs against the Spurs … with Harris wearing a Utah Jazz jersey, Games 3 and 4 of a Spurs sweep in 2012.
Harris was once more the leader of the Mavs bench, scoring 18 points, needing only nine shots to get there, going 7-of-9, including 2-of-3 behind the arc, and added five assists, four rebounds, one steal, one block and two turnovers in just over 24 minutes.
The Spurs simply haven't had an answer for Harris.
DONUT 6: And, the starting point guard …
Jose Calderon followed a Game 1 performance that left many asking how long before Devin Harris replaced him in the starting lineup by missing all three shot attempts he took in the first quarter and adding only a single assist and one personal foul to the boxscore in the second.
Calderon wasn't hitting his shots, wasn't defending, and was approaching invisibility … and then the third quarter arrived.
Dirk opened the third with a 16-foot jumper, Calderon would either score or assist the Mavs next five baskets.
After a pair of Ellis field goals, with the lead down to seven (74-67), Calderon would go on a personal 7-2 run, quickly pushing the lead back to 12.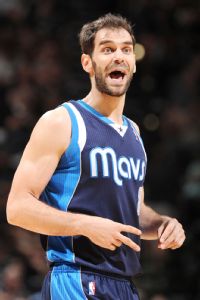 Calderon would score all 12 of his points in the third, hitting 5-of-7 shots, adding three assists in the quarter … for the game, Calderon finished with 12 points and five assists. From our vantage point, it looked like Dallas very meticulously set free-throw-line-high screens for Calderon (especially from Sam Dalembert) to free him for mid-range bullets.
"Sometime when it's low,'' Jose said, reflecting on his poor Game 1 and DFW-wide calls for his head, "everybody gets so crazy too quickly."
Rick promised to stay the course on Calderon and it worked. Nothing too crazy.
DONUT 7: The Matrix, Baby! …
Shawn Marion quietly had his second-highest scoring playoff game as a member of the Mavericks, and the most he's had since scoring 20 in Game 2 of the Finals … and did so while setting a new career-high in field-goal percentage in a playoff game (per Basketball-Reference.com).
Marion finished with 20 points, 8-of-10 field goals, 2-of-4 3-pointers, five rebounds, three steals, two assists and no turnovers in just under 35 minutes.
"Marion played a phenomenal game all-around, offense, defense, rebounding,'' Rick said. "He was terrific.''
We also saw Marion get some time in the fourth quarter, as he should … something that didn't happen in Game 1.
It is our contention that Marion is at least as gifted a two-way player as Vince Carter is. Yet so often this year, Carlisle has opted for Vince's offense-first game as a finishing component rather than Shawn's defense-first approach.
That's changing now ... for the better, we think.
One thing unchanged about 'Trix? His ... um. ... oddity.
"He's one of the strangest players I've played with in this league," Dirk said of his longtime teammate.
By the way, we're told the Mavs will take Thursday off, perfect timing as ESPN notes Marion is jetting to Chicago to witness the birth of his child.
DONUT 9: The centers …
Samuel Dalembert started the game with energy, getting four points and four rebounds in the first quarter, and continued playing well when he saw the court to start the third. However, once pulling him in the first and third quarters, Carlisle did not put Dalembert back into the game.
Dalembert would finish with four points, seven rebounds and a block in 16 minutes.
Brandan Wright was the first center off the bench, but would pick up two fouls in his first two minutes and would total only 8:32.
With Wright in foul trouble and Carlisle turning away from Dalembert, DeJuan Blair was in opposition to see a spike in minutes. Immediately, Blair brought energy and impacted the game.
"As far as the physical nature, NBA playoff games are physical,'' Carlisle said. "If you don't have the right kind of posture and disposition, you're going to get knocked back on your heels and your butt. ... "Blair helped us in that area.''
Blair would finish with eight points, seven rebounds and four steals in just over 14 minutes.
One of those steals was a clean pick of Manu Ginobili above the arc that led to a "fast" break from Blair that ended with an awkward, but effective, spin and layup … just a fun play to watch.
This wasn't a case, we don't believe, where Dalembert grades out poorly, but rather a "Be Ready'' chance for DeJuan -- who, as a former Spur, has been waiting all year to do some damage to San Antonio.
He did it with glee ... and with a few elbows, shoves, glares and hip-checks that helped send the Spurs down to defeat ... and into the front row.
DONUT 10: Who Deserves 'The Dirkie'? …
This win marks Dallas' first playoff victory since winning the title in Miami in 2011 - meaning 1,046 days have passed since then.
And because we are a basketball democracy, we share in the pain, the glory and the voting. It is a DB.com tradition to select a Player of the Game after every win and to award that lucky fella "The Dirkie.''
A total of 1,046 days since we've awarded a playoff "Dirkie.'' BJ Stahl walks you through the candidates and
we ask you to vote here:
DONUT 11: The Schedule …
Game 3: San Antonio at Dallas, 3:30 p.m. CT on TNT and TXA 21, Saturday
Game 4: San Antonio at Dallas, 8:30 p.m. CT on TNT and TXA 21, Monday
Game 5: Dallas at San Antonio, TBD, Wednesday, April 30
Game 6 (if necessary): San Antonio at Dallas, TBD, Friday, May 2
Game 7 (if necessary): Dallas at San Antonio CT, TBD, Sunday, May 4
DONUT 12: Quoteboard...
"We're in this thing to win. We're not in it to get a split and feel happy.'' -- Rick Carlisle.
DONUT 13: The Final Word …
As grim or as bright as any tomorrow can look in the playoffs, it remains the realm where anything is possible. The Mavs are here, playing against a team few (none?) gave them a chance against and are a late slip in Game 1 from being up 2-0 in the series.
Through two games they've outplayed the team with the best record in the NBA. While the series is far from over, and the Spurs are sure to respond with strength, there is a slight tickle creeping into the consciousness of Mavs fans. Perhaps it's too small to fully embrace, but there exists a seed of hope.
Well, there is also Dirk's Germanic tendency toward humble cynicism ...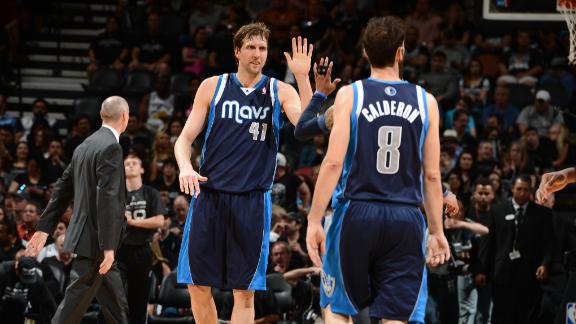 "It's a little dangerous going home because we've been a good road team all year,'' he said, looking forward to Saturday. "I'm a little worried. I'd rather play Game 3 (in San Antonio), I guess. We can't relax."
See? There's your tickle. And his slap.
Still, Dallas' leader knows ... Anything can happen. In the playoffs, anything can happen.
Because it just did.