DONUT 1: Targeting Trevor Ariza ...
NBA sources tell DallasBasketball.com that the Mavs have Trevor Ariza high on their list of July 1 shopping targets.
This is, of course, at a level beneath "big fish.'' But once you get beyond LeBron/Melo territory and into Deng/Ariza territory ... Ariza becomes a get.
But there is a problem here, for while Ariza seems, at 28, to have blossomed into exactly the sort of two-way forward Dallas tells me it covets, he also seems to be a "contract-year'' kinda guy.
I remember him signing him five-year, $34 million deal and thinking that was too much. I remember thinking he looked good as a Laker but way less than that as he bounced from the Rockets to the New Orleanses to the Wiz ... and the other piece in those deals (Courtney Lee and then Emeka Okafor) made the swaps something less than "blockbuster.''
I do bet the Wiz don't bother winning a bidding war here. I do not yet have a rock-solid fix on whether Dallas would prefer Deng or Ariza.
But if it's the latter, here's the Dallas bet: Coach Rick Carlisle will be able to work with Ariza to make all of his years resemble the care-about-the-next contract years in LA.
DONUT 2: Foot problem ...
I was told (and wrote) before the news of center Joel Embiid's foot surgery that he wasn't going to be the No. 1 guy in this week's draft. Now, a big man with a foot problem? Lots of teams will try to learn of his long-term prognosis but will find themselves scared away.
In fact, our friend Sean Deveney has an NBA GM telling him, "You can't use a Top 5 pick' on Embiid. And that sounds about right.
DONUT 3: Meanwhile, Wiggins scoop ...
Meanwhile, a source close to Anrew Wiggins tells me that the Sixers are bending over backwards to make a connection with him. Does that mean they'll use the No. 3 and No. 10 picks in combination to assure his drafting? That I don't know. But I know they've courted the kid -- even hosting him at a backyard barbecue party at the home of a Sixers bigshot.
If you are mock-drafting this week, Wiggins-to-Philly in some form seems a solid bet.
DONUT 4: Dirk's commitment ...
If you are a DB.com reader you know we also favor The Unedited Dirk, who says, "Usually, we get (negotiations) over quick. Four years ago, I met with Mark (Cuban) on July 2nd. I don't like the period of not knowing what's going on. I don't like the unknown. Mark and I will hopefully find a good deal for both parties. ... We have not had any talks yet, but I'm sure that won't take a long time."
Here's
a series of Video Visits with Dirk from before his weekend Heroes Baseball game
...
But even more important than that: Premium Mavs Fans my exclusive visit with Nowitzki in which he sheds some light on this notion that he won't be a "recruiter,'' that there are no Mavs "plans'' to include him in the free-agent chase, and that Melo-to-Mavs is foolishness.
Dirk, in fact, believes in none of those three angles.
His 1-on-1 thoughts are Premium goods and can be read only here.
DONUT 5: Porzingis out ...
Especially with foreign prospects, it's hard to get the straight dope on NBA teams' interest -- just because their local media folks tend to blow interest our of proportion. (In the same way we would, I'm sure, if the tables were turned.)
But Kristaps Porzingis' decision to pull out of this draft probably registers as a disappointment to Dallas, as they had some level of interest in the Latvian. One state-side report suggests he could be a top-five pick next year, reason enough to stay in Europe for another season.
DONUT 6: Workouts inside the AAC ...
Some NBA teams announce which pre-draft workout kids are coming in and even allow the local media to interview them.
The Mavs do it a different way. So DB.com must do our think in a different way, too.
In the last three weeks, we've provided daily insight into who's who at the AAC. A recent sample from June 12:
Sources tell DB.com that the
Dallas Mavericks
next wave of pre-draft workout invitees include
Chane Behanan
, Javon McCrea, De'Mon Brooks, Neils Giffey and Chris Udofia.
Chane Behanan may be the best-known of today's quartet. The 6-7, 253-pounder played in the big time at Louisville and now 21, has always seemed like a natural rebounder as a power forward. He averaged 9.8 points and 6.5 rebounds on Louisville's 2013 NCAA championship team as a sophomore but was later dismissed from the program on a marijuana charge and landed at Colorado State.
Another Louisville player, Russ Smith, is also here. He's a 6-1, 160-pounder who some see as a high-second-rounder. Smith has a reputation as a "gunner'' who at 23 is working to develop point-guard skills.
Javon McCrea, 21, is 6-8 and 250, with a big strong body that allowed him to dominate at Buffalo as a projected power forward. He could fit the "two-way'' player mold the Mavs tell DB.com they are searching for as a late second-rounder.
Chris Udofia is a 6-6, 200-pounder who was the University of Denver's biggest player and therefore played inside, where his 7-foot wingspan helped him thrive. Udofia, 21, is a DFW native who is projected as a small forward. The senior is a potential second-round pick. Udofia and McCrea, I am told, sustained minor injuries in recent workouts the Mavs are working to reschedule them. (Indeed, Udofia, we're told, is rescheduled for today.)
De'Mon Brooks is a Davidson senior listed at 6-7 and 217. The power forward, 22, is an interesting prospect for a variety of reasons.
He's earned his degree from Davidson, he's ambidextrous as a shooter, and in conference games in 2013-14, Brooks led the league in scoring (20.5 ppg.) and field-goal percentage (.660), while leading the Wildcats to a 20-13 overall record, 15-1 conference mark and regular season title. Brooks has been named the Southern Conference Male Athlete of the Year and is a two-time AP Honorable Mention All-America selection, two-time Southern Conference Tournament MVP, three-time first-team All-Conference selection, three-time Southern Conference Tournament team member and three-time NABC All-District honoree.
DONUT 7: Want more? …
Want more on what the Mavs are doing in terms of draft preparation? The NBA Draft is Thursday and in
this Premium thread, we're constantly updating comings and goings of visitors.
And
here, our David Lord pinpoints four names he'd like to see Dallas hook up with in Round 2.
Thanks for being a Mavs Premium Subscriber!
DONUT 8: Litigious fool ...
The litigious prankster who filed that goofy lawsuit against Johnny Manziel (and who four years ago did the same to Cuban and Dirk) ha struck again -- and is striking Cuban again.
This time the nut is claiming to be Lisa Lazzari, the sister of former "Shark Tank" entrepreneur Lani Lazzari (owner of Simple Sugars body care company). Because Cuban (fake)-offended him in some way, the (fake)-Lani demands court-ordered payoff of $15 mil.
DONUT 9: The real center list ...
I can save a lot of readers (and a lot of reporters) a lot of time here: Dallas has a list of centers it is prioritizing.
I've got that list (and much more) here.
A week ago I was told Pau Gasol and a host of others mentioned by the media now were not going to be labeled "high-priority" on that list - at least not in an ideal world. My friend Marc Stein, however, is forecasting Gasol and Dallas as a match. ... Certainly conceivable. There are three strikes against the idea, however, and as ESPN notes in agreement with me, money is among those.
Eliminate dollars as an obstacle - in other words, Gasol takes a fraction of what he's paid now to join Dallas? I suppose one-third of the obstacles would be cleared. But I'm quite sure that's not Gasol's financial plan here, and Dallas knows that. Coming up, I'll explain how the media is struggling with a semantic issue here -- exactly as folks did a year ago when the Mavs' level of interest in Monta Ellis was misread by outsiders ... But worked out positively.
DONUT 10: Devin's fate ...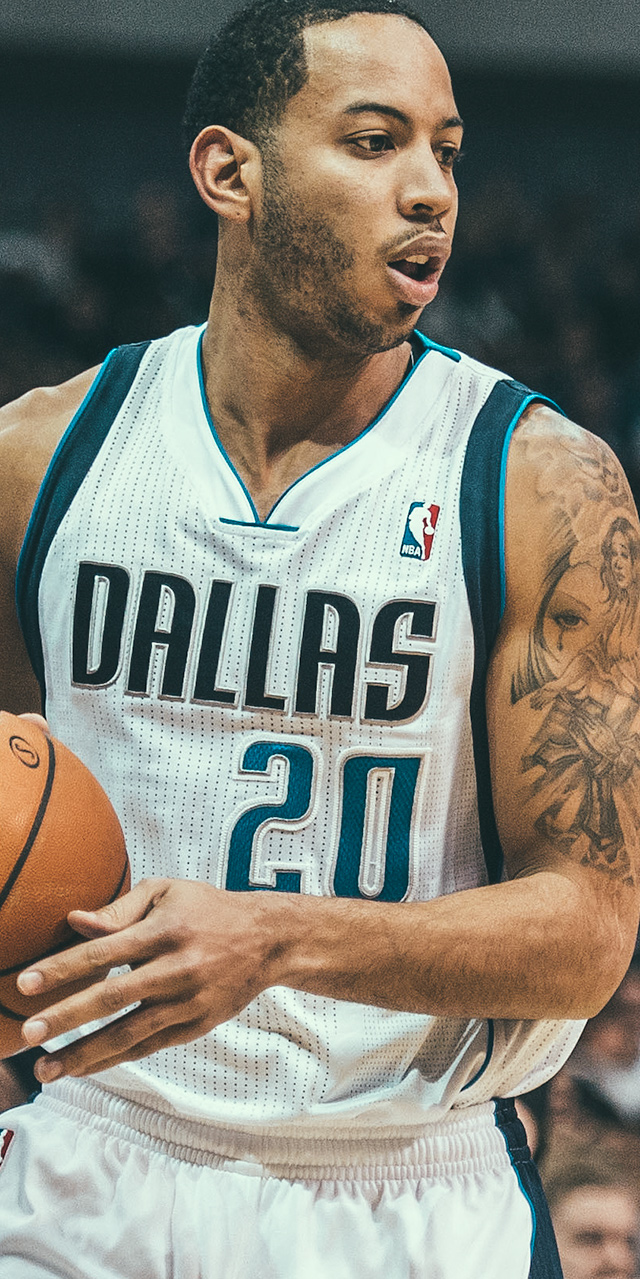 Fate screwed Devin Harris out of a three-year, $9-million contract to re-join Dallas this summer. His toe was not healthy, so the Mavs tore up that offer and brought him back to Dallas -- where he was acquired as the fifth-overall pick in 2004 -- under the terms of an extremely modest one-year, $1.27-mil deal.
That arrangement speaks to the faith the parties have in one another, faith Devin rewarded the club for once he was healthy enough to play in the second half of the season. The 6-3 combo guard returned in January and averaged 7.9 points and 4.5 assists in 40 games. And then in the playoffs, he became an important wildcard. During the Mavs' seven-game series against San Antonio, Harris averaged 11.4 points and 3.9 assists.
But now?
"I'm happy here," Devin said. "I want to come back (to Dallas)."
That is the right thing to say in May, and it is the truth in May. But in July, Dallas will have other priorities ranked above Harris. There very well could be an unspoken arrangement, not unlike the "spoken arrangement'' the Mavs have with Dirk Nowitzki, to fight through the settling dust to have Devin back almost no matter what.
But the swirling dust of free agency has a way of changing plans (ask former Mavs "recruiter'' Jason Kidd). How long is Devin supposed to wait while the Mavs pick through more inviting and pricy options? Is he really supposed to ignore calls from teams like the Bulls that will surely blow away the previous $1.27-mil salary?
If somebody wants to give Harris a front-line role, he can put up numbers, as he did with the Nets in 2008-09, averaging 21.3 points and 6.9 assists.
Shane Larkin needs to be ready to do Devin-like thing here. Devin, desirous of a three-year deal worth at least $3 mil annually, imply cannot marry himself to the idea of not getting his share of $31 million in cap room.
Keep an eye on this in the next two weeks. And stay tuned, because we've completed a 1-on-1 visit with Devin that we'll bring you shortly. There are a couple of key moving pieces here and Devin talks openly with us about those.
DONUT 11: Spud-level ...
I've gotten to the bottom of the Mavericks' supposed interest in 5-8 Japanese point guard Yuki Togashi and have made two discoveries. 1) This is much more a Texas Legends project than it is a Mavs project and 2) Yuki Togashi is closer to 5-6 than he is 5-8.
So it sounds like some Spud Webb-level fun and not much more.
DONUT 12: The Final Word …
How about "Birdman'' Andersen as a Mavs priority? Bleacher Report says it is so; that may be reason enough to disbelieve. But here's another: Reports suggest that there is a Mavs connection with Anderson because he "is a native of Iola, Texas.''
Again, I'm being very careful to report Mavs "priorities" (when possible) rather than just Mavs "possibilities" because anything is a "possibility." So ... Yes. That Birdman angle comes from a brilliant point. The Mavs should absolutely OWN all the prospects from Iola, Texas.