DONUT 1: So goes the dance ...
The longest homestand in the franchise's history is over. Eight consecutive games that alternated between wins and losses, never with the same result back-to-back. The
Dallas Mavericks
were seconds away Tuesday from being in sole possession of the seventh seed, but ended the night alone in ninth after a 122-120 loss.
So goes the crowded dance at the precipice, one foot dangling over the quick drop down into the lottery, the other frantically clawing for purchase on solid playoff ground.
For the fourth time in these eight games, the Mavs found their fate waiting in overtime, and for the third of those four what awaited was a punch to the gut … and for the second time this season Dallas fell to the Golden State Warriors on a last-second attempt in a tie game from Stephen Curry.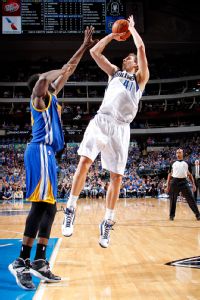 DONUT 2: We knew what this was …
From the moment this roster came together, we all knew where the problems would lie … particularly as we saw the pairing of Monta Ellis and Jose Calderon forming the starting backcourt.
Defense was going to be an issue. The inevitability of it hit us from Moment One.
Rebounding and defense. They were going to be problems.
A team can't allow its opponent to shoot 57.1 percent and expect to win.
They can't allow their opponent to his 75-percent of their attempts in overtime and expect a positive outcome.
The Mavs allowed the Warriors to do both.
On the positive side, with both Andrew Bogut and David Lee sitting out due to injury, the Mavs did hold their own in the rebounding battle, with a differential of -1 (44-to-43) and outscoring Golden State 21-to-15 on second-chance points.
But all in all?
"We didn't deserve to win this game," coach Rick Carlisle said.
Here's Carlisle's Video Visit:
DONUT 3: Perspective …
To give a point of comparison for one of the above numbers:
Entering Tuesday night, NBA teams had allowed their opponent to hit at-or-over 57-percent of their field goals 45 times this season. Their record in those games: 3-42 … now it's 3-43.
In other words, this season when an opponent hits over 57 percent of its attempts, teams have only a 6.5-percent chance of winning.
At that point, just about the only thing that can overcome is offensive and/or situational perfection, something that has eluded the Mavs.
Here's Jose Calderon, trying to turn the page:
"We have to keep fighting,'' Calderon said. "We have seven more to go; we can't look back now. It's not the time to worry about what happened. It's about seven more, and we have to keep looking ahead.''
Not so fast, Jose.
DONUT 4: Overtime … again …
For the fourth time in eight games, we had free basketball.
Monta Ellis got hot late, scoring six of the Mavs final eight in regulation, but missed a chance to take the lead with 40.9 seconds remaining after a Klay Thompson three had tied the game, and Ellis could never quite get the handle on an inbounds pass from Jose Calderon with 1.6 to play.
However, the forefront of what went wrong late in regulation and in overtime shouldn't be Monta's shot selection, the controversial non-call on what appeared to many to be a goaltend with 13.9 left in overtime, or anything else relating to the Mavs offense.
That's not to say there weren't issues, or that mistakes weren't made. They certainly were. Whether you look to this roster's propensity to rely on isolation-heavy hero-ball late, putting the ball in the hands of Ellis or Dirk and saying, "do your thing while we all watch," or their continued lack of awareness for the clock, there are issues that need correcting … even 75 games in, there is work to be done.
Yet, despite all the cracks you may find, the issue here resided at the other end of the court.
It's hard to win in overtime when hitting 50-percent and still getting outshot by 25 percentage points … when allowing Klay Thompson to come open with on an inbounds play with a minute to play for an easy three, when keeping the Warriors from coming away with points on only one overtime possession.
It's hard to win playing only half of the game.
DONUT 5: The Blame Game …
It's easy to want to blame Ellis for going 0-of-2 in overtime with some questionable decision making, and just as easy to overlook the fact that he scored nine in the fourth quarter, hitting 4-of-6 and dishing out back-to-back assists with about five minutes to play that first tied the game and then gave the Mavs the lead, instantly shifting the momentum in Dallas' favor.
It's even easier to blame Danny Crawford for swallowing his whistle on what may have been a goaltend call that would have put the Mavs up two with 13.9 to play in overtime … to blame the absurd explanation given to Dirk by Crawford for the lack of a call.
It's not so easy to swallow the fact that another opportunity has been lost.
"I think (Ellis') layup has a chance to get to the rim, and if that's the case, you can't just get it out of the air," said Nowitzki, who demanded explanations from the refs while on the floor "To me, that's a goaltend. I asked the referees what happened. The explanation was that the ball was two feet short. If that's the case, then he can get it out of the air, but where I was from, I think it had a chance to at least hit the rim. That's a goaltend to me."
And indeed, there is no doubt that the ball was heading toward the rim and nowhere close to falling "two feet short.''
Dirk's Video Visit includes the absurd explanation:
DONUT 6: Dirk's brilliance …
Dirk Nowitzki was slumping. Over the 18 games leading up to the matchup with the Warriors, he had hit just 27.8 percent of his 3-point attempts, including just 15.4 percent during the previous six contests … in just the second quarter, he had as many made threes (4) as he had combined in those six complete games.
In the that second quarter, Dirk was dominant, scoring 16 points on 6-of-7 field goals, including 4-of-4 behind the arc; pushing his point total to 22 at the half, more than he'd scored in eight of the previous 11 games.
The problem may have been the fact that he would take only four attempts in the entirety of the second half, converting two.
Dirk finished with a game-high 33 points, 13-of-21 field goals, 6-of-8 3-pointers, 11 rebounds, two steals, one block and no turnovers.
He was 2-of-3 in overtime, but would not have an attempt in the final 3:08, though he would assist on Calderon's three with 42.9 remaining.
DONUT 7: Ellis up and down …
Monta finished with 27 points, 11-of-23 field goals, 2-of-5 3-pointers, six assists, two steals, one block and two turnovers.
On paper, there isn't much to complain about.
This was a game almost evenly split between the two greatest weapons in the Dallas arsenal.
Dirk scored 22 in the first half, Ellis put up 17 in the second.
Yet, in the end, it's a mark in the wrong column on the schedule and a focus on what went wrong when so much also went right.
DONUT 8: One play that should have meant so much more …
In the end, it only prolonged the time before the fist crunched into our guts … but it could have been so much more.
With 28.9 to play in a tie game, Marreese Speights rose up for the dunk attempt, a dunk that could have put the Warriors up two … only, there was Shawn Marion to meet him, getting just enough of the ball to send the dunk harmlessly away.
Golden State would end up grabbing two offensive rebounds and getting up two more failed attempts before Marion could secure a defensive board and give the Mavs one more chance with 1.6 on the clock.
In a game so devoid of defensive impact from the Mavs, the biggest play of the game almost came at that end … instead, it was lost in the wake of too much to overcome.
Marion finished with eight points, 10 rebounds and that one block.
DONUT 9: Dalembert Dilemma …
Samuel Dalembert, who had been playing extremely well over the past six games, averaging 9.0 points, 10.5 rebounds and 2.7 blocks, was a complete non-factor.
With Bogut out, the Warriors turned to Jermaine O'Neal, and Dalembert seemed out of place, playing short stints to open the first and third quarters … and nothing more.
Dalembert finished with only seven minutes of action, but saw the Mavs outscored by 15 in those seven minutes.
Given the results, it's easy to justify his lack of time, but equally frustrating to see him unable to impose his will at either end of the court on a team missing it's two biggest frontcourt contributors.
DONUT 10: Mavsellaneous …
After shooting 0-of-5 in the first quarter, Vince Carter -- on a night honoring his Sixth Man of the Year candidacy -- made three consecutive three-pointers and scored nine points in the second quarter. He finished with 12 points but on 3-of-13 shooting.
Vince's Video Visit:
*The Mavs allowed the Warriors to score 62 points in the paint, the second most for a Dallas opponent this season … including 20 on 10-of-13 attempts in the third quarter.
For the game, Golden State converted 66.0 percent of their chances in the paint.
Making one more reminder that it would have been nice to see Dalembert earn the opportunity to remain on the court.
*This was Dirk's fifth double-double of the season. Dallas is now 3-2 in those games.
*Dallas lost for the first time when Dirk scored at least 30 in the same game that Ellis scored at least 25. They had been 2-0 in such games.
*Golden State had three players score at least 20 points: Stephen Curry (23 points, 10-of-17 field goals, 3-of-8 3-pointers and 10 assists), Klay Thompson (27) and … Jermaine O'Neal (20 points, 9-of-12 field goals).
Yep … Jermaine O'Neal.
DONUT 11: Two-Minute Warning …
For your consideration, here are the Mavs individual numbers this season for the final two minutes of a game that's within two minutes in order of minutes played (per 36 minutes via NBA.com):
Of those getting the most minutes, only Dirk has a positive plus/minus and the two guys the team is relying most heavily on are both shooting very poor percentages … perhaps in part due to the team's proclivity for abandoning a united or even two-man-attack in favor of isolation plays.
Though the sample sizes are obviously small, and likely heavily influenced by any performance that leaned too heavily towards one end of the spectrum, there also seems to be a clear argument for having Marion on the floor over Carter in the game's most crucial of moments … just as there seems to be a case to be made for making sure Dalembert is.
DONUT 12: The Final Word …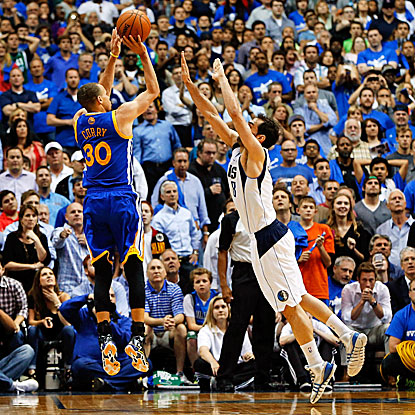 Where do you start when you want to cast blame out in every direction, when you need something to attach your anger to? Regardless of the name, you're left with a reality that leaves the Mavs desperate and nearing the point of their destiny fumbling from their own control … being replaced by a dependence on the failures of others.
"A heartbreaker,'' Dirk said. ""All four losses that we took (during the eight-game homestand) were just brutal, just gut punches.''
Dallas is now 44-31 and one behind both the Memphis Grizzlies and Phoenix Suns in the loss column, with one more matchup remaining with each in the final two games of the season.
There are seven to play.
As much as it seems one fist can barely get out of the way fast enough to not be buried by the next gut punch, Dallas still controls its fate, but opportunities are vanishing.