Games don't get a whole lot bigger than this one.
If we say those words again next week, try not to accuse us of April Foolery. That's just the result of one the tightest Western conference playoff races in recent memory.
Dallas Mavericks
fans can only helplessly watch as their team plays out the last eight games before realistically finishing the season in either the sixth seed (yeah!) or miss the postseason altogether (boo!) or finish anywhere in between (I dunno).
The conservative fan in me would suggest we all just hope and focus on simply making the playoffs. ... You know, relax for a bit, the way Dirk did last night on an appearance on "Conan'' (doing his show from Dallas all week.)
"I didn't even come to the gym at all [Sunday],'' Dirk said after Monday's practice. I took a complete day off and stayed off my feet. After 72 games, I feel pretty good considering I turn 36 (this summer)."
More Dirk on Conan:
At the moment, the Mavericks can't feel very good about this 3-3 record during the long homestand. However, I stress again the importance in attaining the sixth seed in the postseason. My logic is that this seeding will all but certainly allow the Mavericks to avoid the Thunder and Spurs in a first-round matchup.
Even with recent success against the Thunder, asking this Mavericks roster to win a seven-game series with either of these teams to start the postseason seems somewhat unreasonable to me.
The Clippers and Rockets might not seem like much more appealing matchups and, quite frankly, the Mavericks would not be favored against either. That being said, the Mavericks have proven one thing without a shadow of a doubt against these two teams: they can score at will on them. Of course, both teams can say the same thing about the Mavericks, as Dallas' defensive deficiencies are no secret. I would argue that the Mavericks would have a much better chance at winning a high-scoring series with the Clippers or Rockets than they would taking their chances against Greg Popovich or Kevin Durant.
All that is to say that the sixth seed is important. And the Golden State Warriors are holding on to that sixth seed at the moment, making tonight's game a big one.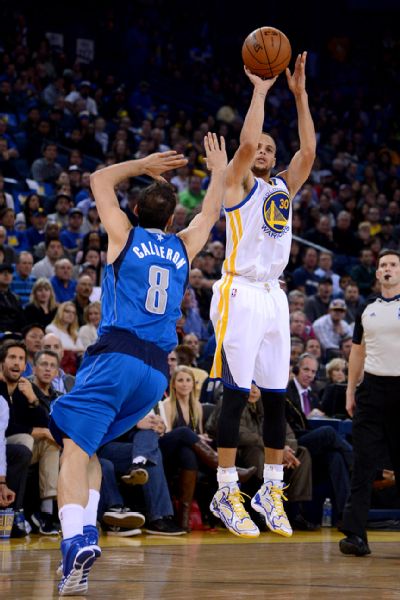 (It's a 7:30 tip at the AAC, with our Mike Fisher part of the pregame telecast starting at 7 on TXA21. And of course, the entire 75-Member Staff of DB.com will be on hand as well. We encourage you to join in the fun at the arena for "Vince For Sixth Man'' Night -- free T-shirts to the first 15,000 in -- and to join in the fun on
DB.com Boards
as well. )
Three weeks ago we had this conversation coming into a matchup with the Warriors.
The Mavericks lost that game, 108-95, giving the Warriors a three-game separation from Dallas.
At the time, it had seemed like the Mavericks blew their last chance to catch the Warriors. That has not proven to be true. If Dallas can manage a win at home tonight they will pull within .5 of Golden State, keeping the dream of the sixth seed alive.
Worth noting: Golden State is slipping a bit, having lost two of their last three. And Dallas, while 1-2 against the Warriors this season, has won 10 of the last 12 meetings at the AAC.
Where Dallas sits now: At 44-30, in seventh, an eyelash ahead of No. 8 Memphis and No. 9 Phoenix, who have the same record.
The 45-28 Warriors have the potential to be one of the most exciting teams in the NBA and the success of their defensive schemes this year has not gotten nearly enough credit. It's actually their offense that has faltered and been largely disappointing at times. This may surprise some considering they have one of the best shooting point guards in the NBA. Unfortunately for the Warriors, they rely so heavily on Steph Curry's shooting and creating that whenever he is taken out of the game or having an off night the rest of the offense is exposed as truly inept.
This is certainly something the Mavericks can relate to with Dirk Nowitzki (and something Monta Ellis will have to prove to be untrue for the Mavericks to make a late season run).
Dallas is running into the Warriors at the right time. Without their two starting big men (Andrew Bogut and David Lee) due to injury, Golden State's offense has been atrocious. Sunday night they lost the New York Knicks 89-84. (Bogut, with career averages of 14.7 points and 11.3 rebounds vs. Dallas, will not play tonight and Lee is doubtful.)
Without Bogut on the floor the Warriors are much more susceptible to penetration so look for Ellis to be aggressive and have a big game as a scorer and possibly as a creator playing against his old club. Jermaine O'Neal is a smart defensive player, but he has virtually no lateral quickness at this point of his career and his help defense off of Ellis drives should open things up for the Mavericks big men. Mareese Speights will likely guard Dirk Nowitzki one-on-one plenty of times this game, a matchup Speights has no realistic chance at winning.
Lee's absence is huge for the Warriors as well considering he is one of the few players on that team that can create his own shot. Without him, it basically comes down to the simple fact that the Warriors will beat you if you let Curry methodically pick you apart (something he is capable of doing). Neither Calderon or Ellis are capable of stopping Curry from getting where he wants to get consistently. Don't be surprised to see Shawn Marion guarding Curry at times during the game. Ultimately, it will be a team effort containing him.
Expect heavy minutes and solid production from Brandon Wright. His quickness should lead to a number of buckets at the expense of O'Neal and the Warriors are unlikely to take advantage of O'Neal's physical strength over Wright on offense ... and all of this is still supplementary to what starting center Sam Dalembert (averaging nine points and 10.5 rebounds in his last six) has been doing lately.
"Golden State is a hard team, and they've been hard for us all year,'' coach Rick Carlisle said. "And so we'll have our hands full. But we'll be ready."
A win for the "Be Ready'' Mavericks would put the sixth seed just within their grasp. Down the road that could lead to the Mavericks avoiding the two titans of the West.
But a loss … a loss would likely end the sixth seed discussion for the season. It would render their playoff chances at a little bit more than a coin flip. ... with a reward that might not be very rewarding.
Tuesday's game is about as big as they come. Oddly enough, win or lose, it won't be the last game this year that's, well, as big as they come.