We get to pick our positives and our negatives here, our shadows and our light. So allow me: There will never again be two players like Dirk Nowitzki and Steph Curry.
That sounds cliché, but it's true. Curry may very well be the best shooting point guard in the history of the game -- a claim that sounds less silly every time we review his game-winning shot -- and his ability to shoot as well off the dribble as he can in a catch-and-shoot situation is unmatched.
The
Dallas Mavericks
' Nowitzki holds the title of 'best shooting big man' in league history and nobody reading these words will dispute that.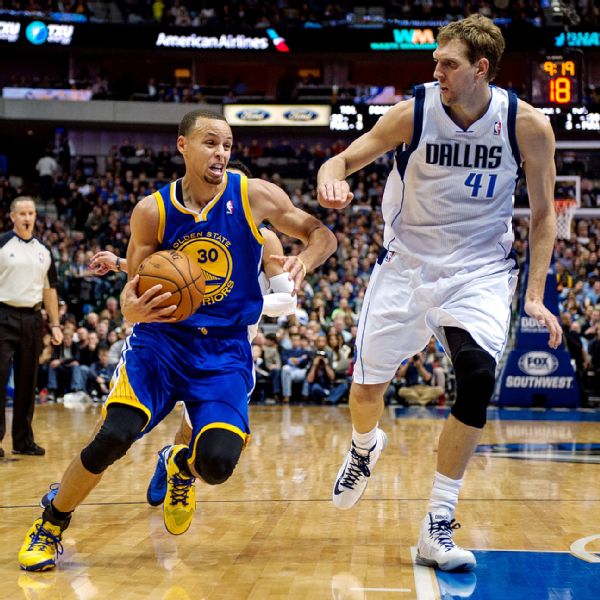 Rarely will you see two shooters of this caliber take the same court. Keep in mind that I say that well aware of how many incredibly prolific shooters there are in the NBA (Klay Thompson of the Warriors and Jose Calderon of the Mavs who happened to be on the AAC floor on Tuesday, too, just to name a few), but Nowitzki and Curry are in a whole other stratosphere. They are both players whom teams have been completely built around. If either is removed then their team's offense will falter in a fashion that matches (or exceeds) the offensive value that James or Durant hold over their respective teams.
That alone was reason enough to be excited for the potential of Tuesday's game, Tuesday's final moments, Tuesday's OT. Add the fact that a win for the Mavericks would bring them within .5 games of the Warriors sixth seed and you could pretty much count on big performances from the teams' respective shooting stars.
Unfortunately, the Mavericks came out a little sluggish with early turnovers and poor defense, finding themselves in an immediate 8-0 hole. Curry quickly lived up to the bill with hot shooting in the first quarter making three his first four shots for six points. Nowitzki also had six points in the first, but off seven shots.
The first quarter saw an impressive 13 players with made field goals setting the tone for an offensive game. Unfortunately seven of those thirteen were Warriors and they took a 30-21 lead into the second period.
Nowitzki didn't treat the second quarter like just another game. He made six of seven shots for 16 second-quarter points putting his first half point total at 22. After shooting 0-5 in the first quarter, Vince Carter -- on a night honoring his Sixth Man of the Year candidacy -- made three consecutive three-pointers and scored nine points in the quarter.
Add those two things to Brandon Wright's perfect offensive quarter (8 points, 2-2 FG, 4-4 FT's) and the Mavs charged back to take a 62-53 lead into halftime.
It was Jordan Crawford that kept the Warriors close. The Warriors' bench scorer was relentless in the first half, scoring 13 points off of 5-8 shooting.
The offense was mostly efficient in the third quarter with Ellis getting in on the action, putting pressure on the Warriors' defense by attacking the rim constantly. The fact that Nowitzki only took two shots in the quarter was certainly not ideal, however, and the Warriors cut the deficit thanks in large part to a number of alarmingly easy baskets under the rim by Jermaine O'Neal. Nowitzki was visibly upset at one point after an O'Neal score and yelled to the coaching staff about the defensive lapses.
These types of easy baskets can't happen against a team with Curry and Klay Thompson. A three-point barrage is always just around the corner and maintaining leads in preparation for one is crucial.
A couple of gutsy Curry three's (a step-back and a transition three off the dribble) came right on cue in the last few minutes of the third period giving the Warriors an 85-81lead going into the fourth. Golden State was shooting an incredible 59.7 percent after three quarters with 50 points in the paint.
The fourth quarter was exactly what you might expect from two teams fighting for the sixth seed (with three teams right behind them looking to steal their playoff spots altogether). It was just back-and-forth lead changes.
A pretty assist by Ellis to DeJuan Blair for a layup gave the Mavericks a 97-95 lead with five minutes left to play. Less than two minutes later Ellis brought the house down with a thunderous one-handed dunk, putting the Mavericks up 102-97. Before the crowd could finish cheering, though, Thompson hit a three to cut the deficit to three. Ellis immediately responded with an elbow jumper to bring it back to five.
A vintage one–legged, step back jumper by Nowitzki over Draymond Green gave the Mavericks a 106-102 lead with 1:43 left to play, forcing a timeout by Golden State. It had a nail-in-the-coffin feeling to it.
But Andre Iguodala disagreed.
He immediately hit a three-pointer out of the timeout to cut the lead to 106-105 with 1:35 left. From there Ellis got back in on the action with another elbow jumper to make it 108-105 and only seconds later Thompson drills a three to tie the game at 108.
With just under 20 seconds left, Shawn Marion contested a seemingly wide open dunk by Speights, but the Warriors got the offensive rebound only to have Curry miss a three-pointer allowing the Mavs to rebound and call a timeout with 1.7 seconds left and the game tied at 108. A fumbled pass by Ellis prevented Dallas from getting a shot off.
Overtime.
In overtime, the offense did not slow down one bit. Nowitzki and Wright combined for nine quick points, but Iguodala and Thompson combined for eight quick points and a Curry jumper gave the Warriors a 118-117 lead with 1:42 left in overtime.
With 42 seconds left, Calderon drilled a three to give the Mavericks a 120-118 lead, which they immediately surrendered with an O'Neal dunk.
From there ... "it'' happened.
Ellis had a layup blocked by O'Neal in what was arguably an easy goaltending call. The Warriors run down the clock and Curry hits a contested step back jumper leaving the Mavericks down two points with 0.01 seconds on the clock.
A "heartbreaker,'' said Nowitzki, who has used that term far too often in this 4-4 homestand. "Brutal. Gut-punches.''
Dirk said the refs told him that Monta shot was destined to fall "two feet short'' of the rim.''
Hmmm. Let us stew on that ...
There was a lot to like about the Mavericks' offensive performance. Nowitzki and Ellis combined for 60 points. Nowitzki had 11 rebounds. Ellis had six assists. The Mavericks got 42 points out of their bench. There were plenty of clutch shots to go around. It's always nice to see such well-executed offense.
But the Mavericks lost the game on defense. Their lack of execution on defense was abysmal. They allowed the Warriors to shoot 57.1 percent for the game. They also allowed them to score 61 points in the paint. Either of those statistics would suggest a loss on any night, regardless of what you get out of your offense.
After the game Carlisle didn't have a lot to say, but he was pretty focused on the defense.
"We didn't deserve to win this game," Carlisle said.
And he's right.
We can look at the non-goaltend from a hundred angles ... and it looks like a missed call that wouldn't turned this result around. But Dallas did another hundred things to lose this game.
And Golden State did at least one fewer thing.
Players like Curry and Nowitzki don't come around often. In a high-stakes game, the two of them put on show that the NBA could use as a case statement for what makes the league so great. Nowitzki finished with 33 points (13-of-21 shooting), 11 rebounds and three assists. Curry finished with 19 points (10-of-17 shooting), 11 assists and an incredible game-winning shot. They both had performances worthy of victories, but Curry is the one that left in a good mood.