More than a feeling
The
Dallas Mavericks
finished up their Tuesday practice in the AAC basement and then let the media in to discuss the Wednesday season finale in Memphis that will determine the order of the West's last two playoff seeds, determine whether Dallas plays San Antonio in the postseason or a slightly less-challenging foe, and determine if whether Dallas accomplishes the 50-win milestone.
But before I entered ... came an energetic end to the full session ... put to music.
Why is Boston's mid-70's hit "More Than A Feeling'' playing inside the gym, turned up to 11?
"At the beginning of the season, we all get to put a song on a playlist,'' Vince Carter explained to me. "So it starts out being about 20 songs. As the year goes on, the list gets bigger.''
Do any of these kids know what Boston's mid-70's hit "More Than A Feeling'' even is?
"I know the song, but these other guys, nah,'' Vince said.
It seems likely that on Tuesday, the "playlist'' was run by coach Rick Carlisle himself. That's his era (and mine.) It occurred to me later that Boston's song might've also been meant as a tribute to Tuesday's one-year anniversary of the Boston Marathon tragedy, along with Rick's close ties to that community.
But it certainly added some pep to the step of the Mavs on Tuesday. And later in the week, somebody besides Carlisle will get to put their dollar in the jukebox.
"We could use some of that '90's R&B down here,'' Vince tells me. "I get to play some of my music in the weight room. Bell Biv DeVoe, Big Daddy Kane, Boyz II Men ... the good stuff. And even that music -- '90's R&B -- these young guys still ask, 'What in the heck is that?''
Grown-up Monta
Monta Ellis plays with a chip on his shoulder and that's probably a good thing. He's motivated by his critics, and that works, too.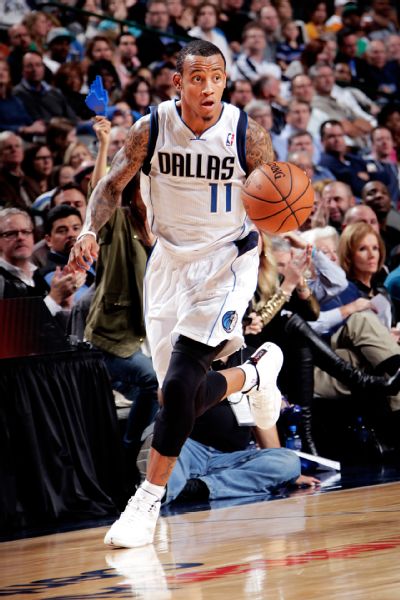 But for what I believe is the first time in his inaugural year in Dallas, Monta is also conceding that he had maturing to do.
"I had to grow up and accept some of the things that was going on around me that I can control, which is my attitude," Ellis said. "Be more positive and put myself around positive people. Being around this organization and really this group of guys got me back into love with basketball."
Ellis' critics have always considered him a volume shooter and even a selfish player prone to bad decisions. In Dallas, where he signed last summer as a free agent under the terms of a three-year, $25-million deal, he's been substantially more efficient than ever while contributing 19 points and almost six assists a game as the Mavs' second-best player.
In addition to personal maturity, Monta added, the quality of the Mavs as a team and as an organization helps.
"I'm happier than I've been in the last few years, just being on a club with a great group of guys who love basketball and just want to win," said Ellis, who never before in his nine NBA seasons has been on a 49-win team. "Once you're winning, it makes life easier."
The team is better. The player is more mature. But the chip remains.
"That's why I go out every night and play this game of basketball -- for my teammates and this organization -- because all of them critics," Ellis said. "I love proving people wrong, and this year we have done that.''
Carlisle on that draft pick
We've tried to explain why Dallas "losing'' this year's No. 1 pick to OKC is actually a good thing. I think DB.com readers understand the intricacies as detailed this week.
But I also like how Carlisle pooh-poohs the entire discussion.
"Who cares?'' Carlisle said. "This (2014) draft ain't that good ... It's more important to be playing this time of year and competing than worrying about the 20-something pick in the draft. That guy ain't going to help us much next year, regardless.''
You and I don't have to agree with Rick about the "value'' of the pick or the depth of the draft. And we've argued before that this rather casual approach to the draft is traditionally an organizational flaw.
But dredging up The Odom Odor? Or letting anything get in the way of Memphis and the playoffs? That's the part of Rick's position that we do understand.
"Is that a 'Bash Odom' question, because I'm not into that either,'' Carlisle said. "I like draft picks as much as the next guy, but that ain't helping us win on Wednesday or this weekend.''
Mavsellaneous
Holger is Dirk's guy, but he spent a few moments with Jose Calderon at practice as well ... Vince Carter on Memphis: "They like to slow down and grind it. It's important for us to stick our nose in there and fight back.'' ... Gal Mekel joined Nowitzki in spending extra time in the gym before the team plane left for Memphis ... Monta said his tailbone is still sore but as always, "If I can walk, I can play.'' ... Carter raved about rookie Shane Larkin's "Be Ready'' approach and believes it led directly to the kid making that important period-ending 3 against Phoenix. ... The game is televised on TXA21 and I'll be part of the pre- and postgame shows, which I'll do live from the site of our DB.com Watching Party, Red Rock Bar & Grill (Frankford and Midway off the Tollway).
Quotable
"We want to accomplish the goal of 50 wins. This is the opportunity. That's the approach.'' -- Vince Carter.
Pretending there's no preference
Dirk Nowitzki is a straight-talker. But he's also a smart-talker.
Hey, Dirk, would you rather play the San Antonio Spurs on Oklahoma City Thunder in the first round?
"I'm not sure,'' he said. "I see OKC as a little more athletic and San Antonio does the same thing with smarts and shooting. So I'm not really sure.''
Meanwhile, Dirk was the last guy in the gym, tinkering with himself under the guidance of Holger:
The Final Word
"We've just got to get the win tomorrow and see what happens,'' Monta said. "Win or lose, go from there and get ready to play whoever we need to play."