Starting at point
Dallas Mavericks
coach Rick Carlisle likes to keep these sort of things close to the vest -- "I release my starting lineup 16 minutes before the game,'' he said Monday, "so if you are (in San Antonio for Game 2 on Wednesday) you will know my starting lineup then.''
But as Dallas spent the day regrouping from Sunday's 90-85 Game 1 loss at the Spurs, there really seems little mystery what the club will do at the starting point guard position despite Jose Calderon's struggles in that role and Devin Harris' success behind him.
"We're rolling the way we're set up," Dirk Nowitzki said. "Jose has been our starter the whole year. We've got to start the game off a little better. I think we were a little slow and we were down eight or 10 pretty quick there in the first quarter, so we've got to be a little better there, but Jose is our starter. He's the guy that puts us in our plays and we're rolling with it."
The Mavs have a system, a rotation, that won them 49 games. It includes Calderon starting -- but scoring better that he did in Game 1 with his seven points on 3-of-9 shooting. minutes. It also often includes Jose getting almost twice the 16 minutes he earned in the loss ...
And that's where Devin comes in.
Harris led the Mavs back from an early deficit with 19 points on 8-of-16 shooting, plus five assists.
And the 32-minute game? That was given to Harris.
The smart bet? Calderon continues to start, continues to set up the first wave of offense, continues to get perimeter screens set for him (because he can't shake Tony Parker by himself) and continues to not be asked to guard Parker on the other end.
And then ... Harris enters the game as part of Dallas' explosive second group and maybe ends up staying on the floor with the first group.
"We're going to approach it the way we approach it, doing it the way we feel is best," Carlisle said. "If we get to the point where I feel major lineup changes are in order, we'll do it, but I'm not going to talk about it two days before the game."
The Mavs don't believe "major lineup changes'' are in order. But they do believe major minute changes at point guard are.
Alone again, naturally
My least favorite thing about Monta Ellis? He tends to avoid interaction with the media following struggles -- and his 4-of-14 for 11 points in Game 1.
My favorite thing about Monta? He does seem to be using his time smartly otherwise. To wit: He was the last Mav in the AAC basement on Monday, spending a great deal of time in one-on-one consultation with assistant Darrell Armstrong.
It was, ostensibly, a "shooting drill.'' And eventually, Jae Crowder trotted over and broke up the solemn mood with some horseplay.
But I saw a contemplative Monta ... talking through issues that are likely not at all physical but largely mental.
Issues that consultation with assistant Darrell Armstrong hopefully will repair.
3-Point Shootout
It's Crowder vs. Vince. Jae's reaction tells you who won:
Vince on the 10-game skid
Veteran Vince Carter astutely fielded questions about a winless streak against San Antonio that has now reached 10 games.
"We're not going out there to lose the 11th,'' Vince said after a long pause to a query. "We're going out there to win four games.''
For Carter, that starts with making sure his "second line'' is ready.
"We just have to play harder then them,'' Carter said, speaking as a leader of Dallas' bench. "Our bench guys have to match theirs... We have to win that game."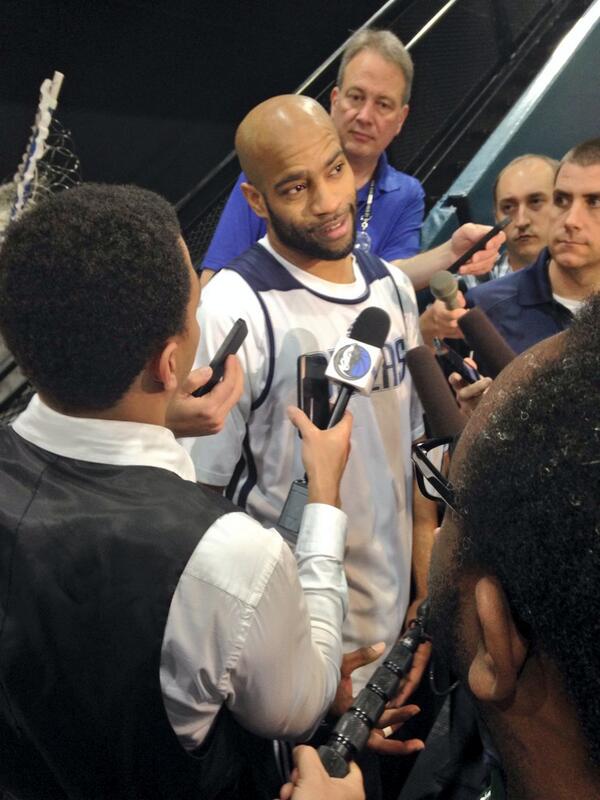 Mavsellaneous
Dear Mavs fan: If you are just now wondering why Shawn Marion isn't among Dallas' five finishers on a regular basis, you are damn late to my party ... Dirk with some X-and-O talk: "If they keep going under screen-and-rolls like they have, our guards have to step in there and I'm obviously going to keep shooting from the post area if they don't double-team me, like they did the last six minutes. I'm going to take my shots that are there. 'You don't want to go crazy and hoist every shot you see. Still have to be smart.'' ... Presser photos courtesy of Mavs.com ... The Mavericks will practice again Tuesday at the AAC and then return to San Antonio immediately after for Wednesday's Game 2, which will air locally on TXA 21 at 7 p.m.
Dirk's positives
On Sunday, Dirk Nowitzki said it might take him a moment to be able to reflect on any positives from the game.
Well, Dirk?
"Well, we were in the game," Nowitzki said. "We were still up 10 with seven minutes to go. I don't think we can say that about any of our last meetings the last two years down there, so that's a positive. I think we did a better job in transition, even when we did turn the ball over a little bit or missed a shot. We matched up a little better than the first couple of meetings when we just got killed in transition 3s and transition layups, so we were a lot better. I thought we competed.''
He's right. Relatively speaking, that's all pretty positive!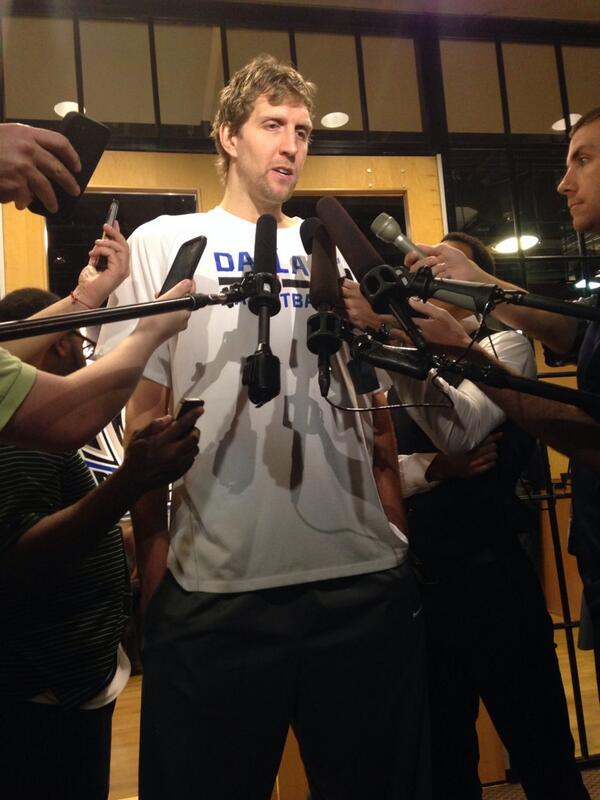 The Final Word
"You can lose 20 times to a team. But you have to go in there with a fresh mindset." - Dirk Nowitzki.