Brand Vs. Brand
The
Dallas Mavericks
put the finishing touches on their Game 1 plans for Sunday's noon playoff opener in San Antonio with coach Rick Carlisle talking tersely, veteran Vince Carter talking defense and Dirk Nowitzki continuing to gear up for yet another showdown with Spurs star Tim Duncan.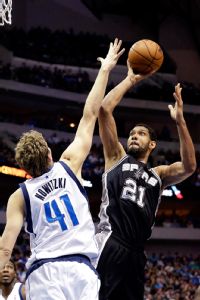 "I like him," Nowitzki said of Duncan earlier this week. "I think he's about as quiet of a superstar as you can get, and, obviously, I'm not the rah-rah guy for my 16 years, either. We're both pretty laid-back and go about our business. We didn't try to make a 'brand' out of our names. We're just trying to go out there and win games and compete.
"I think we both go about our business the same way, and that's what I like about him."
But "just concerning themselves with on-court results,'' Nowitzki this year averaged 21.7 points per game for the No. 8 Mavs. Duncan contributed 15.1 points and 9.7 rebounds for the No. 1 Spurs.
"It's a showcase for two of the 12 greatest players of all time," Mavs coach Rick Carlisle said. "Both of those guys have been more than 10-time All-Stars, league MVP and Finals MVP. There's only a dozen guys that have done that and you got two of them. ... So this is a treat for people who appreciate NBA basketball and the history of the game. You got two guys whose love and respect for the game is so high and their work ethic and standards are so high that they've kept it going in their mid-30s as well as anybody I've ever seen."
Looking loose
Meanwhile, as we allow you a look inside Saturday's practice, you see a Mavs team that continues to appear playful and loose:
Defense and confidence
And we visit with Vince Carter who is, as much as anything, stressing Dallas' need to focus on defense:
More 'Keep it simple'
Coach Carlisle's message has been the same for two straight days. It's "keep it simple.'' Beyond that? Carlisle's mood? Not exactly playful:
"There are no 'tricks,''' Rick said. "The 'trick' is that we have to play better.''
Updating you on other Mavs stuff:
*A Premium look
inside Friday's Mavs practice (complete with some gameplanning tidbits
and Sam Dalembert keeping his rookies in-check.
* Here's
Odds & Trends - numbers from inside this series.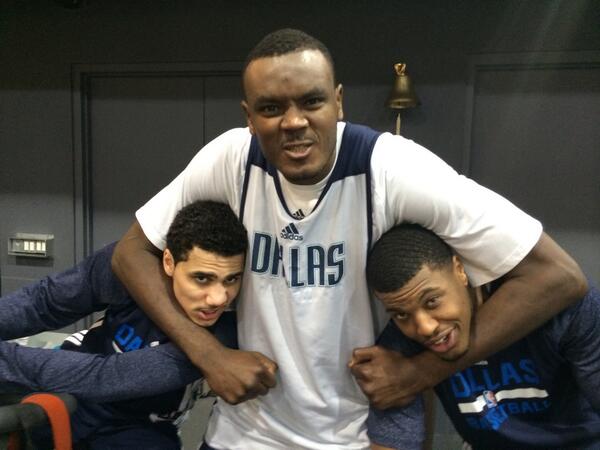 *Our
DB.com Archives, with loads of information.
*The 24-hour-a-day discussion on
DB.com Boards.
*And David Lord's breakdown of
the Mavs and the salary cap and the chance to have $31 million worth of room this summer.