This week the NBA has provided an end-of-season update to their projected revenue numbers for this and future seasons. We take notice because those revenue numbers are what determines the league's salary cap and tax threshold. And for teams like the
Dallas Mavericks
who will have cap room this summer, it's looking like the opportunity to spend will be even better than has been expected.
Make no mistake: Our focus, like the organization's, is on Sunday's Round 1, Game 1 noon visit to San Antonio. We've got you covered there with
a Premium look inside Mavs practice (complete with some gameplanning tidbits,
with
Odds & Trends - numbers from inside this series,
with so much more in
DB.com Archives
and with 24-hour-a-day discussion on
DB.com Boards.
So there's the eye on the prize. But along with that comes our awareness of other future prizes.
Those revenue numbers. The league's salary cap and tax threshold. And what Dallas might be able to spend to continue to rebuild.
As a point of reference, for this season (2013-14), the NBA's cap was set at $58.679M and the tax threshold at $71.748M.
Those cap and tax limits are determined by an audit of league-wide revenues each July, but periodically the league tries to peek ahead and offer an educated guess at what those numbers are likely to be, when calculated in July. And each time they've taken a guess at the numbers for the summer of 2014, they've gotten bigger and bigger.
Their initial projection for the 2014-15 season, shared in the summer of 2013, was that the cap would land at about $60M and the tax line would be at about $73.3M. They later revised that cap projection upward to $62.1M, then to $62.5M and then $62.9M, with tax projections also raised accordingly.
Now, the current projection is telling teams to look for a salary cap at about $63.2M and a tax line above $77M for 2014-15. For the following year (2015-16), their early peek says to look for numbers at $66.5M and $81M, respectively.
For the Mavs and others who will be operating with cap room to spend this summer, the growing projections offer a mixed bag of pluses and minuses.
The upside is that each extra dollar added to the cap adds that much additional spending room to the mix. For example, if there was a holdover of the same cap as in the current 2013-14 season, the Mavs would be looking at about $26M in spendable cap room this summer with their existing roster, to re-sign Dirk
(see what Nowitzki himself says about that here)
and add some others. As those cap projections have risen from $58M to 60 to 62 and now to 63, the expected spending room has also grown from 26 to 28 to 30, and now looks to be about $31M.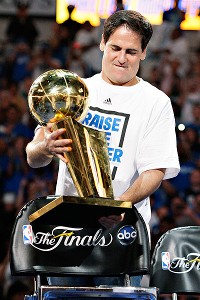 However, the higher cap and extra spending room has a downside as well. With that higher cap, max salaries also go up, and the extra cap and tax-free room will also increase the money other teams are likely to spend. Ultimately, with the same 30 teams still chasing the very same players but with a higher aggregate pool of money being spent, player salaries will tend to go up across the board, and the best bargains may be players already under contract and locked in, rather than those now negotiating when the teams are flush with extra cash.
In any event, the Mavs are in line to have a ton of spending room this summer to make an impact. When the playoffs end for Dallas, hopefully later rather than sooner, we will be taking much closer looks at who the Mavs might pursue and how they might allocate their cap room this summer.
We invite you to join DallasBasketball.com for the informative ride.