The Underdog Role
The
Dallas Mavericks
, to a man, used different words to express the exact same two concepts on Friday in preparation for the Round 1 meeting with San Antonio.
Concept 1: Don't be overwhelmed by "underdog'' talk.
Concept 2: KISS.
"The standings," Monta Ellis said, "are zero-zero."
Added Shawn Marion: "It's a new season, a clean slate right now. Don't nobody have a victory in the postseason yet. So that's our objective: Go out there and win the first game. ... All I know is we play Sunday at 12 o'clock.''
Dallas is not naïve. They are well aware that one of the reasons they are eighth-seeded with 49 wins is because the 62-20 Spurs handed them four losses in four meetings.
"You know, you want to look at the positive," Dirk Nowitzki said. "We're one of the 16 teams that have a shot. How big our shot is, we'll see. But we have a shot. It's better than being ninth, so we're going to go for it. We know we're facing a tough team. We'll just go from there."
And what about KISS?
"Against that team, you got to be smart and execute perfect," Dirk Nowitzki said. "And we've got to shoot the ball well. ... We've got to use our basketball IQ this series.''
Now listen to coach Rick Carlisle echo largely the same sentiment.
"We need to be process-oriented,'' he said. "We need to keep things very simple.''
Mesh these two concepts into one. Carlisle will help the Mavs be "smart'' by offering simple keys he believes will forge successes. If Dallas executes by using its BBIQ -- and with all of those 90 years of experience and more available, it should have some -- and is rewarded, confidence will grow.
So ... KISS.
The Corner 3
Carlisle has no desire to whisper out a gameplan in advance of Game 1 tipoff. When asked about his "main areas'' of concerns regarding the Spurs, he responded:
"The main areas are everything. Transition. Lane penetration. Pick-and-roll defense. Everything.''
From what I saw and from what I'm told, a particular point of emphasis at practice was the corner 3. Dallas' inability to score from the arc against the Spurs as this club normally does seems key ... and maybe fixable.
So there they were, working on the corner 3, everybody from Dirk (seen here from the left wing) ...
... To Devin ...
... to Wayne Ellington.
Dirk was especially efficient from the left corner during the time I watched.
For what it's worth, Ellington -- generally a good long-distance marksman -- struggled with his 3-point shot on Friday. And he took some good-natured ribbing from assistant coach Darrell Armstrong.
"That's for coming down to the gym, Weezy!'' D.A. said sarcastically, using the "Lil' Wayne'' nickname some of the fellas have strapped on Ellington. "I guess you don't like it here in downtown, but that's for coming to the gym!''
"Let it all hang out''
As Dirk was saying those words, a bunch of the other fellas were collecting around the exercise bike to pose for a photo.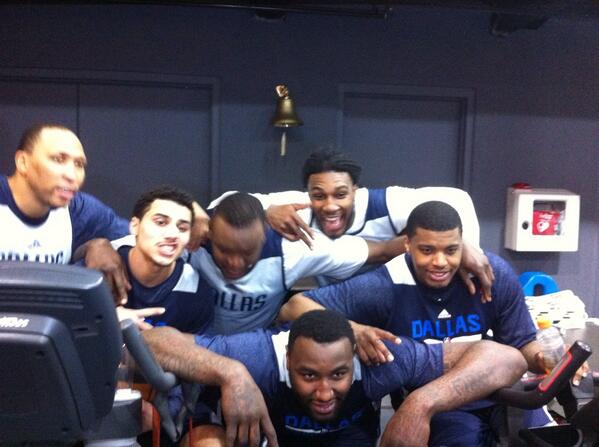 "Let it all hang out''? Yes, it appears so, for a team that on Friday, anyway, seemed pretty loose.
Mavsellaneous
Dirk likes the spring atmosphere - and the spring weather. "It's just a different atmosphere,'' he said. "It's warmer out, which I love. ... The Mavericks practice at 10:30 a.m. on Saturday. Media availability is around noon and DB.com will have a full report. ... From Carlisle: "We've got to go into this thing guns blazing and really tied together. And if we do that, we'll give ourselves a chance."
Dirk and Nash on Grantland
As part of a video series for Grantland, Steve Nash reminisces with former teammate Dirk Nowitzki and discusses ... what if.
The Final Word
"When we compete and we grind, I like our chances anywhere. It's what you live for, to compete your butt off and have fun doing it.'' -- Dirk.