The
Dallas Mavericks
needed Dirk Nowitzki to score 19 points -- including eight in the fourth quarter -- to come back to win 103-100 over the Kings on Saturday at the AAC. What had been a 17-point first half lead turned into a five-point deficit in the fourth before Dallas rallied.
Jose Calderon and Shawn Marion made critical late-game 3's and Monta Ellis (17 points and six assists) and Sam Dalembert (15 points) were also key contributors as the Mavericks beat Sacramento at home for the 20th straight time in the regular season.
Who
deserves "The Dirkie'' for player of the game? You vote here!
Dallas is 44-30 and is in a virtual tie with Memphis (43-29) for eighth place in the Western Conference, a half-game behind Phoenix. The Mavericks have eight games left and finish the regular season at the Grizzlies.
"At this point, I'll take a win over anybody," said Nowitzki, aware both of the standings and of the fact Dallas this year have five losses in which it once held 17-points-or-greater leads. "That's where we're at in this season. If we win the eight games we've got left, if we win them all ugly, I'll take that, too.''
Here,
sponsored by McKinneyDentist.com,
is Mavs Quoteboard:
Rick Carlisle on what sparked Dallas' late surge:
"Good question. Probably getting our backs up against the wall – again. We responded. It was good. It was a good finish. We got a bunch of stops in a row and scored. Getting to the bonus helped us. But look, it's not a good way of doing business; it's tough trying to win that way. We've just got to keep working and getting better."
Samuel Dalembert on checking Cousins:
"He is a real good player, and when he got going you know it's going to be a long night. It's very difficult, I made sure he didn't get anything easy and made him work for it and shorten his game.''
Carlisle on Dalembert (averaging nine points and 10.5 rebounds over his last six games):
"He's playing really well. ... He was getting the ball in the basket tonight, too. He played a huge role."
"He's been doing a lot of really good things. Maybe it took a while for him to get things, I'm not really sure. But teammates have been behind him for most of the year in a big way. We ran the first play for him, he knocked in the shot, that gets him going, too. I think he really realized how important he is to our whole thing. He's doing great."
Rick Carlisle on giving up big leads:
"We're struggling in some areas. With eight games left, what I would tell you, we're 74 games into this. There's been so much of this that, unfortunately, it's been part of our DNA and I just feel like we're going to snap out of it – and I know that we have to. I'm a very positive thinker on this and we're going to do better on this."
Dirk Nowitzki:
"We wanted to finish the half strong and take a 16, 17-point lead into the half. But, next thing you know, we let them score right before the buzzer and it's only a 12-point game. And they got some momentum going into the half.''
Shawn Marion:
"They made a game of it, but we were able to pull it out this time and any win counts. You can't think about the negatives of it. Any W going in that win column is big for us."
Calderon on playing down to the competition:
"It happens sometimes. We have to try and be better with these kind of teams, we still have three or four like this. These are the ones that they are counting now, and sometimes these are the more difficult ones to get into the games. We have to be ready for those about kind of games ... We have to coached and ready for 48, it's not about crossing games, it's about playing better basketball and team basketball and not getting into their rhythm."
Dirk:
"I mean, we lose leads. That's what we do.''
Dalembert on the playoff push:
"It's huge. Every single game counts. We're trying to fight for a playoff spot. We've got to push it and we've got to control what we can control. We have to go out every night and fight.''
Dalembert on the areas of needed improvement:
"Style-wise, we need to slow down on our turnovers, we need to box out on every opportunity, and play with energy, pass the ball and move the ball.''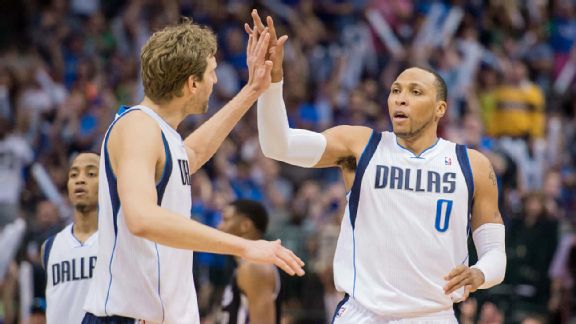 Rick Carlisle, echoing coach John McKay's legendary 1976 quip about his winless Buccaneers:
"My team's execution? I'm in favor of it.
That's a joke."
Calderon with The Final Word:
We'll take it, it's a win and we'll be better on Tuesday."