DONUT 1: Mavs must 'Let It Rip!' ...
The
Dallas Mavericks
' approach entering this first-round series against the heavily-favored Spurs was best-phrased by Dirk Nowitzki.
"I think eventually we will win one,'' Dirk said before the start of the Mavs-Spurs duel. "Why would it not be Game 1 or Game 2?''
"We are going to go out there and let it rip in Game 1.''
"Let it rip'' is a fitting, nothing-to-lose rallying cry for an underdog. ... Just as "So how's that workin' for ya?'' is an easy-to-understand way for Dr. Phil to steer his TV patients into changing unsuccessful behaviors.
Let's try this exercise as it applies to San Antonio 90, Dallas 95:
'So How's That Workin' For Ya?'
"Let It Rip!'' didn't prevent Dallas from starting the game in an awful offensive gutter and facing a 21-12 deficit at the end of the first quarter. But if there was a "tightness'' to start the game -- maybe due to the unfortunate noon/road/Easter Sunday tip -- it was overcome when Dallas then scored a pile of points to go ahead 81-71 with 7:45 left.
At which point "Mavs Let It Rip'' became "Spurs Rip The Mavs.'' And exactly five minutes later, San Antonio led 85-81 with 2:45 left.
We can say this: If the Mavs felt comfortable with their nothing-to-lose approach to Game 1, Game 2 on Wednesday in San Antonio should feel even more cozy. About 78 percent of the time, first-game winners in NBA series go on to advance.
Therefore, Dallas now has even less to lose ... and more reason to "Let It Rip.''
DONUT 2: Devin is the Wild-Card …
Our pronouncement from last Friday:
Devin Harris may be the brightest spot for the Mavs against San Antonio. Harris only played in only two of the matchups and did not shoot well (23.5 percent, 25 percent from the arc), but he was the only member of the core rotation to post a positive plus/minus: +11.0 per game.




He also got to the line as much as any Dallas player, averaging four free-throw attempts per game, which tied him with Monta and Dirk, though he reached that number in significantly less minutes.

Devin can play fast, he can guard waterbugs and he can use his speed to befuddle a defense.

It's worth a shot.
'So How's That Workin' For Ya?'
Harris was THE bright spot for Dallas in Game 1.
Devin started slow (1-of-5) but made seven of his next 11 to total 19 points. He kept San Antonio off-balance, served as a double-edged weapon in the pick-and-roll, was a perimeter threat, and played well enough to keep starter Jose Calderon on the bench.
Harris played terrific," Carlisle said.
This isn't about dumping Calderon for the rest of the series; there is a rhythm to the way Dallas uses Devin (though surely he will be used even more in Game 2). Part of that rhythm is using Harris off the bench as part of a second wave of offensive talent.
"Our bench has been big all year long," said Harris, in the middle of giving Dallas a 46-23 in bench points. "It's an important part of our team and what makes it so dynamic, so I think we're a big part of this series."
DONUT 3: The Mavs lose close games …
From our preview of the series:
The worst point differential the Mavs had against any team this season was -11.5 … to the Spurs.

The Mavs played more "close games'' than anyone in basketball this year. There were 22 games within three points. ... and the Mavs only won 11 of those.

The Mavs advanced to overtime six times this season. They lost five of those.

So ... you are hoping to keep it close against the Spurs ... but even in the unlikely event you do, you are far from a sure bet.
'So How's That Workin' For Ya?'
The prediction worked. The Mavs once again blew a double-digit lead in the late going and once again lost a close game. And we're beyond a true "solution'' here. Carlisle drew up a terrific sideline inbounds play late in this game that got Monta to the rim ... and he missed the bunny. Dirk missed two similar shots during the late draught. Brandan Wright, effective in so many other ways with 11 points, failed from the free-throw line.
"I love the way we played up until that (7:45-remaining) point," Carlisle said. "We fought the whole way. We just didn't finish. I've got to help our guys finish better."
But how do you coach "don't miss layups?'' Dallas deserves praise for going on a 10-run to take charge, deserves to be ripped for shriveling up late ... and none of that praise and none that criticism is anything new to this year's edition of the Mavs.
DONUT 4: Winning at the arc …
Strong shooting behind the arc was a primary weapon for the Mavs during the regular season, especially in the late going. After the All-Star Break, the Mavs averaged the 12th most 3-point attempts (24.4) and posted the third best 3-point percentage (39.8%).
For the season as a whole, Dallas averaged 22.2 attempt per game from three, and had the second best percentage in the league (38.4).
Ah, but guess who was first? For the third time in the last four seasons, the Spurs led the NBA in this department at 39.7 percent.
The Spurs did a great job limiting this weapon for the Mavs, allowing Dallas only 16.5 3-point attempts per game (their second lowest total against any opponent), and held the Mavs to a 3-point percentage of 36.4 (18th for the Mavs against any opponent).
So as we predicted, Dallas would need to win at the arc. Take and make 3's on offense. Run San Antonio off of 3's on defense.
'So How's That Workin' For Ya?'
In short, it worked brilliantly on the defensive end. The Spurs were only 3-of-17 from the arc.
Tony Parker, Danny Green, Kawhi Leonard, Marco Belinelli, Boris Diaw and Patty Mills combined to miss all 11 of the 3s they launched (with Manu the only damage-doer).
But ... there's a domino effect here.
DONUT 5: The challenge of the Spurs Machine …
How machine-like? Put it this way: Dallas is making its 13th playoff appearance in 14 years. Impressive ... but interrupted. San Antonio is making its 17th straight postseason appearance. The NBA's second-longest active streak belongs to Atlanta. At seven.
'So How's That Workin' For Ya?'
This time around, the machine manifested itself in the performance of Tim Duncan.
His game-high 27 points were largely the result of Dallas' defensive scheme designed to attack the Spurs sharpshooters. Again, the perimeter defense worked. But the more Dallas did it, the more San Antonio fed Duncan, who, a few days from his 38th birthday, scored 17 points in the second half, nine in the fourth quarter and five points during the Spurs' avalanche of a 15-0 run that ruined Dallas' chances.
"We got killed on 3s in the first four outings this year, so I guess it was no secret, we stayed a little bit more at home on the 3-point shooters," Nowitzki explained. "I mean you've got to give them something and Duncan down there is still solid.''
Said the "solid'' Duncan: "We took what they gave us. They took us off the 3-point line and made our shooters into drivers. They were helping, switching and rotating a lot. We continued to move the ball and the guys around the rim were the ones that were open."
That's how the machine works.
DONUT 6: But what about Monta? …
Over the four regular-season games, San Antonio did not do a good job of shutting down Monta Ellis. Against the Spurs, Ellis averaged 21.3 points (leading the Mavs), 48.6 field-goal percentage, 5.5 assists, 2.5 turnovers, 1.5 steals.
So, we said coming into the series, there is a sliver of light here. San Antonio can't guard Monta.
'So How's That Workin' For Ya?'
Not well. This was a big stage for Ellis -- he'd previously appeared in just two postseasons in his nine-year career -- and it did not go well. Monta was 4-of-14 for 11 points ... literally about half the offensive production Dallas will need from him to win a game in this series.
DONUT 7: And what about Dirk? …
In the season series, Dirk hit a fair percentage of his shots at 48.4 percent. But he averaged "only" 18.5 points. And Nowitzki also struggled behind the arc, hitting just 1-of-6 over the four games.
Dirk has a glorious history of memorable moments in this Lone Star rivalry. But some of that seems like ancient history ... Dallas needed a trend-buster, like, NOW.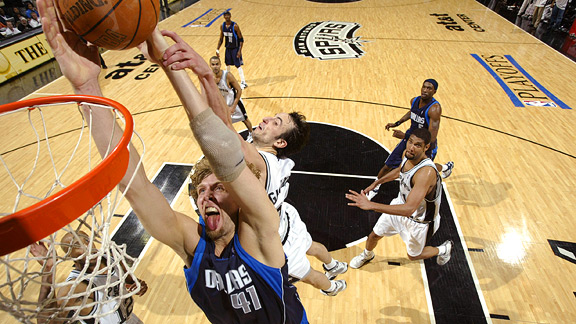 'So How's That Workin' For Ya?'
Dallas didn't get a trend-buster. Nowitzki's numbers mirrors Monta's (4-of-14 for 11). He missed a key layup in the late-going, allowed Leonard to often deny him the ball and in the fourth quarter was just 2-of-6.
"I think Dirk had some good looks,'' Carlisle said. "Some were heavily contested. Shot-making is going to be up and down even if you're one of the 10 greatest scorers in the history of the game.''
Certainly true. But if Dirk's shot-making continues to go down, Dallas will be down-and-out -- and quickly -- in this series.
DONUT 8: Oh yes, the series …
Here's the schedule for the first-round playoff series between the Mavs and Spurs goes like this now:
*G2 - Wednesday April 23 Dallas at SA 7pm NBA TV
*G3 - Saturday April 26 SA at Dallas 3:30pm TNT
*G4 - Monday April 28 SA at Dallas 8:30pm TNT
*G5 (if) Wednesday April 30 Dallas at SA TBD
*G6 (if) Friday May 2 SA at Dallas TBD
*G7 (if) Sunday May 4 Dallas at SA TBD
And Game 2 becomes all-important now, correct?
'So How's That Workin' For Ya?'
Teams that win Game 1's go on to win the series almost 78 percent of the time. That's how little hope there is historically ... and how important Game 2 is if Dallas hopes to alter that history.
DONUT 9: Ball movement? ...
Dallas prides itself on being precise in its passing and unselfish in its approach. And yet during the regular season, Dallas averaged 19.5 assists against the Spurs, its third lowest average against any opponent.
Could that number be corrected in Game 1?
'So How's That Workin' For Ya?'
Nope. Dallas managed just 15 assists. The playmaking starting backcourt of Calderon and Ellis combined for just three.
DONUT 10: The Final Word …
The Mavs went 30-4 this year when they held opponents to under 100 points. So ... this should've been a win, right?
'So How's That Workin' For Ya?'
Wrong on three counts.
One, this is the playoffs. Scores will be lower. "100 points'' doesn't come as easily as it might on a random Tuesday in Sacramento.
Two, the Mavs also scored under 100 points ... 15 under, to be precise. And while Dallas was 30-4 when limiting opponents in that way, the Spurs were 39-3 in those circumstances.
And three -- and this goes to the hopeful sentiment that reads something like, "If the Mavs play exactly like this again in Game 2, they can win!'' ...
No. If the Mavs play Game 2 exactly as they played Game 1 ... the Mavs will lose. By a score of 90-85. And how's that workin' for ya'?