DONUT 1: Breaking history ...
The
Dallas Mavericks
play host to the San Antonio Spurs tonight at 7 p.m. at the AAC, with the Spurs leading the best-of-seven series 3-2.
Since the NBA playoffs went to 16 teams in 1984, the highest-number of lower-seeded teams to advance beyond Round 1 is three. As it sits now, Washington (a 5) has already downed Chicago (a 4). Miami's series with Charlotte is over. But the other six series, including all four in the West, remain up for grabs.
"I've never seen eight teams so close in ability to win with nobody having a foreseeable or significant margin over the other one," Spurs coach Gregg Popovich said. "It doesn't matter what the numbers are, what the seeds are. They're really unimportant. Everybody is pretty darn good."
DONUT 2: Do the numbers matter? ...
The Spurs' 10-game winning streak over the Mavs is no more. Not in the players' minds. Not in ours. So, maybe yesterday doesn't have to matter.
But if it does, yesterday insists on a favorite tonight.
In NBA history, the team leading a seven-game series 3-2 has gone on to win that series 85.9 percent of the time. That gives Dallas a 14.1-percent chance of coming out tonight and then Sunday in San Antonio with victories.
Also, when the team that started the series at home (generally the higher seed and/or favorite), takes a 3-2 lead, they go on to win the series 92.2 percent of the time. So Dallas is looking at a 7.8-percent chance of winning.
Again, if you trust historical numbers. And if you do, being on the edge puts you on edge.
"Maybe you're on the edge a little more,'' Dirk Nowitzki said. "You don't even want to think that the long season could actually come to an end. ... You don't even want to let that cross your mind. You want to stay focused and … you kinda want to stay in the moment.''
DONUT 3: Game 6 zebras …
Tonight's referees: James Capers, Jason Phillips and Zach Zarba. Chances are, because of your daily choice of reading material, you've heard if these men. But the more casual fan has not, and on a league where at least two of the refs seem to view themselves not as "faceless traffic cops" but rather as "NBA celebrities," this is a very, very good thing.
Rick on the refs: "The whistles tend to go the way of the team that's more aggressive. Do I think there could be more whistles our way? Sure. I do. But we got to make that happen."
DONUT 4: Dalembert "OK'' …
Center Samuel Dalembert participated in Thursday's practice but remains less than 100 percent after turning his ankle in Game 5.
"He's doing OK,'' Carlisle said. "He's sore, but he came down and went through the (practice) stuff we went through.''
Dalembert left the game in the first period but returned to play 23 minutes, contributing two points, nine rebounds and two blocks.
DONUT 5: Another center …
He is "just'' the third-string center. But the Mavericks are as glad to get DeJuan Blair back tonight as he is to be in uniform.
"Everybody in the world knows how anxious I am to get back out there and compete and try to get us to a Game 7," Blair said.
The 6-7, 270-pound Blair -- a former Spur -- had to watch Wednesday's Game 5 loss from a San Antonio hotel room while he served his one-game suspension for an (accidental?) Game 4 mule-kick to the head of Tiago Splitter.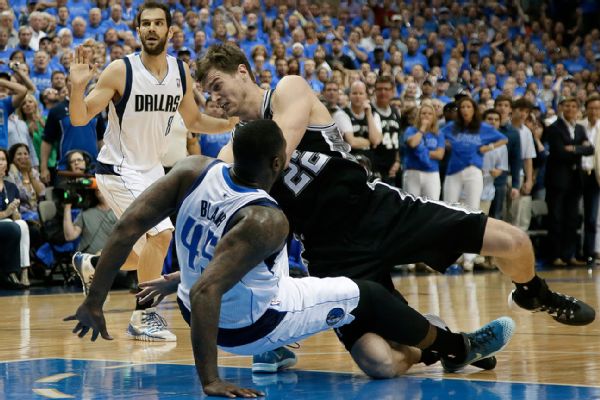 Monta Ellis thinks Blair's absence from the end of Game 4 "killed us'' because of how well the big man was playing. Certainly he gives Dallas an offensive boost at center and maybe a more physical solution to the pick-and-roll that sliced up the Mavs in Game 5.
DONUT 6: Thanks to our partners! …
Thanks to our Mavs-lovin' partners at
McKinneyDentist.com
Red Rock Bar & Grill
and
Estilo Gaucho
. Give them a call or a click, please, and tell 'em "Fish'' sent you!
DONUT 7: Sea of Blue …
Old friend Bob Ortegel likes to talk of the responsibility of a team to draw its home crowd into the game, and the boomerang effect that can have.
The Mavs talk as if they've been listening to Coach Bob.
Rick: "We have great fans. Our place will be rocking. (But) it's our job to get the fans into it and keep them into it all night."
Dirk: "We're going to need them to push us. But also we need (to do) a good job keeping them in the game.''
DONUT 8: Catching up …
DallasBasketball.com
is loaded with exclusive video, analysis and inside stuff on this series and more.
Check out DB.com Archives -- make sure you're in a comfortable chair -- and dig in!
DONUT 9: Stat O' The Day …
The Spurs have never won a series after losing Game 3 when the first two were split. They are 0-9 in those circumstances.
DONUT 10: Trix farewell? ...
One of these days -- later rather than sooner -- the Mavs will conduct exit interviews. They will load their locker-stall gear into a Hefty bag, they will meet with the staff, they will visit with the media, and they will leave the building.
In Shawn Marion's case, about to turn 36 and in the final year of a contract that pays him $9.32 million this season, the exit might really be an "exit.
"I'm not looking at that right now,'' Marion said. "We'll talk about that when it's done.''
The Mavs talk about wanting Marion to remain in Dallas and that desire is sincere. But it comes with no guarantees. Not even
for a player with a unique path to what we believe is a Hall-of-Fame career.
DONUT 11: Pick-and-roll D …
The Spurs' pick-and-roll is not a mystery. It's standard fare. Peach-basket level. But Dallas' lack of defense of it in Game 5 was ... well, not standard.
"They've been hurting us with pick-and-rolls, no doubt about it," Carlisle said. "And (at Thursday's practice) we spent a lot of time on our pick-and-roll defensive execution, which needs to be a lot better.
"We've got to do it better, and we've got to do it harder. Their level of force was above what ours was."
So was it lack of execution? Or lack of effort? Or something else?
From DeJuan: "We've just got to switch, make adjustments and do what we've got to do. That's all."
From Dirk: "We've got to bring a little more energy into it. ... We've just got to keep working and keep executing the coverages better."
From Trix: "It's just a couple of things that they might have gotten away with. Miscommunications.''
So ... all three?
DONUT 12: The Final Word ...
Plenty of athletes will tell you they gain motivation from hurt, from pain, from fear, from losing.
It's a good pain. It's a good fear.
"You never want to get beat on your home court,'' Nowitzki said Thursday. "The ultimate tough loss was obviously in '06 when we lost the championship here on our home court. ... You battle all season long to win at home and to play well for your fans. So, yeah, what you want to do in a situation like this is force a Game 7.''