Rick Carlisle's
Dallas Mavericks
Quoteboard, presented as always by our friends at
McKinneyDentist.com
:
DONUT 1: Rick's season recap …
"A lot of positive things with a group with a lot of new guys. Guys came together in relatively short order. We had a very positive run. I thought the last month of the season was a lot of big games. Just to qualify for the playoffs put us in the position to compete hard in this series. The last game was disappointing. (But) I just loved the way the team battled all year long.
"It's never good when it ends. And as Mark (Cuban) always says, ultimately we're one of 29 teams tied for last when you get disqualified from the playoffs. We'll build on the positives.''
DONUT 2: On the importance of continuity …
"Veteran continuity is one of the important things for continued success. It's one of the reasons that San Antonio's had such a long run. We had a long run here before we weren't able to make the playoffs last year. Dirk, Vince, Shawn, those guys will be key guys this summer as we start talking to guys. That experience and that know-how and the fact that those guys are such good players, it's going to give a team like us a starting point every year. We want to bring back the nucleus of guys, the veteran nucleus around them.''
DONUT 3: On the kids …
"Our younger guys, we're excited about. I think Crowder's going to keep getting better. I really like Ellington, even though he didn't get a chance to play much this year. And Larkin showed that he's a guy that can be a factor in this league as a point guard. We'll look at everything and keep working with these guys. ... There are just a lot of guys that did a lot of good things this year."
DONUT 4: On roster turnover …
"It's the third or fourth time it's happened to me. I've been down this road and I understand what it is. The important thing is to have a real positive attitude about it and constantly be in a 'problem-solving mode' and not in a 'problem-identifying mode.' We did that as a staff. I encouraged the players to do that. I thought they did a great job of it. It turned into a very positive year.''
DONUT 5: On the 'quantum leap' …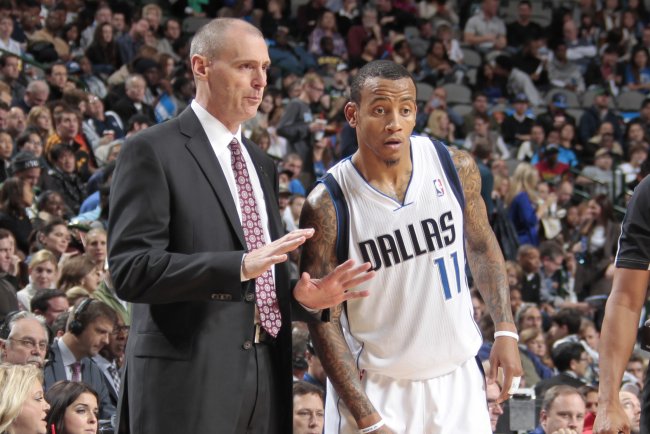 "We've got some guys that I think can continue to get better. I just think Ellis is at a point in his career where he can still make some quantum leaps as a player.
"I just believe that there's places his game can go and get even better. It'll be a summer of work for him. He and I are going to spend some time together this summer working on some things and just keep pushing it."
DONUT 6: On his grading of himself …
"I don't know. I have to digest that for a while. I'm never happy if we don't win a championship. That's the kind of standard you accustom yourself to when you're with an organization like this."
DONUT 7: Speed kills …
"Speed is a big factor in this league now. That's why guys like Harris and Larkin, Ellis, are such important guys.''
DONUT 8: Cap talk …
"I don't know that I can really answer this question or even Mark or Donnie can until we see where the holes are going to be. There's only a finite amount of money you can spend now. And that's one reason you're seeing so many long series and such competitive series. There aren't teams that are spending into oblivion the way that there were before when you didn't have the tax and the super tax. It's really about spending your money wisely, making sure you can get as much bang for your buck with the guys that you sign and making sure those guys fit together.''
DONUT 9: Dirk and the vets …
"Marion and Nowitzki and Carter are great veteran guys that have a good years later and they're going to continue to work to keep their careers going.
"(Carter and Marion) both have been great ambassadors for the franchise. They've both been multipurpose players. Marion's versatility is well-known and I've been a big supporter and been one of his megaphones for it the last few years. Vince had a great series against San Antonio. He was great offensively and defensively. He was a leader. And both of those guys are leaders. That's why those guys are really important."
DONUT 10: More Exit stuff …
Check out
DB.com Archives
for more Exit Interview material from Dirk, Dalembert, Marion, Vince and more! And kick it around on
DB.com Boards!
DONUT 11: The needed upgrade …
"Defensively, we'll be better next year. Again, I thought nine new guys was a challenging thing. The way Dalembert finished the season the last two months was really encouraging for next year. That's another reason why Marion's important. And I think if we can get Devin Harris back next year and have him from start to finish, he's one of our better defenders as well. We'll keep working in that area and it'll be a priority for us."
DONUT 12: Rick's Final Word …
"There's a little time here (for him to decompress). ... All this stuff flies by fast and then we'll be into the summer and then it'll be the 29th of September and everybody will be back here again."