DONUT 1: No scintillation …
The
Dallas Mavericks
were integrally involved in one of the most scintillating collection of first-round playoff series in NBA history.
Then along comes Round 2. No Game 7's. No games at all over the last few days. No scintillation.
No Mavs.
Coincidence?!
Well, yeah. Probably.
DONUT 2: The absence of Dirk ...
There is obviously enough star quality in the conference finals to engage us; LeBron alone is among the most watch-worthy athletes ever. But James is in second place when it comes to one of the measures of "scintillation,'' success in the clutch.
The quick-look results of Tom Haberstroh's study of "scoring in crunchtime'':
That's what's missing. Redirkulous.
DONUT 3: "America's Team'' …
And like THAT, the Los Angeles Clippers aren't "America's Team'' any more.
Uneasy lies the head that wears a crown. Especially when it's the Clippers, who have, well, never worn a crown.
DONUT 4: The Cerebral Carlisle ...
Meet Rick Carlisle. Cerebral psychologist. Prickly gym teacher. Playful family man. And one of the finest coaches in all the land.
Carlisle wraps up a 2013-14 Mavs season that - if it can be deemed a 'success' - earns that label in no small part due to the leadership of the coach.
Carlisle drops the 'prickly gym teacher' act in our All-Rick/All The Time piece.
DONUT 5: Who Wore It Better? …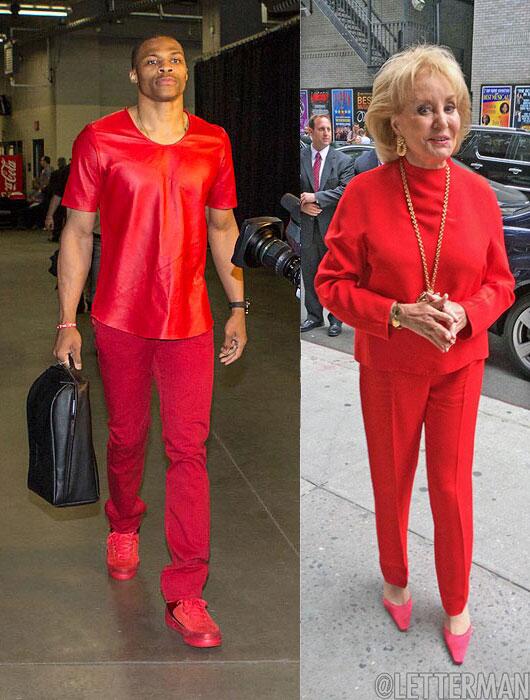 DONUT 6: One-click info ...
Looking for specifics in
DB.com Archives?
For instance, our collection of Exit Interview stuff from Rick, Dirk, Marion, Vince and more? In this example, simply type "exit'' into the search box and in one click, you have at your fingertips all the information you need!
DONUT 7: Thanks to our sponsors! …
We can't do our think around here without the help and friendship of sponsors like
Red Rock Bar & Grill
,
LS Wealth Strategies
and
Estilo Gaucho.
Give 'em a click or a call, please!
DONUT 8: David Lord's sword ...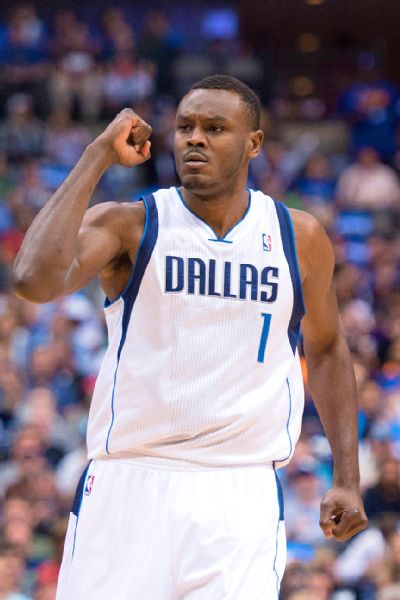 Forget for a moment our personal thoughts on the use of marijuana and alcohol and beyond. As we kick around the idea of pursuing centers Monroe, Chandler, Gortat and more, it's worth wondering if any Mavs' trade interest in the troubled Larry Sanders is slowed by the fact that where there was once 'confidentiality protocol' there no longer is.
David Lord's
"Sword of Damocles'" column is here.
DONUT 9: Sam's catch-22…
'"I want to play like that all of the time,' Sam Dalembert says of his most impressive moments in his first year in Dallas, 'but you've got to play."
This is Sam's 'catch-22,' and something worth examining as
we offer you Dalembert's Exit Interview, advanced stats on his performance and analysis of where Dallas goes from here
at the center position.
DONUT 10: The Final Four ...
From Paul Bessire of Prediction Machine, the win-it-all percentages for the NBA's final four: Heat 37 percent, OKC 30 percent, Spurs 22 percent, Pacers 11 percent.
DONUT 11: "SpiethCenter'' …
We created the concept, designed the banner and paid for the printing of it and hung it on our buddy's Byron Nelson balcony.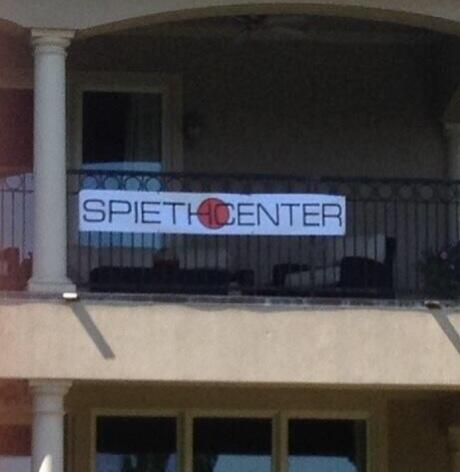 We hope we aren't jinxing the kid.
DONUT 12: The Final Word ...
Openly gay NFL draftee Michael Sam has every right to express his views and his affection for his boyfriend. Sam also has every right to simultaneously try his hand at making the Rams roster and try his hand at being the subject of a TV production for Oprah's network.
And here's where the wish of "being treated like any other football player'' becomes very, very real: How might a team respond to a gay guy's reality-TV show idea? The same way it might respond to any late-round rookie's reality-TV show idea.