DONUT 1: Game 3 Gameday! ...
The
Dallas Mavericks
have a 3:30 p.m. tip at the AAC for Game 3 of this first-round bout with the Spurs, which gives you just enough time to catch up on the week's reading material (
here's our coverage of the 90-85 Game 1 loss
and
our coverage of Dallas' 113-92 Game 2 win.
We also have time to brunch our way through Gameday Donuts ... stats, quotes, notes and analysis to get you filled up for tipoff. ...
DONUT 2: Dallas' best defense …
We'll get into the defensive philosophy being employed below. But first some hard numbers:
During the regular season, the Spurs had the sixth best offensive rating (108.2) and league-leading net rating (+8.1). The Mavs had the 22nd ranked defensive rating (105.9). Against the Spurs in the regular season, the Mavs had a defensive rating of 115.2, their fourth worst against any opponent.
It might be argued that this matchup represents a dam waiting to burst. But the numbers to get Dallas to 1-1 in this series) small sample size that they are) are legit.
At the completion of two games from every team in these NBA playoffs, the Mavs were the proud owners of the third best defensive rating in the playoffs (98.7), trailing only the Heat and Clippers, tied at 98.6.
How to keep that roll alive?
DONUT 3: Steals and turnovers …
Steals and turnovers as a central part of the gameplan? It's true ... though it's less than promising given San Antonio's usual crispness and efficiency in avoiding such woes.
In Game 2, Dallas forced the Spurs to commit 24 turnovers, tying the most for any Dallas opponent this season (Nov. 6, OKC). The Mavs scored 33 points off of those turnovers, their most in any game this season.
Rick Carlisle is on-record as saying the Mavs can't "cheat'' on defense. But the opposite is true; the Mavs MUST cheat on defense. They MUST guess on passing lanes. They MUST rely on disrupting San Antonio with takeaways ... and it'd be especially nice if the takeaways turned out to be momentum-grabbers, as Monta Ellis' Game 2 trick was:
Monta Ellis, in particular, has always survived on defense by trying for steals. It's risky to do so ... but I think it's more risky not to.
DONUT 4: Mavs Wolf ...
To tease you with how the AAC will rock this afternoon ...
DONUT 5: Dirk's turn …
Dirk Nowitzki is shooting 33 percent in this series. This is a guy who in the postseason is one of NBA history's most-likely-to-give-you-25.
Has he fallen short of the norm because of double-teams, because of Splitter's "wide'' defense, because of unselfishness, because of Diaw and Leonard ball-denial?
Sure.
But take note of Dirk's dagger-like shot in Game 2.
When Dirk is right, he still gets to his pet spots, he isn't bothered by your crowding, he still gets his shot off, it still goes in, and without being an ass about it, he still let's his emotions positively impact his club. (Listen to him yelp "And-1''!)
The Wizard of Wurzburg (mentor Holger Geschwindner) is back in town. The 25-point Dirk might be back today as well.
"Maybe I'll mix in some makes tomorrow," Dirk said on Friday.
The Mavs are counting on it. And willing to bet on it, too.
DONUT 6: The pendulum swing …
"Popovich is the greatest coach in NBA history, and I don't think it's close," Dallas boss Rick Carlisle says. "The coaching matchup is a wipeout. I feel like I have boulders on me."
In truth, amid all humility and all this talk of "chess moves,'' Carlisle's biggest move from Game 1 to Game 2 was a non-move; his defensive pick-of-poison choice meant continues switching and continued harassment of the Spurs' 3-point people, sometimes at the expense of a basket allowed inside.
And yet sometimes the pendulum swings anyway ...
There is a history to be learned here. Dallas fans will recognize it. David Lord will explain it.
DONUT 7: Pick both poisons …
It's also been said that Dallas' defensive base philosophy is something new. This is untrue.
Emphasize guarding the perimeter and otherwise scramble to hope you don't give up too many easy buckets to Duncan inside?
It's been done by Dallas as recently as April 10, in the regular season, against ... the Spurs:
A scrambling defense featuring Devin (with help from an almost-in-limbo Dalembert) forces the ball away from a perimeter threat. Defensive rotation puts Dirk under the basket to contend with roller Duncan.
Give up the 2 instead of the 3? Yes. But more scrambling from Dalembert results in Dallas preventing the 3 and the 2.
DONUT 8: Today's refs …
Welcome to Big D to Tony Brothers, Leroy Richardson andTom Washington. You gentlemen try to do your think without coercion from the fourth of a fifth members of your crew (Duncan and Manu), please.
DONUT 9: Quoteboard …
"This is the NBA playoffs. This isn't a volleyball match. This is serious business.'' - Mavs coach Rick Carlisle.
Tons more Mavs and Spurs
up-to-the-minute Quoteboard is here.
DONUT 10: "Blueout'' …
Adding to the festive atmosphere today ... 20,000 Mavs fans will get the MFFL Strong T-shirts.
Hey, wear 'em, y'all, will ya, lest you get labeled as nothing more than a "Boobs and Cocaine Crowd,'' OK?
DONUT 11: The Schedule …
Game 3: San Antonio at Dallas, 3:30 p.m. CT on TXA 21, today - and again, I'll be part of the pregame TV coverage beginning at 3
Game 4: San Antonio at Dallas, 8:30 p.m. CT on TNT and TXA 21, Monday
Game 5: Dallas at San Antonio, TBD, Wednesday, April 30
Game 6 (if necessary): San Antonio at Dallas, TBD, Friday, May 2
Game 7 (if necessary): Dallas at San Antonio CT, TBD, Sunday, May 4
DONUT 12: The Final Word ...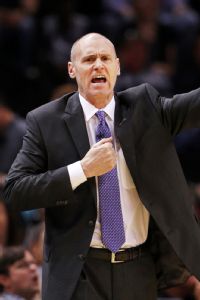 "We have to go back home in front of our home crowd, but we can't lay an egg," says Monta ... which accidentally feeds the same notion fed by Dirk, the suggestion that Dallas would prefer not to be at the AAC.
It's ridiculous, of course. The Mavs were the NBA's fourth-best road team this year and thanks to that disappointing eight-game homestand split were 26-15 at the AAC -- the poorest of any of the eight West playoff teams.
Naturally. That's how they finished eighth.
But Carlisle talked to his team about realizing that the nine-game losing streak to the Spurs coming into this series was ancient history and that the playoffs put them at "square one.''
So, as it regards home and road records, Dallas is again at square one.