DONUT 1: Chute-less skydive ...
It's not a rollercoaster, which paints a picture of the highs and lows but doesn't capture the correct brand of emotional connectivity. It's not surviving the storm, which misinterprets the possible highs, replacing the chance of euphoria with a sense of relief as the optimal endgame.
Dallas Mavericks
109, Spurs 108 in Saturday'a Game 3 was ... skydiving. Without a chute.
Here's Vince's game-winner ...
And here's
Michael Dugat's DB.com essay on the euphoria.
DONUT 2: The Quoteboard ...
"The crowd went absolutely nuts. I mean, it was as loud as I've ever heard in this building." -- forward Dirk Nowitzki.
Tons more in
The DB.com Mavs Quoteboard
presented by
McKinneyDentist.com.
DONUT 3: Vince's Video Visit ...
Mavs coach Rick Carlisle saw it coming.
The Spurs had taken a 108-106 lead on Manu Ginobili's mid-range shot with 1.7 seconds left. The Mavs needed options ... options to tie, options to win, options in case the primary choice to work his way free in order to get a shot off in that small window -- Monta Ellis -- was covered.
Carlisle's play design assumed San Antonio would play ball-denial on first-option Ellis. So he instructed Vince to "Be Ready'' to make a corner catch-and-shoot.
"OK,'' Vince told Carlisle. "No problem.''
DONUT 4: Carter redemption ...
Yes, Vince has been here before. Specifically in Game 7 of 2001 Eastern Conference Finals, playing for Toronto against the 76ers.
"To be honest, I thought about that as we were coming out of timeout," Carter said. "'Hey, let's make this one.' In my mind I was ready for it. I had already made the shot before the play happened if I got the ball."
A poetic mashup of what Vince is talking about ...
"I don't mind the pressure shots," Carter said. "Having that mentality helps me."
DONUT 5: The 2-1 lead ..
This series is already as zany as it is epic; Dallas' 10-game losing streak against the fearsome Spurs (including a "shoulda-won'' Game 1 loss at San Antonio) is forgotten. But another piece of history starts creeping into play now.
Teams that go up 2-1 in NBA playoff series win 82 percent of time.
That's not justification for anyone booking their travel arrangements to Round 2. Just the history-based granting of permission to Mavs Nation to ...
breathe
.
And one more breath, because not even the Spurs are immune to 2-1 trends: History does not bode well for the Spurs. When San Antonio drops Game 3 on the road in a tied series, they are 0-9 all-time in the series.
DONUT 6: Carlisle's Video Visit ...
"Vince really deserves it,'' Rick said. "He's been so good for us, and he's about so many of the right things," Carlisle said. "You always hope a guy like that can have a moment like this in a big playoff game."
DONUT 7: Cuban on Sterling ...
A few hours before Mavs owner Mark Cuban was scheduled to meet the media preceding Saturday's Game 3 against the Spurs, I visited with him about Clippers owner Donald Sterling's most recent grotesquely racist statements.
Cuban vowed to me he would say very little.
"I have plenty of opinions, I'm just not going to share them,'' he said.
And there is a method to Cuban's seeming madness.
Allow me to
explain here, with Cuban's no-comment comments.
DONUT 8: Duncan's Video Visit ...
We have to get Monday," Duncan said. "We'll dwell on this for a little while. Everyone is very disappointed, obviously, to have come so far and fought that hard, but we get the one on Monday and turn it back into a series."
DONUT 8: Pop's Video Visit ...
Pop's grumbly persona might be an act as he marches his team through 50- and 60-win seasons. But this here? This was no act.
DONUT 9: Fish on The Fan all week! ...
My radio week starts today, 9 a.m. to 1 p.m. on 105.3 The Fan ... and "Nate & Fish'' continues throughout the week, 7-to-11 p.m.
You want Mavs talk on the radio? Done.
Listen live to 105.3 The Fan here.
DONUT 10: The patient Dirk ...
This was Monta Ellis' baby.
He was electric, scoring 12 of his game-high 29 points in the fourth quarter to keep the Mavs positioned for Carter's heroics. Seven of Monta's points came in the final 2:11.
Meanwhile, Nowitzki scored 18 points on 7-of-13 shooting. ... good enough to be a key "decoy'' member, if you will, of the "supporting cast.''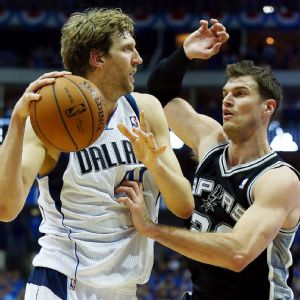 That group included sweet-shooting point guard Jose Calderon (16 points on 7-of-10 shooting and nine assists), active center Samuel Dalembert (13 points, 10 rebounds and four blocks), Shawn Marion from 3, Devin Harris controlling pace, and ... well, everyone.
Nowitzki, a career 25.8 guy in the postseason -- is averaging only 15 points per game in this series. We can argue that his 13 field-goal attempts aren't "enough,'' but Dirk argues back that Dallas' victory means "I did my job.''
"We're competing," Nowitzki said. "It might not always be pretty, but we're playing hard. … To me, they're still the heavy favorite, but they know we're here to play."
And with all this positivism ... am I not right in still assuming Dirk is on the verge of a major breakout game, maybe as soon at Monday's Game 4 at 8:30 p.m. at the AAC?
DONUT 11: The jumbotron hit ...
This "Wolf of Wall Street'' homage was a hit at the AAC ...
DallasBasketball.com caught Mark Cuban leading the chest-punching ...
DONUT 12: The Final Word ...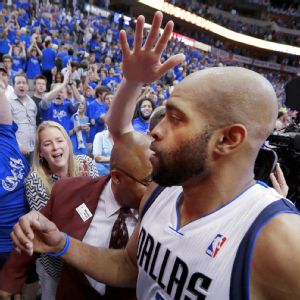 The Final Shot earns him The Final Word.
"I can take the shot with confidence, and I can live with it. Sometimes you miss a big shot -- 2001 -- and you hold on to for a while until you get the opportunity again. I'm just glad it worked out this time years later." -- Vince Carter.