In as much as the San Antonio Spurs are a mature bunch ... and the
Dallas Mavericks
are the same ... you would think Spurs coach Gregg Popovich's "the-Mavs-want-it-more" gripe would draw nothing but eyerolls from both sides.
But Dirk Nowitzki is expressing almost the same exact cornball message from the Dallas camp, saying the Spurs are "still the heavy favorite.''
Does this poor-mouthing bit actually work on anybody? Are Pop's players and Dirk's teammates actually falling for it?
Here's the truth: The Spurs down 2-1 in the first-round series against the eighth-seeded Mavericks because in Game 3, Manu Ginobili's seeming "game-winning shot'' left 1.7 seconds on the clock ... time enough for Vince Carter's actual game-winning shot.
Otherwise, there is very little that separates these clubs.
If you review the 144 minutes of game action in this series, it's true that outside of Dallas' 7:45-long collapse at the end of a Game 1 loss, the Mavs have been the superior team for the bulk of the minutes. (I invite you to review all of it
here in DB.com Archives.)
It's also true that 82 percent of the time in NBA history, the team grabbing a 2-1 lead in a series ends up winning that series.
But, as Dirk said, ""We definitely don't want to get comfortable now. Yeah, (Game 3) it was a big game, but if we lose (today), we're tied going to their place with two home games for them. We want to keep the same mentality we've had this whole time. Play hard."
Ah, "play hard.'' It's everything, right, Pop?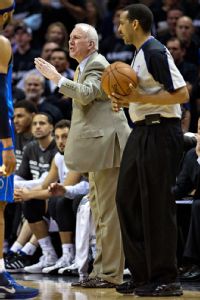 "(The Mavs) got a lot of guys playing well, and they're playing hard," Popovich said. "They're playing like it's really important to them. And I think we need a few more people doing that. ... I'd like to see a little bit more nastiness, a little bit more physicality, a little bit more fire from people."
Coming into this series, San Antonio had won nine straight over the Mavs (by an averaging margin of 14.8 points) and swept this season's series 4-0. But the Spurs are too smart to have allowed that to try to cruise-control their way through Round 1. The intensity is there.
(As our Michael Dugat points out the intensity even spreads to you and to me.)
"Oh, I think the Spurs always play hard," Nowitzki said. "Pop is such a hard coach on them. If they don't compete, you know what's going to happen in the film session the next day, so I think they always compete hard."
But maybe Tony Parker is running out of steam late in games. Maybe Dallas' use of three centers is keeping in-the-paint weaponry fresh. Maybe the Mavs' dual backcourt waterbugs Monta Ellis and backup point guard Devin Harris are keeping the Spurs on their heels.
"Everybody's a little pissed off, and that's good," Spurs big Tim Duncan said. "We'll come out (Monday) and we'll be ready to go."
And so will Dallas. Because, right now, there is -- rather shockingly -- very little that separates these clubs.
And the separation tonight won't be decided by "playing hard.''
It will be decided by playing well.