Once upon a time, there was one most effective way to take away
Dallas Mavericks
star Dirk Nowitzki's "air space,'' as he calls it:
Be in his jersey, in his grill. As along ago as 2007 against the Warriors in the playoffs, that was central to Matt Barnes' obnoxious "blueprint'' for negating the man who has become a top-10 all-time NBA scorer.
But as Dirk as matured to the ripe ol' age of 35, "Father Time's'' toll -- once predicted by Charles Barkley to ruin Dirk's game -- has actually been just to slow one aspect of it:
He struggles to find the quickness to get around top-notch defenders. So now they not only come at him "north-and-south''; they do so "east-and-west'' as well, as exemplified in this series by Spurs defender Tiago Splitter rarely leaving the ground against Nowitzki and instead "playing wide'' against him.
There was a time when Dirk could spin around even the Bowens and the Boshes to drive his team to and atop the NBA Finals. That time isn't completely passed. But it demands more of him to do so.
And in this series, the Spurs know it. So Splitter and Boris Diaw are taking turns against him, "playing wide'' against him, and limiting the otherwise "ageless'' Nowitzki to some unsavory numbers: 16.0 points, 38.5 field-goal percentage, 20.0 3-point percentage, and 6.8 rebounds through four playoff games.
Dirk -- a 12-time All-Star and a 25/10 guy in the postseason -- has been held under 20 points in each of the games in this 2-2 series.
That'd never happened before.
"They're forcing me to play off the dribble," Nowitzki said after the Mavs' 93-89 Game 4 loss in which he shot just 7-of-19 on the way to 19 points. "It's not any secret at this point I'm not the greatest driver anymore. They're just taking my 'air space' away. That's what the good teams have done over the last few years."
But is it really that easy to stop The Uberman? And really that difficult to find a counter?
No. And no.
There are statistical examples that establish that Dirk is missing makeable shots; Splitter isn't "in his grill'' as Dirk is going only 1-of-5 from 3-point range in this series.
There are memory-bank examples, too. Dirk was 4-of-14 for 11 points in the 90-85 Game 1 loss that included him blowing a layup. That wasn't Splitter, either.
Over the course of the season, while Dallas was 0-4 against the Spurs, Dirk actually experienced three darn good games. In a blowout January loss, Dirk went 3-of-14 for eight points. but in the other three regular-season games against the Spurs, Dirk averaged 22 points with a field-goal percentage of 56.3.
To some degree, "The Due Theory'' is applicable, as coach Rick Carlisle suggests.
"Look, this is a long series, the shot-making is going to even out," Carlisle said. "Trust me when I say that. In my 30th year in this league, I can tell you that for a fact."
But when Dirk averaged 22 points with a field-goal percentage of 56.3 in those three games, wasn't there also some basketball science to it? How did he do that?
Not necessarily by simply anchoring himself in a midrange pet spot and waiting for an entry pass -- which has been the "A move'' in this series. Nowitzki's pick-and-pop has been a go-to in the tool box since his Jason Terry partnership. (And now Splitter is suddenly too athletic to make it work?) Before that, a traditional pick-and-roll with Steve Nash was an option. The free-throw-line screen for Jose Calderon is Dallas' solution to getting Jose mid-range looks. Why can't the Mavs do the same for Dirk?
"If you like one move, they won't let you get that one move,'' Dirk said. "They usually force you to do something else. They force you to do a 'B' move, not your most comfortable move."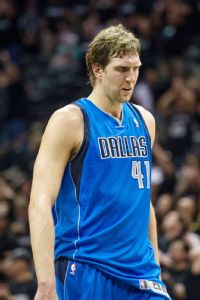 That Dirk quote is from after Game 1.
In Wednesday's Game 5 at San Antonio, we would suggest it's time for the "B move.''
Heck, if you opened the game with Dirk curling off a screen to shoot somewhere other than the elbow, San Antonio might be so shocked it wouldn't know what to do.
"I had some decent looks," Nowitzki said. "I just have to shoot better."
That's another quote from Dirk after Game 1. And ultimately, beyond the "basketball science'' and the "air space'' and any Spurs defensive brilliance, it remains true more than half-a-series later.