DONUT 1: Do-Gooder Cuban …
Dallas Mavericks
Mark Cuban is once again up to do-good. He is:
A) The Crandall Fire Department needed some money.
Cuban gave 'em $10K.
B) Newlyweds Monica and Leroy Wilkinson of Watauga were struggling financially due to a series of miscarriages and Monica's diagnosis of Stage 4 ovarian cancer.
So Cuban paid for the Wilkinsons' wedding.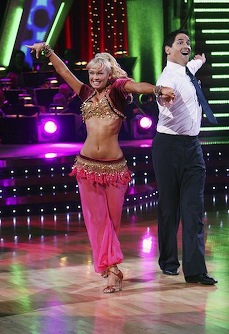 And C) Irate about the 2006 NBA Finals officiating,
Cuban visited with an FBI agent to explore options.
Or didn't. But if he did, it makes him a do-gooder.
DONUT 2: But wait. I thought he was a racist? ...
In America, Race and Prejudice and Fear and Change are not conversational comfort zones. So in a sense, Cuban's honesty about what we should all easily agree is an ingrained prejudice that is an unfortunate part of the human condition required a certain sort of ballsiness.
And chopping up the Mavs owner's lengthy interview in Nashville on Wednesday
with Inc. magazine
in ways that either ignorantly or intentionally strip his comments of all context and nuance?
That takes a certain sort of ballsiness, too, I suppose.
"We're all prejudiced in one way or the other,'' is a key quote and the foundation of Cuban's stated views … but a quote that's been buried beneath another far more incendiary one:
"If I see a black kid in a hoodie and it's late at night, I'm walking to the other side of the street."
RACIST!!!!!!
But wait. The full context of Cuban's quotes on this subject:
"You know, in this day and age, this country has really come a long way. Putting any type of bigotry behind us — regardless of who it's towards, whether it's the LGBT community, whether it's xenophobia, you know, fear of people from other countries — we've come a long way, and with that progress comes a price. We're a lot more vigilant in what we ... and we're a lot less tolerant of different views, and it's not necessarily easy for everybody to adopt, or adapt, or evolve. We're all prejudiced in one way or the other. If I see a black kid in a hoodie and it's late at night, I'm walking to the other side of the street. If on that side of the street, there's a guy that has tattoos all over his face — white guy, bald head, tattoos everywhere — I'm walking back to the other side of the street. And the list goes on of stereotypes that we all live up to and are fearful of.

"And so, in my businesses, I try not to be hypocritical. I know that I'm not perfect. I know that I live in a glass house, and it's not appropriate for me to throw stones. And so when I run into bigotry in organizations I control, I try to, to find solutions. I'll work with people — I'll send them to training, I'll send them to sensitivity training, I'll try to give them a chance to improve themselves. Because I think helping people improve their lives, helping people engage with people they may fear or they may not understand, and helping people realize that, while we all have our prejudices and bigotries, we have to learn that it's an issue that we have to control. That's part of my responsibility as an entrepreneur, to try to solve it, not just to kick the problem down the road. Because it does my company no good, it does my customers no good, it does society no good if my response to somebody and their racism or bigotry is to say, "It's not right for you to be here, go take your attitude somewhere else."
Ah. Context. Subtlety. Nuance. Understanding. They are available, in there somewhere, if we want to fish them out.
But in too much of the discussion that has ensued as a result of Cuban's remarks, we skip beyond context, subtlety, nuance and understanding. And we remain magnetized to our discomfort with discussions of race, prejudice, fear and change.
If you actually watch the video interview, you may come to the conclusion that Cuban mentioned the "walk to the other side of the street'' action as a hypothetical cliché and that at the end of the hoodie/tattoo mentions, he uses the word "we.''
Meaning, this is, figuratively, what "we'' often do as a result of prejudice.
Not racism. Prejudice.
The more ignorant you are, the more you think the two words mean the same thing. Cuban's acknowledgment of his prejudice is an honest one (even though using the "black kid in a hoodie'' illustration evokes disturbing thoughts about the tragic death of Trayvon Martin ... And indeed, Cuban on Wednesday afternoon acknowledged that, tweeting, "In hindsight I should have used different examples. I didn't consider the Trayvon Martin family, and I apologize to them for that.")
But we all have "prejudices'' – pre-judgments based on other folks' hair, clothes, accents, cars, jobs, friends … and yes, skin color.
That doesn't make us "racists.'' And
it doesn't make Mark Cuban a "racist,'' the word Bleacher Report used to describe him in a quick-and-dirty post
that, in a seemingly intentional click-whoring act, triggered a discussion that makes Cuban a human tug-of-war rope.
For the record,
Cuban has stated he views Sterling's comments as "abhorrent" and "obviously racist," and says he trusts Commissioner Adam Silver – who plans on Sterling's ouster -- to "operate under the best interest of the NBA."
At the same time, Cuban considers the dismissal of Sterling the potential start of a "a very, very slippery slope" because "you can't legislate stupidity."
Nor can you legislate thoughtful listening. Or reading comprehension.
Again, Cuban likely does not literally "cross the street'' when he sees a black kid. He is attempting to make a larger point – arguably in a way that could've been presented with more sensitivity – about how humans react to other humans.
Yet by having the balls to address cultural bigotry (however inelegantly), Cuban is now branded by some as a cultural bigot.
The short version of this process:
Concerned Citizen: "Let's have a frank conversation about prejudice.''
Cuban: "OK. We're all prejudiced in one way or the other.''
Concerned Citizen: "RACIST!!!''
In the full interview, Mark Cuban's reflective point about himself, and about the rest of us, is made … if you allow yourself the benefit of context.
The man's point is lost, however, if you allow yourself to just cherry-pick from a lengthy interview a 23-words sound-bite that that illustrates very little … except maybe, once again, how frightened most Americans are to discuss race, prejudice, fear and change.
DONUT 3: Run-of-the-mill ...
You see the differences between Rick Carlisle and your run-of-the-mill NBA coach on a regular basis even as the playoffs progress. Exhibit 1,000,000? Scotty Brooks opening the second quarter of Wednesday's Game 2 between his Thunder and the Spurs using a quintet that included neither KD or Westbrook.
What was Scotty doing? Saving the combo for the all-important Game 8?
DONUT 4: Kissing and killing …
Just when whiny parents were over-dramatizing their problems with Michael Sam showing homosexual affection on ESPN -- "How will I explain men kissing each other to my children!?'' -- along comes, 48 hours later, ESPN's live telecast of the details of Aaron Hernandez' double-murder.
And yet I haven't heard one whine along the lines of, ""How will I explain men killing each other to my children!?''
DONUT 5: That 10-foot pole ...
Should people in the know about the Mavs' interest in Lance Stephenson re-think their thinking? To
get in the know yourself, dig into our Premium piece on Stephenson and Dallas -
and bring your 10-foot pole.
DONUT 6: One-click info ...
Looking for specifics in
DB.com Archives?
For instance, our collection of Exit Interview stuff from Rick, Dirk, Devin, Marion, Vince and more? In this example, simply type "exit'' into the search box and in one click, you have at your fingertips all the information you need!
DONUT 7: Thanks to our sponsors! …
We can't do our think around here without the help and friendship of sponsors like
Red Rock Bar & Grill
,
LS Wealth Strategies
and
Estilo Gaucho.
Give 'em a click or a call, please!
DONUT 8: T-Wolves intentions ...
T-Wolves owner Glen Taylor says he has no intention of trading Kevin Love. Which can be technically true ... until it's not.
Meanwhile, our Lakers-covering friend Eric Pincus writes that there is "quite a wide range of opinions from Lakers fans on whether it's worth giving up a top pick for Love - very strong pro and con contingents.
Now, Eric wrote this before the Lotto, and mentioned a scenario where LA has a "top-three pick.'' The Lakers didn't quite get that lucky. But close enough.
And here's my question: What the hell is the debate? You can have a finished All-Star product in Love ... or you can draft someone who dreams of maybe someday being as good as Love.
Smart minds don't bother with too many "cons'' here. And at DB.com (and inside Mavs HQ, too) smart minds are working on
the details of the dream of persuading Kevin Love to see himself with the Mavericks.
DONUT 9: What is power? …
What is power?
One easy answer, especially when it comes to coaches: Having suitors clamoring for you to take their money.
A harder answer: Pre-emptively turning down those suitors because you know you might not quite be ready ... and because you know you will be even more ready some day.
That's my read on
ex-Mav Kevin Ollie signing extension with Connecticut rather than further exploring NBA options
-- something that will nevertheless happen in good time.
And on Ollie's terms.
DONUT 10: G'bye, Bobcats ...
Our man Sean Deveney says so long to the Bobcats (and hello to the Charlotte Hornets, putting all right with the world) with his
"Nine defining moments in Charlotte Bobcats history.
Yes, Sean somehow managed to come up with nine.
DONUT 11: It's Complicated …
Colleague Tom Ziller wrote of Cuban's "controversial'' comments, "Mark Cuban is complicated.''
Yeah, I guess. But our friend Kirk Henderson said it better in a retort to the idea that "Mark Cuban is complicated.''
"We all are,'' Kirk tweeted back.
DONUT 12: The Final Word ...
"Bleacher Report? I could write better than that with a crayon shoved in my ass.'' -- Mike Fisher on 105.3 The Fan.