Today's Mavs Donuts are sponsored by the hoops-lovin' guys and gals at
McKinneyDentist.com
.
They are finest dentists in all the land! Give them a click and a call!
DONUT 1: Fish, did you like the Tyson trade?
I know that "edgy opinion'' is now the valued currency in my profession and in your world as a consumer of information. (It's how Ann Coulter just used soccer -- a sport she knows nothing about -- to peddle more books.) But I'm old-fashioned. "Facts'' should come before "opinions.'' And the opinions of trusted actual experts should be part of the currency, too. And, most of all, for me, the "execution of the plan'' deserves judgment more than the "result of the plan'' because ... well, we don't know what the result is going to be.
I wrote two weeks ago
that Tyson Chandler was the "bingo'' plan at center for the Mavs.
At about that same time, I am told, Dallas initiated talks with New York about such a deal.
The
Dallas Mavericks
get an A for "execution of the plan'' so far. They also are not very secretive about how elated they are about the pickup -- and I'm not just talking about salesman Cuban or happy-go-lucky Donnie. Carlisle is ecstatic. Dirk is ecstatic.
Those are facts. Those are expert opinions. That is real currency. Real currency makes me happy.
DONUT 2: Where does this put Dallas, roster-wise?
Chandler is your center, backed up by Wright. Dirk is the (your as-yet-unsigned) 4. Crowder is the 3. Ellis is the 2, backed up by Ledo. Felton is the 1, backed up by Mekel.
That's how the eight guys under contract would line up if there was a game tonight. Happily, there is not.
Dallas' list of free agents: Blair, James, Marion, Carter and Harris. Devin, Vince and Shawn remain "priorities'' depending on how other chips fall.
DONUT 3: Where does this put Dallas, cap-wise?
There is the first step in talent upgrade and now two more shoes must drop. But the fact Dallas has both Tyson AND its precious "Dry Powder'' is an accomplishment.
The cap is projected to be $63.2 million. That should mean the Mavs will be left with $25.87 mil - and Dirk must be among those signed from that pot.
The Mavs will enter July 1 free agency with as much cap room as any team in the NBA. That promises nothing. But with Melo and others on the market ... imagine how maddening it would be NOT to have shopping room?
DONUT 4: Should Mavs fans hold their breath for Melo?
Doctors say you should never hold your breath for very long. Rather, I say you should enjoy the soap-operatic drama. The Mavs' intentions are to pursue LeBron and Melo
(see Your Mavs Free-Agency Guidebook here)
and to do so in that order.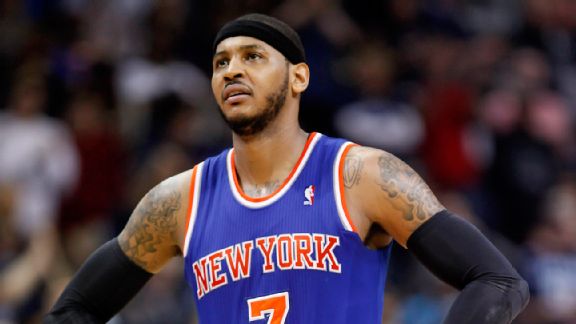 They will get an audience with Anthony on Wednesday. I would suggest that after 2010, when their etiquette kept them from forcing a meeting with James, that they battering-ram his front door this time around, just in case.
But no. This is One-Percent Stuff. Always has been. Always will be.
There are the very best reasons for LeBron to remain in Miami. (He may never even visit seriouly with Dallas.) There are the very best reasons for Melo to remain in New York. (He will visit, seriousness TBD.)
Still, One-Percent Stuff. Always has been. Always will be. Which is why Mavs Summer Shopping requires backup plans. Lots of 'em.
DONUT 5: Didn't TY's acquisition increase that One Percent?
Dallas views this trade as FA bait; coach Rick Carlisle boldly and uncharacteristically said so.
"Monta is a star,'' Carlisle said. "I believe he is a draw. Dirk is a draw. Tyson will be a draw.''
(See more for yourself in our Draft Night Video Visits.)
But if the odds started at 1-in-100, then jacked up to 2-in-100 because TY is now a recruiting assistant, I say they drop back down another 1 percent because paying Sammy Superstar his max money is more difficult.
So, up one percent. Down one percent. Same remote odds. I know people are saying, "Dallas is one of four teams in the Melo mix.'' But there is really no way to be certain of that. (All of the sudden, watch Phoenix stake a claim to become Team 5. Or the Lakers. Or anybody else.) And even if it's so, that doesn't equal "25-percent chance'' or anything.
(By the way: Don't take me too literally here. People who give odds on this stuff are pulling your chain. Melo seems way more likely than LeBron. But "remote'' is "remote.'' So I use the nice, round low number of One Percent.)
DONUT 6: LeBron or Melo can be squeezed in, though, right?
LeBron's expected max would start at around $20 mil. Melo's max would start at about $22.5 mil. If Dirk's idea of "respect'' is a deal that starts at $10 mil?
Do the math. That doesn't add up.
But the Mavs can engineer at three paths - or unlock three "keys to the city of Dallas,'' to paraphrase Dirk -- to get 'er done.
Premium Mavs Fans will
get that story exclusively here.
And you can take our free 7-day Premium trial and then be signed on for about 10 cents a day and get the very best in Mavs coverage, too!
As has been the case for 14 seasons around here, we've got Mavs coverage coming all day and night with DallasBasketball.com. Stay tuned,
and hang out on DB.com Boards
as well for all the goods from inside the games, the practices and the front office ... through Summer Shopping and beyond!
One more alert:
I'm co-hosting "Nate & Fish'' all week on 105.3 The Fan from 7 to 11 p.m.
We'll be live and local sports as all the action happens and I hope you can give us a listen!
I will say this for the moment regarding Cuban's suggestion to ESPN that he won't give Melo the max: That better be some sort of negotiating-in-the-press pre-negotiating. Because otherwise it doesn't smell right at all.
DONUT 7: What's if the Sammy Superstar Sweepstakes fails?
The Mavs yell "Next!'' and move from the James and Anthony doorsteps to the Ariza, Deng, Hayward and Parsons doorsteps.
Meanwhile, they start to get the ball rolling on Devin at $3 mil ... unless Kyle Lowry wants to listen. And maybe Vince Carter comes back aboard for the $2.7M room-MLE ... unless Parsons as a shooter renders Vince less important. And they check in with Trix ... unless another team tempts him with a ring-chase.
And then "Next!'' and "Next!'' and "Next!'' again. Remember, last year, it took 13 days before Dallas got around to Monta Ellis. So "Next!'' can be fruitful.
DONUT 8: How about other centers?
As
I've contended all along (because the Mavs have guided me into contending this):
You don't "prioritize'' backup centers. Or backup anythings. Dallas knew it wasn't going to get Gortat or Monroe so it "prioritized'' TY. ... Not Gasol.
Help behind TY besides B-Wright? Sure. If Gasol is in the bargain bin? If DeJuan Blair remains on the market? Grab one.
But don't "prioritize'' supplemental stuff. The Mavs' roster will have needs. And even after the next two weeks will still have a four-month window in which to fill them.
DONUT 9: Do we hate Raymond Felton?
If you understand Rick Carlisle's approach to coaching, to teaching and to life, you understand that he does not hate Raymond Felton. He sees him as a talent worth working with.
And in fact, in terms of running an offense (making those simple entry passes that the 2012-13 point guards could not), Felton is serviceable. Oh, and he's superior than Calderon defensively, for certain.
But if he shows up packing on pounds and packing heat? He becomes a little-man drain the same way Dalembert was sometimes a big-man drain last year.
The Mavs say they can be done at point guard with Felton (and eventually Devin). You should not believe them because smart teams aren't "done" with summer shopping before summer-shopping season even opens.
DONUT 10: Fish, you got more names?
Sure, and this goes back to the notion of "prioritizing" targets. I bet there are 27 players being evaluated as free-agent "gets" who Dallas would be happy about. Different levels. "Other shoes" dropping just right. Plan A, of course, but being good in 2014-15 with Bs and Cs, too.
LeBron then Melo. Ariza, Deng and Parsons and Hayward! Lowry and Bledsoe and Gasol and Vasquez and Hinrich! On and on this goes.
But on and on something else goes, too: Doesn't the Wiz wish to keep Trevor? Is Deng a good enough shooter to justify the bucks? Won't Parsons remain a Rockets chess piece?
(Just posted: "The Mavs And Their Parsons Project Problem.'')
Doesn't Utah desire to keep Hayward no matter what? Won't Phoenix quickly realize its 'get' is Bledsoe and seal that deal?
On and on this goes.
DONUT 11: Did Dallas make that trade to get rid of bums?
Ellington was a pro here. Jose was beloved in that room. Dalembert had his alarm-clock problems. I am hearing Larkin once in a while borrowed Sam's broken clock. And now Shane's dad Barry Larkin is badmouthing the Mavs. ... so maybe everything wasn't roses.
But if Shane Larkin was really an in-house problem for acting "entitled,'' the one that that would've really exploded would've been on his trio of minor-league assignments, right?
"I coached for him just three games but there never was any sort of a problem,'' Legends coach Eddie Najera tells me. "Shane was great with me.''
Whatever issues there were with anyone in this group, the reason they got traded is because NY wanted them and Dallas wanted TY.
DONUT 12: So, Fish, entering free agency Tuesday at 12:01 a.m., you're saying we should recognize that there's a chance?
The Mavs will invest everything in this. It's up to you whether you choose to invest emotionally. For me, "emotionally investment'' is the fun -- really, the central point -- of sports.
I had a great conversation about this with my colleague Ben Rogers at 105.3 The Fan. Ben says he wants to "protect his heart'' because he feels so scared as a DFW kid growing up a Mavs and Rangers fan.
Yet, as I pointed out to him, Ben is allowing his two young sons to trot down the same exact "hopeless'' path. They worship the Rangers, live-and-die with the Mavs, would do anything to see LeBron here ...
Why is Ben Rogers torturing his own helpless children and how quickly should I alert CPS?!
This isn't really "torture,'' though. It's theater. It's a sports soap opera, only the actors are actually real people (kinda). The pleasure doesn't resides only inside championship rings, otherwise we'd all simply become fans of Red Auerbach's Boston Celtics and our fandom life would be carefree.
No, the striving is the point. The drama is the point. The "emotional investment'' is the point.
So I don't know what Mark Cuban means by him "swinging for the fences'' in terms commitment. But I know what "swinging for the fences'' means for me as a chronicler of the Mavs and a fan of the Mavs.