DONUT 1: Delighted Dalembert …
"It was a tough thing,'' Sam Dalembert says of the
Dallas Mavericks
' sometimes quick hook utilized on him as part of their three-man center rotation. "It was for the best of the team. We really put everything to the side and tried to make the best of what we had. I was very happy and very proud that everyone was able to respond to it."
"Happy and proud,'' and understandably so. Sam, in his first season in Dallas, goes down as the starting center and the center of record on a 51-win playoff team.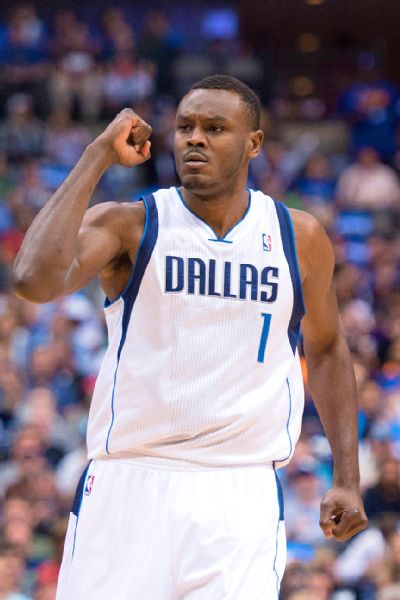 So all is well.
DONUT 2: Disgruntled Dalembert? …
But wait. There's more.
"Sometimes,'' Sam continued in his Exit Interview, "you've got to play. You can't sub yourself in at all. You just have to wait until it is your time to be out there and make the best of it.
"I want to be out there all of the time, but it was a big-three rotation. When you get something going and get really in a zone you've got to wait another 14 minutes to get out there. It was tough. Overall, I'm kind of happy to see the outcome.
"We stepped up and made the best of the situation. I want to play like that all of the time, but you've got to play."
Samuel Dalembert has a charmingly subtle way of passive-aggressively stating his point here. (It's an Island Thing; you may or may not understand.) Can you read between his lines?
"You can't sub yourself in.''

"I would've played even better had I played more.''

"I made the best of a less-than-ideal situation.''
DONUT 3: So which is it? …
"Sam The Speaker'' is as inconsistent here as "Sam the Center.'' He's grappling with the chicken-or-the-egg problem here, with Joseph Heller's "catch-22.''
Dalembert didn't play more because he didn't earn the right. But had he played more, he would've earned the right.
Right?
DONUT 4: He's a 'winner' …
There is no debate about this: When it worked, it worked. Or better, when
he
worked, it worked.
The Mavs' record info when Samuel Dalembert played at least 25 minutes in a game?
The Mavs were 11-2 when Dalembert played at least 25 minutes in a regular-season game, and for those 13 games he averaged: 9.6 points, 8.8 rebounds, 67.1-percent shooting and 2.3 blocks.
Eight of those 13 games came against playoff teams (Dallas posting a 7-1 record there) including: Brooklyn (the lone loss), Houston (twice), the Clippers, Portland, Golden State, Atlanta and Memphis.
These are the numbers Dallas was bargaining for when it committed $3.5 million for 2013-14 (and essentially the same next year, with just $1.8 mil of it guaranteed), signing him as a "Plan C'' center, if you will, following the failed courting of Dwight Howard last summer.
DONUT 5: More than 7/7 …
Dalembert this year averaged 6.8 rebounds and 6.6 points per game during the regular season, fitting quite nicely into our preseason forecast of him as a "7/7 guy ... like clockwork every year ... no better and no worse. ... 7/7.''
But we can take this deeper.
Dalembert led the Mavs in "rebounding percentage,'' grabbing 14.6 percent of available offensive rebounds while on the court (DeJuan Blair was second, at 12.7 percent). Dalembert also led the team in total rebounding percentage, pulling down 19.5 percent of all available boards (Blair again was second, at 17.2 percent).
The last guy to even come close to Dalembert's 19.5 total rebounding percentage: Tyson Chandler at 19.3.
Beyond Chandler and Dalembert, the last guy to post a total rebounding percentage over 19.0 for the Mavs: Erick Dampier … in the 2005-06 season (Pavel Podkolzin also accomplished this in the same season, but played only one game).
For all of the criticism of Dalembert this year -- especially when that alarm clock didn't chime -- this is a very big deal.
DONUT 6: Dalembert's on/off-court numbers …
Again, you might be pleasantly surprised here:
DONUT 7: Dalembert as rim protector …
How about the advanced stats on Dalembert as rim protector? (Note: %FGA is percent of the teams total field-goal attempts attempted either in the restricted area, or in the paint (but outside of the restricted area):
Again, Sam did his job here. It took Blair and Wright doing their things, too, of course. But Dalembert did his.
DONUT 8: Welcome aboard! …
As has been the case for 14 seasons around here, we've got Mavs coverage coming all day and night with DallasBasketball.com. Stay tuned,
and hang out on DB.com Boards
as well for all the goods from inside the front office ... and beyond!
Please consider
our free seven-day trial for Premium Membership
that costs you just pennies a day and gets you full access to inside information on Dirk, Cuban, Carlisle and the best Mavs coverage on the planet ... and access via the Fox Sports Network to your favorite teams in other sports as well, including
Chip Brown's incomparable coverage here of the Texas Longhorns!
DONUT 9: So Does Sam have a point? …
Dalembert likely does indeed have a point: It is harder to find a consistent playing rhythm when minutes are inconsistent or limited. We've seen plenty of players start a game slowly, only to finish strong. Dalembert was often not given this chance, the chance of in-game redemption. If he started slow, he sat. Sometimes, even when he didn't start particularly slow, he sat for extended stretches.
He is correct in that the lack of minutes was sure to have limited his impact at times.
Some of this was the presence of two other players that where deservedly earning minutes that happened to play the same position as Dalembert (Brandan Wright and DeJuan Blair) ... players that happened to offer very different styles that Rick Carlisle would have been foolish not to turn to at times, and players that did "steal" Dalembert's minutes by getting hot or drastically impacting a game.
At times, a "chicken-or-the-egg" argument could be made in regards to the correlation between Dalembert's minutes and production. But, as often as not, it was clear that Dalembert's energy level guided Carlisle's hand.
DONUT 10: Sam as a teammate …
Dalembert arrived with a well-earned reputation for an inconsistency in motivation, for showing signs of greatness one night, then disappearing for the next few ... both statistically and in presence or impact.
Our view is that in this area, it appeared Carlisle treated Dalembert fittingly, and when Dalembert showed he was locked in and ready to play, he got minutes. When he appeared to wander the court aimlessly, or without the desired disposition, he sat. Certainly there were times when this wasn't the case, but much of that still falls on Dalembert. Without the original inconsistency, Carlisle would be much more inclined to stick with or to quickly go back to him, to give him minutes to redeem a slow start.
Through all of Sam's first season here, Rick often mentioned how much he was needed and how much his teammates were rooting for him. Indeed, there is no indication that Dalembert is a "bad teammate.''
Listen, as an example, of him talking about Dirk:
"It's great. Before I even came here, I talked to Elton (Brand) and he told me that you're going to see how it really goes. It's an honor, a privilege. Not just as player, the type of guy he is. Usually guys like him, you can't talk to them. You can really relate to him, talk to him. He's always doing what is best for the team. It's an honor, and he's a class guy."
As always, The Culture of Dirk pulls people away from true disgruntlement.
DONUT 11: Quoteboard...
Brought to us as always by the finest dentists in the land,
McKinneyDentist.com:
"In the beginning it was tough. We struggled a little bit as a team. It was like nine different players. We tried to really make it gel and make it work. We did. It took us a little longer, but we really stepped up in the second half of the season. You can see the progress we made. We were able to make the playoffs and go this far. I look at it as a good thing." -- Sam Dalembert.
DONUT 12: The Final Word …
"He's got a contract for next year," GM Donnie Nelson said. "Absolutely we'll have Sam back. Great guy. If we can get him to show up on time to practice, that'll be a step in the right direction."
Meanwhile, absolutely Dallas will also explore options that include
trades for Larry Sanders (details here)
and
old pal Tyson Chandler (click here)
.
In the meantime, the simple truth is that Dalembert, at 32, is due to mature out of being in his half-happy/half-unhappy state. He, not Carlisle, placed himself in this straddling-the-fence-of-success position. If Sam wants out of it, it's on him to show true consistency.