Some of our insight on your
Dallas Mavericks
comes from research and knowledge and the ability -- gained from Fish and staff's decades of covering the Mavs -- to cross-check facts with the folks in the Mavs front office themselves.

An example of this? The details on Dirk Nowitzki's cap hold, which, until he signs or is renounced, is $23.86 million. If the Mavs were to retain his Bird Rights and not renounce him, they'd only have about $7 million in summer cap room instead of the $31 million they are planning on.
(as detailed here).
This sort of insight helps us to
understand what Dallas and Dirk will do to work together on his upcoming contract, as we write about here.
As we approach the offseason -- "It's going to be an action-packed summer,'' GM Donnie Nelson tells us, mindful of Dallas' needs in both the draft and free agency -- DallasBasketball.com utilizes that same research and knowledge and ability to trek our way to the best in Mavs news and analysis.
That certainly applies to
our detailed breakdown of what Dallas can offer in a Kevin Love trade;
while others are covering the seemingly self-evident unlikelihood of it, we're giving you the just-in-case paths the Mavs will attempt to travel.
And then there is a process that begins tonight. We start with a Donnie Exit Interview quote regarding tonight's lottery and the June 26 NBA Draft:
"I don't know of any young guys outside the lottery that are going to be impact players, but it is a deep draft. The difference between the early 20s and the 40s (isn't large) so we're fairly well-positioned with the 35th pick. It's got first-round potential. And then of course we've got our later second-round pick. So we'll be aggressive as always. We've got free agency, draft to put the best possible product on the floor next year."
As much as Fish gets accused of "Washing Donnie's Truck,'' it has long been our position that Dallas' picks -- no matter their location -- have always had "potential.'' And that the Mavs have undervalued them. This conclusion is a result of all that "research and knowledge and ability'' (we say humbly) ... but it's also a result of Mavs Premium conversation on DB.com Boards.
An example:
Gorgui Dieng was a 23-year-old from Senegal who played from 2010-2013 at Louisville. He was considered raw offensively but thought to have excellent potential defensively, 6-11 with a 7-3 wingspan, and a proven ability to block shots.
The Mavs -- who in terms of their scouting department have deep connections to Senegal and across the planet -- could have drafted him in 2013 at 13, at 16, and at 18, but they ultimately (at the urging of coach Rick Carlisle) chose Shane Larkin.
Dieng was selected at 21 by Minnesota, using a pick they were acquiring on draft day.
When the season started, Dieng played little. When the starting center in Minnesota, Nikola Pekovic, went down with an ankle problem in late January and missed all of February, Dieng still played very little. When Pekovic again was sidelined in mid-March, the T'wolves finally put Dieng in the lineup, and the results were impressive.
Over seven games, Dieng averaged 32 minutes and put up averages of 13 points (on 63-percent shooting) and 13 rebounds. Pekovic returned for a couple weeks and then went out again, and in a four-game span after that, Dieng averaged 11 points (on 42-percent shooting) and nine rebounds.
How is this relevant to Mavs fans and DallasBasketball.com readers? There's obviously the possibility that Dieng might have proven to be a draft gem that slipped past the Mavs.
But there's another connection worth mentioning. ... a connection that reminds us to invite you to take our free seven-day trial and then be fully connected with the Mavs for just pennies a day.
Last summer in our DB.com Premium Forum discussions leading up to the draft, we shared some insider information from Chuck Cooperstein, who as you know not only does play-by-play for the Mavs, but also a slew of college games every year. (Yes, Coop is a Premium Mavs Subscriber. So are assorted members of the media locally and nationally. So are more than a few members of the Mavs staff. And so are many, many Mavs fans just like you.)
Here's our note from last spring:
"Coop sees a lot of college hoops. He thinks if they look for a center, the guy for the Mavs in that part of the draft is Dieng."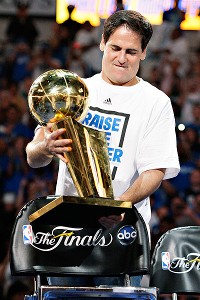 Mavs fans had a place to gain that knowledge, to discuss the info and then to watch the drama play out over the course of the draft and the NBA season.
And now we do it again.
Our focus again turns to the Mavs and the draft ... and free agency and trades. And again, we'll share with you all the inside tips as we encounter them, to keep you abreast of the Mavs as they work to improve going forward. You can be a part of it via
the depth of DB.com Archives
and with 24-hour-a-day discussion on
DB.com Boards.
And we appreciate your enjoyment of and contribution to DallasBasketball.com on whatever level you choose.
But we also invite you to join us as a Mavs Premium Member as we let you into the practices, the locker room, the games and the front office ... Go Mavs and Go Premium!