The Indiana Pacers were one of the most interesting teams to look back on this season. They reached an early peak that was not just impressive, it was borderline dominant. At one point they easily had the most suffocating defense in the NBA and a starting five that could rival any team in the league.
Perhaps the Pacers' incredible first three months of the season were just a combination of small anomalies that were unlikely to sustain themselves. Or perhaps the team just couldn't handle the success. (Or, as Fish has only half-jokingly suggested, somebody is sleeping with somebody else's wife, mom, sister or girlfriend.) Either way, Indiana limped to the Eastern Conference Finals (as much as one can do so) only to be disproven as title contenders by the Miami Heat.
Now we face the fallout. That fallout could affect the
Dallas Mavericks
' summer roster adjustments.
Can Dallas "vulture'' its way to some value from the Pacers' carcass?
Let's start with the most obvious chess piece currently on the Pacers' roster. Lance Stephenson is a free agent this summer. It's fitting that probably the most unpredictable player in the league right now has the toughest to predict looming contract of the summer.
In January it seemed that Stephenson was bound to get a $14-million-a-year contract. Everything was going well in Indiana and the chaotic play of "Born Ready" (as he has been nicknamed since the eighth grade) was a big part of that.
As the Pacers began to struggle, Stephenson's obsessive dribbling and streaky play was brought to light. Not to mention Stephenson is a perpetually "loony'' person. I mean that with all due respect; when properly channeled his "basketball insanity'' can lead to great basketball and a ton of momentum. But it's been proven over the years in sports that constant screaming/chattering and temperamental mood swings get old very quickly when the team is losing.
Then there are his antics. Oh, his antics. From blowing in LeBron's ear to poking James verbally, Stephenson's coach Frank Vogul admitted it probably wasn't a good idea to "tug on Superman's cape." And Paul George's "I don't know'' reply to wanting Lance back -- uttered immediately after Friday's ECF elimination loss to Miami -- speaks volumes.
There are tons of words that can describe Stephenson, but lately "distraction" is the most common one.
Over the last three months of the season and the first two rounds of the playoffs it was not unreasonable to say that Stephenson might have lost himself millions in free agency. Yet even in a series loss to Miami it was apparent that the 23-year old is a very talented wing with a lot of room to grow as a player. He clearly brings passion to the court.
Stephenson is a 6-5, 230 pound guard/forward who can do it all. He can score one-on-one, he's a capable three-point shooter, he chases down rebounds, he has the body and determination to defend great scorers, and he's an excellent creator. He's a triple-double threat every time he steps on the court.
It certainly seems like he has it all. However, he's also sporadic. He does a bunch of things well, but sometimes it seems like if he isn't doing one of them well then he isn't doing any of them well.
Back in January I was personally afraid of the idea of the Mavericks being the team that gives Stephenson a $45-million deal. At a lesser price he would certainly be tempting, but I would still be wary. He has a reputation as a hot head. While he's a great creator and can bail out an offense, at times that comes at the price of 22 seconds of him dribbling the ball. It's hard to believe that he and Monta Ellis would complement each other.
With Dirk Nowitzki's last years very soon on the horizon a gamble on Stephenson may be very misguided. While Stephenson will likely develop into a better player than he is right now, the Mavericks need players that will complement Nowitzki and Ellis. Stephenson's game is evolving and he may need to be on team where he can shoulder a larger load of responsibility, a team where the players are set to complement him. In that situation he might just turn into a superstar. Stephenson doesn't quite seem like the "system" player the Mavericks are looking for and he's not good enough yet for a good team to alter their system drastically to fit him.
Besides, this is the NBA. It is still very likely that a team out there will overpay free-agent Stephenson because they need somebody.
How willing are the Mavericks to be that team? Read
Fish's exclusive on "The Mavs, Lance and The 10-Foot Pole'' and you'll have the story from inside Mavs HQ.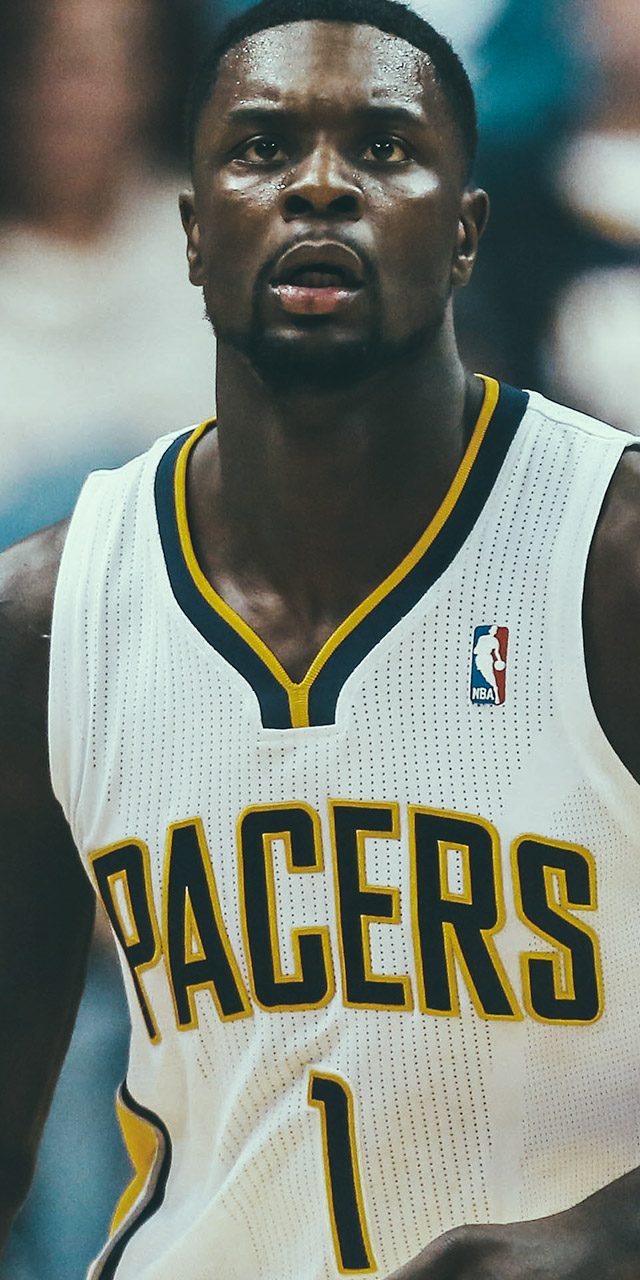 There's one more interesting name on the Pacers' roster: Roy Hibbert.
Hopefully I didn't already lose you. Hear me out.
What would you say the Mavericks were missing most last season? What was their biggest weakness? What were they constantly compensating for?
I'd argue it was a lack of true rim protection. There was no consistent defensive anchor to prevent teams from scoring at will. You can find silver linings if you try hard enough, but over the course of the season the Mavericks' defense was atrociously bad.
There's no denying that Hibbert had one of the worst non-injury related, in-season production drop-offs in the history of the NBA. The guy was an All-Star this season, but has been a complete non-factor in numerous playoff games. He has had numerous zero-point games and numerous zero-rebound games. I probably don't have you sold on why Dallas should trade for him.
First of all, I think that much of this is mental. Hibbert is 27 and I don't think that his career is over because of this slump. A change of scenery and a slight change in role would likely go a long way in terms of the mental aspect. Hibbert also plays with unwilling screeners and unskilled passers. He has few opportunities to produce and has clearly been frustrated when he doesn't take advantage of them.
Playing with Jose Calderon, Ellis and Nowitzki is a much better situation for a center hoping to get a few easy buckets now and then. Think about all the dunks and layups Ellis provided Dallas big men coming off screens this season. That was non-existent in Indiana.
Not to mention that Rick Carlisle is an offensively superior coach to Vogel and one who knows how to manage players' mindsets. He would know to get Hibbert a few looks early to keep him at a high activity level. (He did it for Samuel Dalembert.) By playing on such an offensively deficient Indiana team, Roy's struggles were put under a microscope. If Hibbert has zero points going into halftime and the Pacers only have 34 points then everyone is saying "we're not getting anything from the big man." But if he has, say, three or five points at half and he's on a Maverick team with 55 points (thanks to Nowitzki and company) then Hibbert can get more credit for doing the little things he does best.
This might seem like coddling a mentally weak player and I'm not trying to imply these little things would turn Roy back into an All-Star, but they would collectively go a long way to avoid such a drastic slump.
For all the production Hibbert has seemed to lose, there is one invaluable skill that he's still got: the skill of being an enormous human being. One year ago it was believed that Hibbert's verticality and timing were the best possible answers to containing the driving efforts of LeBron James. That feat might actually be impossible, but the fact remains that Hibbert still has serious potential as a rim protector and if he were to provide 12 points per game, 10 rebounds and excellent defense then the Mavericks would be an exponentially better team.
Put in a situation where is impact is apparent, Hibbert can still be a Defensive Player of the Year candidate. His impact would be quite apparent on a Maverick team that opposing guards salivate at the chance to drive on. As long as Calderon and Ellis make up the Mavericks' backcourt, opposing guards are going to get into the paint. Someone has to meet them there.
Trading for him might be doable. The problem from the Mavericks' end is Hibbert's frightful contract. He will make right around $15 million each of the next two seasons. But know this: DB.com has already established that
the Mavs aren't scared of Omer Asik's contract
, are
interested in exploring a Tyson Chandler swap
and continue to evaluate what once was
a deep interest in the troubled Larry Sanders.
I think Hibbert should be added to that pile of center considerations.
Sometimes it's the moves you don't make that turn out to be the best ones, and that goes for a final member of the Pacers roster that Dallas flirted with last summer.
Andrew Bynum's visit to Dallas in the offseason was a disaster for him, and
the Mavs wisely let Bynum move on.
Indy unwisely eventually added him, and his disinterest in basketball may have contributed to Indy's overall dysfunction.
Dallas was smart enough to stay away from that train wreck a year ago, if that makes you feel a little more confident in their judgment going forward.
Our focus again turns to the Mavs and the offseason, free agency and the NBA Draft. (Here, the exclusive list of who Dallas is inviting in for pre-draft workouts.) And again, we'll share with you all the inside tips as we encounter them, to keep you abreast of the Mavs as they work to improve going forward. You can be a part of it via the depth of DB.com Archives and with 24-hour-a-day discussion on DB.com Boards. And we appreciate your enjoyment of and contribution to DallasBasketball.com on whatever level you choose.

But we also invite you to join us as a Mavs Premium Member as we let you into the practices, the locker room, the games and the front office ... Go Mavs and Go Premium!