The 2014 NBA Draft is anticipated to be one of the deepest, most talent-filled drafts in recent years. On the surface, that's slightly disconcerting for
Dallas Mavericks
fans considering Dallas does not own a first-round pick in this year's draft.
There's certainly the possibility that the Mavericks find a way to trade into the first round, but that's merely a hypothetical and we are more prepared to give you coverage on realistic situations. You're still allowed to get excited about reality, however, and we'll tell you why.
First, let's start with explaining why a second-round pick (of which the Mavericks own two) is not an insignificant throwaway. Obviously, it is more difficult to find real value in the second round, but as the current CBA is constituted, drafting a true talent in the second round is like striking gold in the NBA.
First-round picks sign contracts on a rookie scale that shifts determined by where the player is signed. This is in place to prevent rookies from holding out for large contracts while still demanding a minimum commitment from a team. This scale does not exist in the second round and the contract signings are more like negotiations.
That being said, as second-round picks the players do not have much leverage in these negotiations. The result being that, if a team has confidence in the potential of their second-round pick then they will often have the opportunity to sign him to a multi-year deal for a very small amount of money.
The Sacramento Kings drafted scoring point guard Isaiah Thomas to a three-year deal paying him $381,193 his first year, $762,195 his second year and $884,293 his third year. That's nothing by NBA standards. The Spurs signed Dejuan Blair to a similarly savvy deal.
Another example is the Houston Rockets striking gold with Chandler Parsons. The Rockets have chosen to decline the fourth year option on Parsons' contract, making him a restricted free agent (in an effort to clear every bit of cap space possible to land a max-level free agent) but the fact remains that Houston got three years of Parsons for less than $1 million per year and the opportunity for a fourth at that price. Being able to pay a valuable starter that kind of money went a long way in the Rockets' ability to trade for James Harden and sign Dwight Howard.
Jae Crowder is another, perhaps less significant, example. Crowder, making less than $1 million each of his first three years, is a contributing rotation player whose presence on the roster comes close to not even affecting the Mavericks' offseason plans because his contract is nearly inconsequential.
Everyone is enamored with the top players in this draft and rightfully so, but there is also expected to be legitimate depth in this draft and there will likely be some gems to be found beyond the first round. From a business perspective an early second-round pick can arguably be more valuable than a late second round pick if used wisely.
So we're here to provide a few examples of some players that could be available with the Mavericks' 34th and 51st picks:
James McAdoo, 6'9, Power Forward, Junior, North Carolina
Coming out of high school McAdoo was projected as a sure shot for the NBA, perhaps bolting after his freshman year. He never became a dominant player and never seemed to advance his strengths to an elite level. His motivation to stand out as a true talent seemed questionable.
He is a very athletic forward who has nice touch and good hands under the basket. He could be a very good pick-and-roll finisher in the league a la Brandon Wright. He has the potential as a solid defensive big man in the NBA. He has always been considered a good teammate and that might have been a factor with his inability to stand out. He has a reputation for being coachable. His hustle and scoring ability could turn him into the type of big man that, if he hits, has the combined qualities of Blair and Wright.
Semaj Christon, 6'3, Point Guard, Sophomore, Xavier
I want Shane Larkin to succeed in the NBA. But the little we've seen from him does not promise that. Quickness was his biggest advantage coming out of college and he does not seem quite sure how to utilize it at the pro level.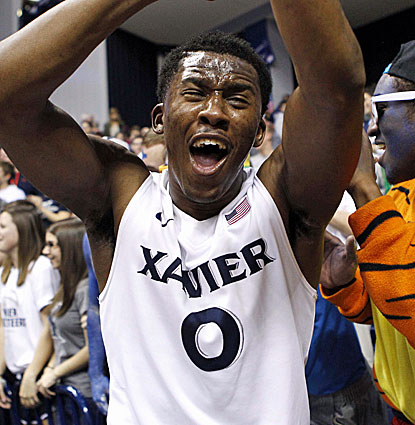 Christon has the same quickness to go along with better size and athleticism. His jump shot needs work and he needs to put on some muscle, but his lack of strength in college didn't deter him from going to the basket. He wants the ball and he wants to make plays happen. His potential to try to do too much could be a problem early, but it's certainly better than being timid with the ball.
If the Mavericks chase big-name free agents this summer it could create the possibility of being unable to re-sign Devin Harris. This would be a tough blow. Even with Harris, the Mavericks were thin with ballhandlers. Christon has the physical attributes to play in the NBA and his skills can be refined and built up if he shows the work ethic.
Clint Capela, 6'11, Power Forward, Switzerland
Capela is a project. What kind of player he will turn into in the NBA is a mystery. The only thing we know about him is that he possesses pure athletic potential. A Youtube search of his name will show you countless videos of Capela dunking over anyone trying to get between him and the rim. He can rebound and block shots just based on his physical attributes. Those qualities could improve even more when he is coached timing and fundamentals. Imagine a guy with Serge Ibaka's body leaking out on the fast break to finish monstrous dunks. I believe Capela has that kind of potential.
The downside is that every finer point of playing in the NBA is likely going to be a struggle for Capela. He won't be able to dominate based on pure athleticism against the best players in the world. Wherever he lands it's quite possible that he struggles to see much of the floor his rookie season. That being said, one could argue that he's in the top five of most athletic players in this draft. Getting a player like that at a second round price could pay huge dividends in the future.
P.J. Hairston, 6'5, Shooting Guard, North Carolina/NBDL
The Mavericks acquired Monta Ellis because they needed somebody to take some of the scoring off of Dirk Nowitzki's shoulders. Ellis excelled at just that. Still, at times last season it was clear that the vast majority of offensive creating was dependent on either of those two names.
Scoring the basketball is Hairston's specialty. He is a terrific spot-up shooter from three-point range and can stop in transition and pull up for a mid range shot as well. He has a scorer's mentality and has a great free-throw percentage.
Once a highly-touted leading scorer for North Carolina as a freshman, he was dismissed from the team for off-the-court incidents. Hairston's next move was to participate in the NBDL where he averaged just less than 22 points per game for the Texas Legends. The Mavericks had nightly opportunities to watch Hairston's success with the Legends.
Hairston's character will be in question as any player's would be after being dismissed from a top-level college program, but he has a very high ceiling and it would not surprise many if he were a regular rotation player in this league pretty quickly. He's being talked about as a mid-first-rounder and I can see why. But I also believe there is a Mavs attraction there -- a belief that they have insight into him - and he's a talent worth moving assets for. Call this a locally-connected pipedream if you wish. ... But it's my list!
Our
David Lord has pinpointed his four "pets'' worthy of Dallas second-round picks
. Meanwhile, nowhere else
but on DB.com have you seen a virtually complete list of Mavs pre-Draft visitors
let alone
looks inside the AAC at the Mavs thoughts on them.
Those three clicks ... and my four targets! -- help provide the Premium info there.
Oh, and our Mavs draft coverage is so complete that we've even got Jeff Stotts'
injury histories of Mavs second-round prospects.
Dig in!
Our focus again turns to the Mavs and the draft and then free agency. And again, we'll share with you all the inside tips as we encounter them, to keep you abreast of the Mavs as they work to improve going forward. You can be a part of it via
the depth of DB.com Archives
and with 24-hour-a-day discussion on
DB.com Boards.
And we appreciate your enjoyment of and contribution to DallasBasketball.com on whatever level you choose.
But we also invite you to join us as a Mavs Premium Member as we let you into the practices, the locker room, the games and the front office ... Go Mavs and Go Premium!