The
Dallas Mavericks
launch into the preseason tonight with a 7:30 visit from the Rockets at the AAC. And while lots of eyes will focus
on front-office squabbles
and
Chandler Parsons fist-bumping Howard and Harden
and
what Dirk wears while he sits the bench
we've got another area worth examining:
Can tonight be the beginning of a Monta Ellis All-Star season?
("Half-full/half-empty" is a recurring feature leading into the regular season that gives you a glimpse of something to be excited about for the Mavericks' upcoming season as well as a potential weakness or worry to keep in mind.)
Half-full: Monta's All-Star Potential
We have reason to believe 2014-2015 is shaping up to be the best season of Monta Ellis' career. The veteran gunner proved a lot of people wrong last season, people who had dismissed him as inefficient, poor defensively and a ballhog. He responded by being the jolt in the arm the Mavericks' franchise needed after missing the playoffs for the first time in over a decade.
The consensus by the end of the season was that Ellis had found the right environment he had missed out on for most of his career. Rick Carlisle was the best coach he ever played for, Dirk Nowitzki was the best player he ever played with and the Mavericks' organization offered him stability and a clear goal that he would be relied on to achieve.
This year all those things remain true and the familiarity will only strengthen his game. Carlisle knows exactly what he has in Ellis at this point, which means he knows exactly how to use him. Ellis was the workhorse for the Mavericks last year, averaging nearly 40 minutes per game and he'll be relied on as the driving force again this year while Nowitzki, ideally, takes a step back at points in the season.
Meanwhile, as Monta tells DB.com, he's adding to his toolbox with "Three Secrets'':
Chandler Parsons' addition will increase the efficiency of ball movement as well as add a terrific three-point threat. When Parsons, Nowitzki and Jameer Nelson are on the floor, Ellis will be given plenty of one-on-one opportunities to drive to the basket.
We discuss in this feature the potentially dominant Ellis/Tyson Chandler pick-and-roll.)
In the absence of Jose Calderon, Ellis will probably increase his :point-guard-like'' duties requiring him to initiate the offense. The threat of increased turnovers this comes with is legitimate concern, but it could also lead to a quicker-hitting offense. The offense will continue to be largely about Nowitzki setting a screen on the wing for Ellis and developing ball movement or a shot from there. The difference between Ellis going around that screen with 19 seconds on the shot clock as opposed to 12 could be significant in terms of really opening up the offense, assuming Ellis can reasonably limit his harmful turnovers.
The addition of Chandler as a defensive eraser of mistakes could allow Ellis the freedom to do just slightly more gambling on steals. If Chandler's presence decreases the risk in this situation, keep in mind the reward is almost a sure two points. No one is catching Ellis -- termed by Carlisle as maybe the fastest Mav ever -- if gets a breakaway steal.
In a different world where context was erased and Nowitzki wasn't understood as one of the greatest players of all time and Ellis didn't have a shaky reputation to disprove, people would look at this roster and likely see Ellis as the core piece. It's a little insulting to imply
Dirk Nowitzki
is a complementing player, but his skillset really does perfectly complement Ellis, who is in his prime.
Candidates for the Western Conference All-Star team include names like Bryant, Paul, Harden, Lillard, Curry, Westbrook, Bledsoe, Gragic, Parker, Conley, Thompson, and Lawson. That being said, we're optimistic about Ellis being a serious All-Star candidate this season. That's how good we think he'll be.
Half-empty: Houston putting on the hurt
It's important to display confidence in a rivalry. And the thought of Daryl Morey and company getting the last laugh is hard to swallow. But the truth is that the Rockets still have a team that could give the Mavericks a lot of trouble. (Not necessarily tonight, of course, though the preseason setup makes this a handy time to note it.)
It's fun -- and justified -- to make fun of Harden's defense, but let's not pretend he isn't an extremely effective player. An easy gauge of establishing this is thinking about how frustrating it is to root against him; he's on Tony Parker-esque level in that regard. He can get to the line as well as anybody in the NBA, including James and Durant. None of the Mavericks' guards have a reasonable chance of defending him successfully. Parsons will be the best bet, but Harden forces everyone into foul trouble, even the best defenders. And as soon Harden sees Ellis/Harris/Nelson/Felton guarding him he'll go to work and use his strength against them.
Harden's driving ability is deadly and the effectiveness of Chandler's help defense is partially negated by Dwight Howard's presence. If Chandler shifts over to force a missed layup then Howard will work the offensive glass with ease. Like Harden, Howard is an easy target for jokes and ridicule, but there is very little that Chandler provides that Howard doesn't do as well or better.
Parsons will have an opportunity to develop into a great player and Houston will be missing out, but a motivated Trevor Ariza is an effective player and the Rockets think it is likely he be able to do most of what Parsons provided last season for them, including outside shooting.
Patrick Beverly will also be a thorn to Mavericks' ballhandlers with his pressing defense. His ability to delay the initiation of the offense is frustrating to a team that likes to patiently go through its options to get the best shot.
The Rockets are not necessarily a better team than the Mavericks, but as tough as it is to admit, a seven-game series with Houston would be as tough for Dallas as a playoff series against any team in the NBA. Interestingly, Monta's chance to be an All-Star means in part he'll have to go through Harden. ... just as Dallas' chance to advance in the postseason might mean it has to go through Houston.
Even though it's just a preseason game, the start down both those paths begin tonight.
Preseason Forecast Video Visit
D-Lord's Roster Look
Here's the who's who on the Mavs' roster tonight ...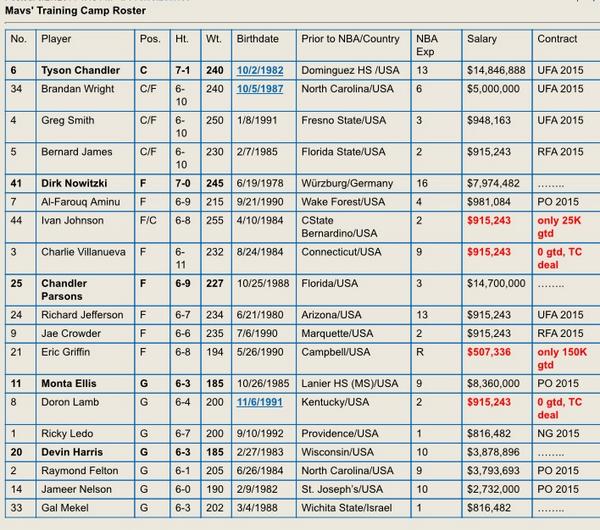 For
more thoughts on the Mavs roster's dollars and sense, read D-Lord's piece here.
The Final Word
"In life, there is a game within a game. My selling point (to players) is that you can't say anything you want and do anything you want. Business and basketball … it's a game within a game.'' -
Nick Van Exel, who DB.com learned Monday is joining the organization as the top assistant for the
D-League Texas Legends.