Today's Mavs Donuts
presented to you by McKinneyDentist.com!
DONUT 1:
What is
Vince Carter
's legacy with the
Dallas Mavericks
?
First know that this is a club that values shooters. As noted by our man Adam Crouch at 105.3 The Fan, in the last five seasons, the Mavs have employed Kidd, Peja, Jet, Carter and now Rashard Lewis -- all top-10 in career 3-pointers made.
And look at this team's shooters and how they've lined up this week:
*Dirk with
the Discount Double-Check
and some deeper meaning. (By the way, we're investigating the nature of Nowitzki's reported last-year opt-out. Stay tuned.)
*Parsons
readying to become a "franchise player.''
*Richard Jefferson ring-chasing on a one-year vet's minimum.
*Rashard doing the same as end-of-rotation stretch-4.
With all that going on, Vince leaving isn't the biggest Mavs story of the week. (There are more stories brewing, too, with Marion, Mo, DeJuan and the room-MLE. (
Get the latest discussion on all those as they happen on DB.com Boards.
But the Vince-in-Dallas tale deserves its due ...
Carter leaves Dallas for Memphis (and a three-year, $12-mil contract that in total value was twice was Dallas would've ever offered) and with him goes perhaps the most polarizing Hall-of-Fame debate of his generation. The opinions are so varied that, despite arguably being one of the 16 most recognizable players of the past 16 years, the final seasons of his career may actually determine whether or not he is inducted into Springfield one day.
And his final seasons in Dallas help his case.
DONUT 2:
Before we break down the case, the oversimplified anti-Carter shtick:
Talent-wise, he is a Hall-of-Famer. He is one of the most gifted players this league has ever seen and 10 minutes on YouTube will confirm that. But some argue that in terms of effort, accountability and winning, he might not make the cut. The effort and accountability arguments are subjective, but it's accurate -- and maybe meaningful -- to say he has never come anywhere close to winning a championship in his 15 seasons in the NBA.
He didn't fix the ring thing in Dallas. But did he fix the rep?
DONUT 3:
A little bit of statistical perspective on Carter's career. He entered 2013-14 ranking 27th on the NBA's all-time scoring list with 22,223 points. ... and is now the eight-time All-Star, who this year became the 27th player in NBA history to score 23,000 career points, is 25th on the all-time scoring list. As we noted to open last season: Every single eligible player who is ahead of him on that list is in the Hall.
DONUT 4:
OK, the ring thing.
In 2006, Detroit Pistons guard Joe Dumars was inducted into the Hall of Fame. Carter has scored about 7,000 more points than him. Carter has recorded more than twice as many rebounds as him. Dumars doesn't even come close to Carter in steals or blocks. Dumars recorded 83 blocks in his career compared to Carter's 744.
A fun game we created on the eve of the start of last season: Below are the Per 36 career averages of a few players including Carter:
Player 1: 16.8 ppg, 2.3 rpg, 4.7 apg, .46% FG
Player 2: 16.6 ppg, 6.6 rpg, 5.4 apg, 47.3% FG
Player 3: 21.3 ppg, 6.4 rpg, 5.9 apg, 47.2% FG
Player 4: 19.6 ppg, 5.6 rpg, 3.3 apg, 52.1% FG
Player 5: 21.5 ppg, 5.2 rpg, 3.9 apg, 44.3% FG
Player 5 is Vince Carter. The other players in order are Joe Dumars, Scottie Pippen, Clyde Drexler and James Worthy, all Hall of Famers.
Those players have championships while the furthest Carter has made it in the postseason is the second round in 2001 when he led the Raptors against an Allen Iverson-led Philadelphia team that eventually made it to the NBA Finals.
DONUT 5:
And then there's his reputation. There are plenty of people that will always view Carter as a player who didn't give maximum effort, coasted on his talent, feuded with coaches and management and forced his way out of Toronto. There's enough evidence of these things to at least make it a conversation, but the Mavs will swear to you that they must be overblown and shouldn't define his career.
These things can't be proven or disproven. They are opinions. But they are opinions that matter and could perhaps keep him out of the Hall of Fame.
However, they are not the opinions of people who have watched him for the past two seasons in Dallas.
DONUT 6:
Carter earned a new reputation as a team leader on the Mavericks, a mentor to younger players, a defensive worker and a crowd favorite. Cuban, Carlisle and Dirk -- three voices I assume the HOF would listen to -- endorse him in all categories. Perhaps Carter has burned some bridges over the course of his career, but that wasn't in play in Dallas.
And in terms of media friendliness (which does seem to play a role)? Carter has been extremely professional and has provided thoughtful and patient responses to even the most redundant lines of questioning.
DONUT 7:
A first-hand example? He hadn't been in town long enough to even have an automobile transferred here when he learned that new teammate Shawn Marion was sponsoring a charity event at a downtown bar. Vince -- again, too new to Dallas to understand the lay of the land -- walked from his condo to the saloon in inclement weather and spent the night at the party meeting and greeting Marion fans while essentially co-hosting an event he knew nothing about only hours before.
These sort of gestures are why, when Vince-to-Memphis was announced, fellow Mav and Tar Heel buddy Brendan Wright tweeted out a teary-eyed emoticon.
DONUT 8:
Vince's on-court work in Dallas was not without flaw. ... but as we've pointed out many times, was largely due to the Mavs being overly reliant on the fading star. He took a lot of the clutch-time shots here and made too few.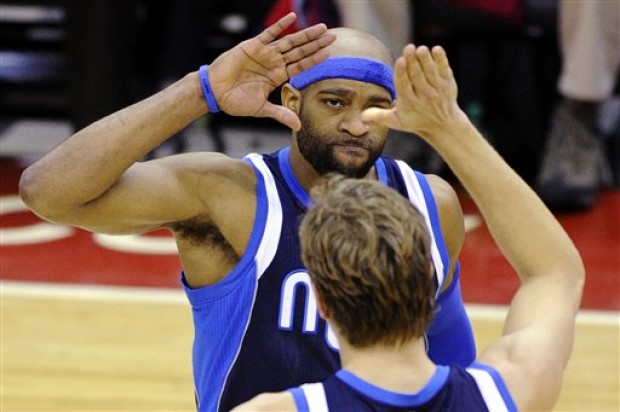 But somebody had to take some of the offensive load off
Dirk Nowitzki
. And we can tell you Dirk also appreciates that Vince assumed some other burdens that eased Dirk's load. Media spokesman. Locker-room policeman. On-court tough guy.
Yeah, it was weird ... Not the biggest guy or the youngest guy or the most hot-headed guy ... but think back: Every time there was an opponent scuffling with the Mavs, who never backed down?
The now-37-year-old Vince Carter.
From Dirk: "You know, Vince played all 82 this year. That's amazing for a fossil.''
DONUT 9:
If some are to dock Carter HOF points for his one-time less-than-stellar reputation than it's only fair that he be credited as one of the most exciting players in the history of basketball.
In a pre-Lebron/Wade/Carmelo/Durant era of the NBA Carter held court as "Vinsanity'' and "Half-Man, Half Amazing.'' Whether they like to admit it or not, there a number of 20-something NBA fans all over the world who might not be as enamored with the sport if Vince Carter hadn't been making nightly appearances on their televisions screens 10-plus years ago.
DONUT 10:
You are aware, right, kids?
DONUT 11:
"The right situation is what it's all about,'' free-agent-to-be Carter said during Exit Interviews. "At this point in my career I just want to play for teams that compete for a championship. I just want that opportunity.''
Carter was a supplemental guy. Other, bigger moves needed to happen first -- even as coach Rick Carlisle swore his desire was to have Carter back in 2014-15 for reasons of "continuity,'' even as Dallas held out hope that Vince might settle for the $2.7-mil room-MLE.
In the end, Vince finished sixth in Sixth Man of the Year voting (Behind the Clippers' Jamal Crawford and also-rans Taj Gibson of Chicago and San Antonio's Manu Ginobili, among others) while being asked to carry the Mavs' second unit offensively. He did that, the 15-year veteran averaging 11.9 points in 24.4 minutes per game.
Carter struggled early in the season (maybe due to some shot-hunting) but was pivotal in Dallas pushing San Antonio to seven games in Round 1 of the playoffs. Carter was even more productive as he averaged 12.6 points and shot 48.4 percent at the arc. His buzzer-beating game-winning 3 in Game 3 was a highlight of the season.
Vince created for himself one final bright shining moment as a Mav. This video-scrapbook entry needs to be part of his legacy, too.
"I don't mind taking the game-winning shot," said Carter after helping Dallas to its Round 1 Game 3 upset of the eventual champs. "I don't mind missing them, and dealing with it. So I think having that mentality helps me."
DONUT 12:
Grantland's Zach Lowe may have said it best in a piece he wrote back in December 2013: "Carter has earned that skepticism. But that shouldn't blind us to a fun little late-career evolution happening in Dallas – the kind of evolution that a lot of players never figure out."
We got to witness that evolution, a turn that should make Vince Carter a Hall-of-Famer. And as excited as we are to see the 2014-15 Mavs' shooters, we look forward to witnessing that Vince honor someday, too.