Dallas Mavericks
star
Dirk Nowitzki
is not given to flights of fancy. So when he downplays the idea of LeBron to Dallas or Carmelo Anthony to Dallas, his perspective is a sincere one.
How realistic it is than Anthony end up with the Mavs, the media mob asked Nowitzki before he gamely took Friday batting practice?
"Not really,'' he said. "Do I think it's realistic? No."
Dirk paired that remark with one that pooh-poohed the notion that he'll be involved in the recruitment of James and Anthony and whomever. Dirk at-large, on "hitting the recruiting trail'':
"I don't think so," Nowitzki said. "I'm just going to enjoy my time and play some soccer. I don't think recruiting is part of the plan yet."
But then Nowitzki sat down with DB.com and clarified some behind-the-scenes facts.
*Dirk is fully aware of the odds of LeBron leaving Miami and coming to Dallas. He doesn't seem very invested in that possibility.
*Dirk is privately energized by the idea of 'Melo having Dallas on his wishlist. He told the media, "Somebody in his camp brought up the Mavericks first. It's not like we brought him up. If we're actually on his radar, then it's great. Then, we obviously have to look at it."
But I can tell you that in our 1-on-1 setting, Dirk thinks a 'Melo pursuit is well-worth the effort. Simply put,
he joins others in the organization in believing there is a shot there, however limited.
*Dirk specifically mentioned how some local media guys have pushed for the Mavs to go after
Lance Stephenson ... but seems in-tune with our story asserting that Dallas wishes to not go near that with a 10-foot pole.
*In regard to Dirk's return to Dallas, "Nothing has really changed. Cuban and I will meet July 1 when it's legal. Hopefully we'll just get a deal done pretty quickly. We all know that's what needs to happen. Both parties want the same. We'll just need to find a middle ground for me to feel respected and for the franchise still to have enough cap room left to do some good things this summer."
*Know that once July 1 rolls around, Dirk doesn't have to be signed by the Mavs to serve as a "vice president of recruiting.'' And rest assured, he will do that in whatever capacity Cuban and Donnie wish.
In his presser, Nowitzki said he plans on attending Steve Nash's charity soccer game in New York next week. During the at-large session, he downplayed the idea that he could be headquartered in New York because Anthony could be there.
But I asked him later in the day about his true role.
"It's not necessarily the thing I feel the most comfortable with,'' Dirk told me. "But it's part of the job and part of free agency. We never made a big deal about this last year but I was in Los Angeles to try to recruit Dwight (Howard). So yeah, if it's me and (coach Rick) Carlisle on somebody's doorstep over here and Cuban and Donnie over there, that's what I'll do. We don't have those plans firmed up yet, but I will do whatever is needed there.''
Dirk means what he said in his pre-batting-practice presser about his faith in the Mavs higher-ups.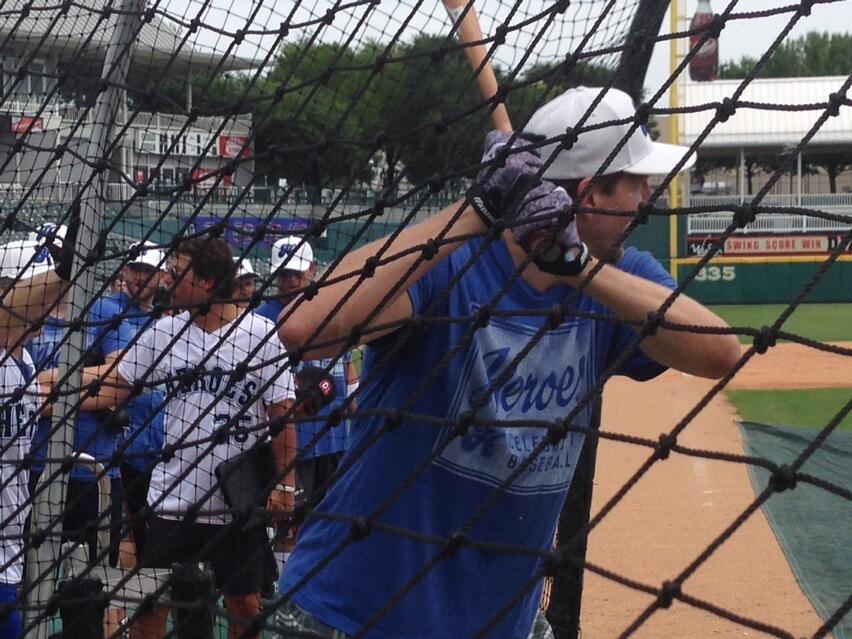 "I've learned with Mark and Donnie that anything is possible," Nowitzki said. "Anything is possible with those two guys."
But really, Dirk's involvement in recruiting -- as low-key as he wants to talk of it publically -- means that anything is possible with those
three
guys.