DONUT 1: Less-wanted Luol? …
Nobody Asked Me, But ...
What if the Cavs want free-agent-to-be Loul Deng as little as we think he wants them?
The Cavs/Deng marriage was a poor fit from the start, and they organization bluffed publically in suggesting that a post-trade extension was in the works. Now the Akron Beacon Journal is reporting that Cleveland isn't in love with the idea of bringing him back.
Yahoo reports that the Cavs are interested in hiring old Mavs friend Adrian Griffin and that his Bulls ties could lure Deng back.
What are the Mavs hoping for here? For the marriage to continue to look unsalvageable.
DallasBasketball.com
had the story of Dallas talking to Cleveland about Deng at the deadline.
The involved parties will be talking again, with Deng atop the Mavs' most-likely "get-ables'' this summer in free agency.
DONUT 2: Condoms, bro. Condoms. ...
Nobody Asked Me, But ...
Why don't you take my "Condoms, bro. Condoms'' advice?
Pacers star Paul George is being sued by a stripper who says he is the father of her month-old baby girl. Daniela Rajic, 24, gave birth to daughter Olivia on May 1. On Wednesday came a paternity suit against George in Manhattan Family Court. George and Rajic, goes the official story, "were reportedly an item for a short time last summer.''
Yeah. A short time. But just long enough to make a baby.
Condoms, bro. Condoms.
DONUT 3: I'm not a xenophobe! …
Nobody Asked Me, But ...
The Rockets and Timberwolves will play at the Mexico City Arena on Nov. 12, as part of NBA Global Games Mexico City 2014. NBA Global Games London 2015 will feature a game between the Bucks and the Knicks at The O2 on Jan. 15.
The two regular-season games will follow the NBA Global Games preseason games in October that will feature five teams — the Nets, Cavaliers, Heat, Kings, and Spurs — playing a series of games in Brazil, China, Germany, and Turkey.
The NBA continues its fascination with being "world-wide'' even after the retirement of Chancellor Stern. And I continue to believe that the NBA has enough domestic problems to fix without worrying about "fixing'' places like Mexico City and Turkey.
DONUT 4: The Finest Dentists in all the Land ...
Nobody Asked Me, But ...
Wait. That's not so.
Actually, I get asked about
McKinneyDentist.com
all the time, over the course of my 19-year partnership with Dr. Berlin and his colleagues. They are my family dentists, have been for almost the entirety of my kids' lives, and are The Finest Dentists in all the Land
Please give them a click or a call!
DONUT 5: What is a fan? …
Nobody Asked Me, But ...
We poke relentless fun at front-running Heat fans, and at first thought, the above photo drives us to do it again.
But wait. Who looks more flip-floppy with "the layered look'' here: The Heat Fan inside this guy or The Pacers Fan inside him?
DONUT 6: Quoteboard ...
Nobody Asked Me, But ...
Heat elder statesman Ray Allen was not amused by Lance Stephenson's Game 5 blowing-in-LeBron's-ear silliness. Allen was asked whether Lance was able to mentally push Heat players out of their game.
"No, it's just buffoonery," Allen said after Miami's 93-90 loss. "As players, we just are professional, we come out and do our jobs. He's young. He'll grow up."
Allen is right about the "buffoonery'' part. The "growing-up'' part? Less certainty there.
All of this, of course, is why Dallas' has its
"10-foot-pole'' level of interest in Lance Stephenson as a free agent.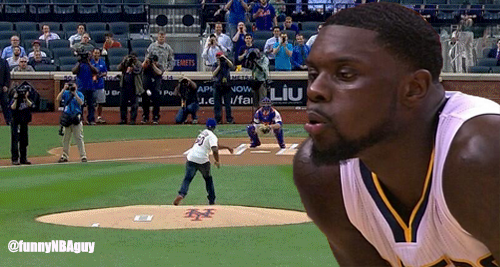 Meanwhile, the answer to Lance's buffoonery and 50 Cent's abysmal first-pitch throw-out may be blowin' in the wind.
DONUT 7: Thanks to our sponsors! …
Nobody Asked Me, But ...
I know what I'd like for Father's Day.
We can't do our thing around here without the help and friendship of sponsors like
Red Rock Bar & Grill
,
LS Wealth Strategies
and, coming up pretty soon,
Estilo Gaucho.
... which -- hint, hint -- is a perfect Father's Day venue.
Thanks, all!
DONUT 8: Stat O' The Day ...
Nobody Asked Me, But ...
That Heat loss to Miami marks the first time in LeBron's career that he had more combined turnovers and fouls (eight) than points (seven).
And that's not happening ever again ... right?
DONUT 9: Manziel and the Mavs …
Nobody Asked Me, But ...
You want
a zany fake sex scandal involving Johnny Manziel, Dirk Nowitzki, Mark Cuban, Jeanie Buss, Kate Moss and Nolan Ryan?
You asked for it.
DONUT 10: Clogged market? ...
Nobody Asked Me, But ...
Old pal Darren Collison of the Clippers will reportedly forgo the second year of his contract that would have paid him $1.9 million to become an unrestricted free agent this summer ... an interesting move when you examine the number of point guards that will hit the market on July 1.
This goes for Collison and for the
Dallas Mavericks
'
Devin Harris, too, as they ponder what the market will bear when the market is flooded.
DONUT 11: Mavs pre-draft workouts …
Nobody Asked Me, But ...
Mavs DB.com Premium Boards is THE place to exchange intelligent and in-the-know thoughts on the Mavs
as the fellas do here in collecting names of draft-elible kids being scheduled for workouts with the Mavs.
Good teamwork. Big brains. DB.com Premium Boards.
DONUT 12: The Final Word ...
Nobody Asked Me, But ...
It's not exactly an upset that Donald T. Sterling is "mentally incapacitated," right?