DONUT 1: Are the Mavs confident? ...
Are the
Dallas Mavericks
confident? You mean, "confident in themselves''? Always.
Driven by Mark Cuban, it could be argued that the Mavs are overconfident. Cocksure, even.
Are the Mavs confident that they nailed their Wednesday late-afternoon Melo pitch? Let's make sure we read this right.
After the meeting, "sources'' were quoted as saying the Mavs are intent on "running out the groundball'' (or words to that effect.)
"Running out the groundball'' is, of course, a baseball analogy. It is also an extremely familiar Cuban colloquialism. Meaning, obviously, the "sources'' are ... Mark Cuban.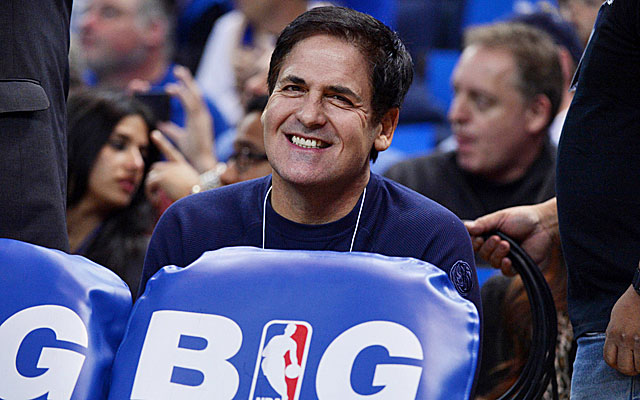 But "running out the groundball'' isn't a verbalized signal of Mavs confidence. Quite the opposite. It means "just in case.'' As in, "just in case we just hit a dribbler to short, we're going to run hard to first base ... just in case.''
So was it a dribbler to short ... that might end up somehow still being a "swing-for-the-fences'' success?
DONUT 2: No chance? ...
"What I can tell you is that we made this purely a business meeting," Mark Cuban wrote last night on his CyberDust app. "No tours. No banners. All basketball and business."
I've got
thoughts on the Mavs Melo Meeting that landed at Cuban's 26,000-square-foot mansion here.
And the question that lingers, yet again this summer: Is it smart to conduct a "straight business meeting'' with someone who wants the diva treatment? Should Dallas' message be the message Dallas oh-so-confidently wants to send ... or should Dallas' message be the message Carmelo Anthony oh-so wants to hear?
DONUT 3: The logjam ...
The Cavs may be pushing through the small-forward logjam by trying to steal Gordon Hayward from Utah. The Clippers might want to do the same on Paul Pierce with a Nets sign-and-trade.
The Mavs? They've keep their Dry Powder dry for this long. Three years! As Melo visits the Lakers and then the Knicks, they might as well keep it dry for three more days.
DONUT 4: Chasing in Chi-town ...
Reports out of Chicago say Carlos Boozer is on the outs, maybe in the form of a giveaway, maybe even in the form of amnesty. The Mavs have played that game before, and won, with a player with a similar situation (and even a similar style) in Elton Brand. We'll chase this.
DONUT 5: What about LeBron? ...
There are rumors about Rich Paul, LeBron's agent, preparing to conduct business meetings in his homebase town of Cleveland ... and that the Mavs are among the invitees.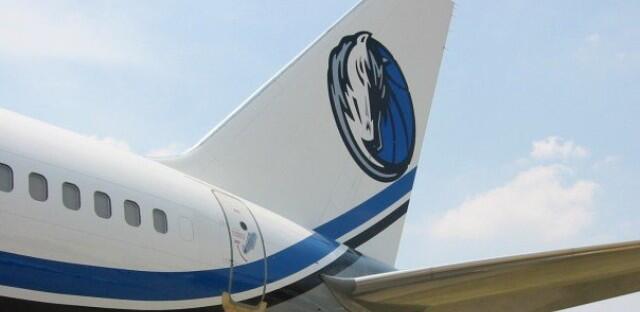 When are the Mavs jetting off to Cleveland? I've got no confirmation of this yet. Also worth noting: The Mavs have no particular history with Paul (in part because he's new to the biz). They do, however, have a long history of working with his mentor, Leon Rose. Rose represented Eddie Jones here, Eddy Curry here ...
And also represented Carmelo Anthony here on Wednesday.
DONUT 6: King James' court ...
There are reports suggesting that Dwyane Wade and Chris Bosh aren't fully in on King James' master plan to bring the entire gang back to Miami, with him making the bulk of the dough.
I'm not buying, and here's why:
Look at the course of James' teaming with Pat Riley in Miami. Has there ever been a misstep? A miscalculation? A misunderstanding?
There are some organizations that have earned the public's trust, I think, in being able to not just "swing for the fences'' but to actually get the ball into the bleachers.
Miami is preeminent among those big swingers.
DONUT 7: Thanks to our sponsors! ...
We can't do our thing around here without the help and friendship of sponsors like
Red Rock Bar & Grill
,
LS Wealth Strategies
and
Estilo Gaucho.
Give 'em a click or a call, please!
DONUT 8: Summer lovin' ...
Some names coming together for the Mavs Summer League squad in Vegas:
Guards Gal Mekel, Darius Adams, Dee Bost and Chris Goulding (the star from Australia). Forwards C.J Fair and Javon McCrea (6-8 250). Potentially guard Chris Smith (J.R.'s brother) is in the mix. I need to ask about Ricky Ledo. And DB.com is being told
that Bo McCalebb is on the Dallas radar.
More to come.
Also, Rodrigue Beaubois will be a Summer Laker and Josh Howard will be a Summer Pelican.
DONUT 9: The early bird ...
Not very often does the early bird win free agency ... and I'm really not sure what the hurry was on the likes of Livingston, Mills or Ben Gordon.
But the max to Kyrie? That's a Cavs win with a kid they feared might bolt. And Kyle Lowry staying in Toronto? That's a building block for a potentially good team.
The Raptors signed their point guard to a four-year, $48-mil deal. ... to a chorus of observers saying, "That's about right.''
The Raptors were sneaky-good last year, finishing with the No. 3 seed in the admittedly lousy East. This is a building block towards more of the same.
DONUT 10: The Mavs' trickle-down there? ...
Two trickles:
One, some of those backcourt deals set the bar awfully high for somebody like Devin Harris. Check this: Patty Mills back with the Spurs for $12 million over three years. C.J. Miles to Indiana (instead of Lance?!) for four years and $18 mil. Ben Gordon joins Orlando on a two-year, $9-mil deal. High bars. That's the downside.
Two, it becomes a game of Musical Chairs. Does Toronto's commitment to Lowry mean the 6-6 playmaker Vasquez comes available? Dallas can hope ...
DONUT 11: Melohead ...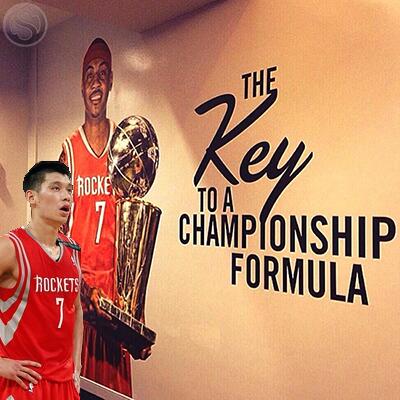 The Rockets' presentation to Melo featured lots of huge signage, quickie-photoshop stuff. And yes, that's Melo's head up there ...
Perched atop Jeremy Lin's jersey.
Lin wears No. 7 in Houston.
So this is classless. Or awkward. Or funny.
Or, if you are Lin ... classless.
"Luke 6:29,'' Lin tweeted. "If someone slaps you on one cheek, turn to them the other also. If someone takes your coat, do not withhold your shirt from them.''
And after being challenged for having the nerve to feel insulted, Lin responded:
"I'm entitled to stand up for myself and say I felt disrespected.''
If Melo becomes a Rocket, Lin will likely be shipped out to make financial room. So ... "slap his cheek''? What if Melo doesn't become a Rocket and Houston continues to employ Lin? What if Melo sees the event not as flattery ("My, what a big photoshop you have!'') but as a gaffe?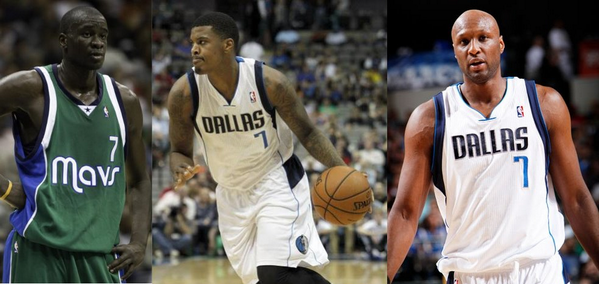 If the Mavs want to follow the Rockets' lead, they could quickly slap some Melohead atop the No. 7 bodies of Diop, Ledo or Odom, I suppose. Or, they could craft their pitch in a way that centers on winning basketball games.
Which, for better or worse, is what Dallas did.
DONUT 12: The Final Word ...
Tim Howard could've saved my first two marriages.