DONUT 1: It's tough to be Mavs-like ...
They'll keep banging on the door. They'll keep talking about next year. They'll keep talking about how the window is ajar, about how their supportive fan base will understand, about how they will re-load and not rebuild, about how they have a championship-caliber core and a transcendent star as their axis.
They are the Thunder and this is the way they will talk after having made the 2012 NBA Finals and lost, and now having fallen short in the ensuing two seasons. If you are cup-full, that is steady and high-level contention. If you are cup-empty, that is a "decline.''
That's not really how this works, though.
OKC, as brilliant as it is, has spent the last four years not being as good as the Heat, the Spurs and ... the Mavs.
It's
not easy being as good as the Mavs ... as I detail here.
DONUT 2: 'Vulturing' the Pacers ...
Indiana has been disproven as title contenders by the Heat. Now they face the fallout as the Pacers decide whether to keep this talented-but-dysfunctional gang together. That fallout could affect the fates of Stephenson and Hibbert and the Mavs' summer roster adjustments.
Can the
Dallas Mavericks
'vulture' their way to some value from the Pacers' carcass? Our man Jonathan Auping -- who has written extensively about both the Mavs and the Pacers --
breaks it down here.
Oh, and as to whether someone like Lance Stephenson might be left dangling? Read on ...
DONUT 3: Mavs' pre-draft workout scoop ...
NBA sources have aided DallasBasketball.com in assembling a list of the Mavs' pre-Draft invitees and wish list.
We're told to look for a 'heavy emphasis on 'two-way hybrid 3/4 players' and we're told the list of potential visitors includes at least two standouts who figure to be selected way ahead of Dallas' positions at Nos. 34 and 51.
The process will intensify in the coming days, we're told ...
and we've got an exclusive Mavs Premium report that names names with two star-quality players that suggest Dallas is willing to examine trading up.
And then there is this development on Monday: NBA sources tell DB.com that the Mavs' pre-draft workouts launched with a quartet of 7-foot center prospects. Only
Premium Mavs coverage can take you into the AAC basement as we meet a Texas kid, a sharpshooter, a giant Russian and Defensive POY Jordan Bachynski
who says, "I would love to play with and learn from the great Dirk Nowitzki.''
And this development on Tuesday, with
Jamil Wilson, Eric Moreland and Cory Jefferson joining Dallas' visit list (and a tricky detail.)
And one more, because if you haven't figured this out by now, we cover the Mavs in a fairly exhaustive manner: DB.com is breaking the international story of
Australian star guard Chris Goulding joining the Mavs Summer League squad.
Take our free 7-day tryout and be among the most informed Mavs followers on the planet. Come inside!
Oh, and when another group of prospects rolls into the AAC today ... we'll roll with 'em!
DONUT 4: The Finals, finally ...
The Miami Heat beat the Indiana Pacers in six games of the Eastern Conference Finals to reach the Finals. And in the West, the San Antonio Spurs beat the Oklahoma City Thunder in six games (meaning Dallas is the only team to push the Dpurs to seven so far.) Here is the official 2014 NBA Finals game schedule. All games televised on ABC and all times DFW.
Game 1 – Thu June 5 Miami at San Antonio 8:00PM
Game 2 – Sun June 8 Miami at San Antonio 7:00PM
Game 3 – Tue June 10 San Antonio at Miami 8:00PM
Game 4 – Thu June 12 San Antonio at Miami 8:00PM
Game 5 * Sun June 15 Miami at San Antonio 8:00PM
Game 6 * Tue June 17 San Antonio at Miami 8:00PM
Game 7 * Fri June 20 Miami at San Antonio 8:00PM
DONUT 5: 'We Love Our Boys In Yellow' ...
You often get frustrated by Dallas GM Donnie Nelson's platitude-laden answers to press-conference questions. (I don't get frustrated because after the press conference I go wash the man's truck and get real answers.)
But Paul George's end-of-series answer to the media about whether he'd like the Pacers to retain running mate Lance Stephenson speaks volumes:
And now you know why Donnie Nelson spews that "We Love Our Boys In Blue'' nonsense. It is the safe, polite, right thing to say ... lest you lose leverage in any manner by saying, "Um, I don't know.''
DONUT 6: One-click info ...
Looking for specifics in
DB.com Archives?
For instance, our collection of Exit Interview stuff from Rick, Dirk, Devin, Marion, Vince and more? In this example, simply type "exit'' into the search box and in one click, you have at your fingertips all the information you need!
DONUT 7: Thanks to our sponsors! ...
We can't do our thing around here without the help and friendship of sponsors like
Red Rock Bar & Grill
,
LS Wealth Strategies
and
Estilo Gaucho.
Give 'em a click or a call, please!
DONUT 8: Quoteboard ...
"We got four more to win. We'll do it this time." - Tim Duncan.
DONUT 9: Is Luol un-loved? ...
What if the Cavs want free-agent-to-be Loul Deng as little as we think he wants them?
The Cavs/Deng marriage was a poor fit from the start, and they organization bluffed publically in suggesting that a post-trade extension was in the works. Now the Akron Beacon Journal is reporting that Cleveland isn't in love with the idea of bringing him back.
Yahoo reports that the Cavs are interested in hiring old Mavs friend Adrian Griffin and that his Bulls ties could lure Deng back.
What are the Mavs hoping for here?
For the Deng/Cavs marriage to continue to look unsalvageable. We've got more details here.
DONUT 10: Hole in the roof ...
If the LA Clippers are worth $2 billion, what are the Dallas Cowboys worth? There is literally no ceiling on it, I bet; note that Ballmer won the Clippers by outbidding the nearest competitor by $400 million ... and that when it comes to a hypothetical Cowboys sale -- one that will not happen in our lifetimes as the Joneses are too smart to sell -- the sky on bids and re-bids and out-bids would be the limit.
One more reason they need that hole in that roof.
DONUT 11: Let's Play Ball! ...
Dirk Nowitzki and a generous helping of sports stars, local luminaries and famous faces will take to the diamond for Dirk Nowitzki's 2014 Heroes Celebrity Baseball Game, presented by Baylor Medical Center at Frisco, on Saturday, June 21, at 6:30 p.m. at the Dr Pepper Ballpark in Frisco.
Joining Dirk: Monta Ellis, Devin Harris, Jae Crowder, Bernard James, Shane Larkin and Ricky Ledo, Rick Carlisle, Donnie Nelson, Dez Bryant, Tyler Seguin. Michael Young; former Dallas Mavs Jason Terry and more.
Click
here for more info on the event.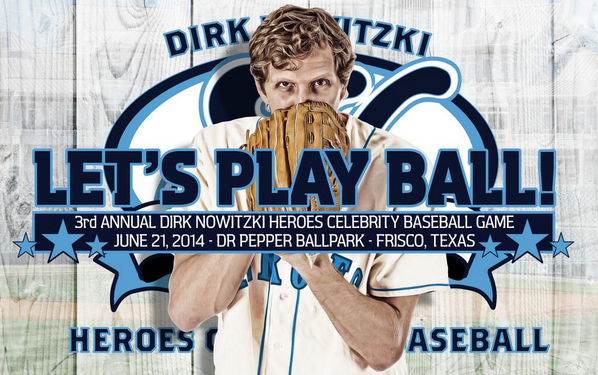 DONUT 12: The Final Word ...
The more you truly understand the depth of dysfunction in the Pacers locker room, the more you truly recognize what an achievement their East Finals berth really was.