DONUT 1: LA Asylum ...
The Lakers are reportedly waiting on hiring a coach until after LeBron James and his ilk make their Summer of '14 opt-out decisions. The logic, of course, is that Sammy Superstar could sign with LA and be given some level of authority in choosing his own coach.
Two reflections:
a) Has anybody informed Kobe that somebody on the roster besides Kobe might have shot-calling power? Oh-oh.
b) Doesn't this mean the inmates are running the asylum? Given the so-far reign of Jimmy Buss, some might suggest that's already the case.
DONUT 2: Mamas, Don't Let Your Babies ...
The Cowboys want to grow up to be ... the
Spurs
?
On the morning of the start of this week's minicamp, Cowboys coach Jason Garrett's meeting "theme'' was the NBA's world champions and how they "play the game the right way.''
"It's hard not to appreciate what they've done through these playoffs," Garrett said. "You can't deny brilliance. You can't deny excellence. That's what they are. They're the quintessential team.
"I don't care if you're a Miami Heat fan, if you're an LA Laker fan, if you're a
Dallas Mavericks
fan and you watch that series and how they played throughout the playoffs, it's hard not to have an appreciation for what they've done.
"The coach is as good as it gets. It's everything you aspire to when you're trying to build a franchise and build a team. There are a lot of lessons we can learn, a lot of lessons a lot of teams can learn because they do it the right way and they do it at the highest level."
Romo, like many of his teammates a hoops agreed.
"That's how basketball is meant to be played," Romo said. "It was just a great collection of individuals who came together as a team and you can just see it. It wasn't about any one person and that's what all teams are trying to get to. They just exemplified what you strive for in team sports. ... If you watch them, it's a great, beautiful game that they play."
There is such a thing as being both "nauseating" and "true."
This is that thing. And still we sing ...
DONUT 3: Daydream Believers ...
The Mavs have about about $31 mil in cap space, have a vacancy in the 'superstar heir' department, and have a message for Carmelo Anthony should he opt-out from the Knicks.
'If Carmelo would really love to come here, we'd love to have him,'
says none other than Dirk Nowitzki.
It's a dream that must be dreamed. Or dreamt. Or whatever. ... even as 'Melo is now saying he likes the direction Phil Jackson is taking with the Knicks.
DONUT 4: What happens in Vegas ...
The Mavs will tipoff Summer League play in Vegas on July 11.
We've got the story and the entire schedule here.
DONUT 5: Whiff! ...
I wrote that Dallas has a reputation for mining international gold.
David Lord pretty much destroys both that concept and me in
this multi-"whiff'' look at what the Mavs have really done lately in that Asset-Management department.
DONUT 6: One-click info ...
Looking for specifics in
DB.com Archives?
For instance, our collection of Exit Interview stuff from Rick, Dirk, Devin, Marion, Vince and more? In this example, simply type "exit'' into the search box and in one click, you have at your fingertips all the information you need!
DONUT 7: The "guts''? ...
Even without the absolute certainty of LeBron' return, and even with the absolute possibility that Miami doesn't necessarily wish Wade and Bosh to return, Pat Riley's Thursday press conference turned the "heat'' in another direction.
"You've got to stay together, if you've got the guts," Riley claims to have told each of his star in their exit interviews. "You don't find the first door and run out of it if you have an opportunity. This is four years now into this era, this team. Four finals - it's only been done three other times before - and two championships. From day one to the end, it was like a Broadway show. It sort of ran out of steam. And we need to retool. We don't need to rebuild. We need to retool.
"And that's what we're going to do."
All that, plus Coach Erik Spoelstra, said Riles, must "reinvent himself."
That's a lot of disarray, a lot of room for a lack of "guts,'' for a team in the middle of a semi-dynastic run.
By the way: If LeBron and Bosh and whomever really had "the guts'' to not "run out of it,'' wouldn't that mean those two guys, respectively, would've never department Cleveland and Toronto?
DONUT 8: Love to the Bay? ...
Remember, for a Kevin Love trade to be fully operable, he must be willing to sign long-term with his new club.
The Golden State Warriors look pretty fully operable here. None other than Mychal Thompson, the father of Warriors shooting guard Klay Thompson, says Klay is going to the Timberwolves as the centerpiece (with David Lee and a No. 1 also involved) of a trade for Love.
That sort of offer could really just be the beginning of negotiations. But needless to say, that package swamps anything Dallas could offer for the coveted Love.
DONUT 9: Dirk's Heroes ...
We hope you're planning to join DB.com and 105.3 The Fan and the whole gang for Dirk's Heroes Game this weekend.
Here's
all the info on what is a fun and special event.
C'mon out!
By the way: Dirk and I visited this week on a last-minute arrangement to help the charity and I am so impressed that Nowitzki is so very hands-on with this thing. He rolled up his sleeves, dug in, and worked with me to create a special moment at the event.
Thank you, Dirk.
DONUT 10: Hello to our sponsors! ...
We can't do our thing around here without the help and friendship of sponsors like
Red Rock Bar & Grill
,
LS Wealth Strategies
and
Estilo Gaucho.
Give 'em a click or a call, please!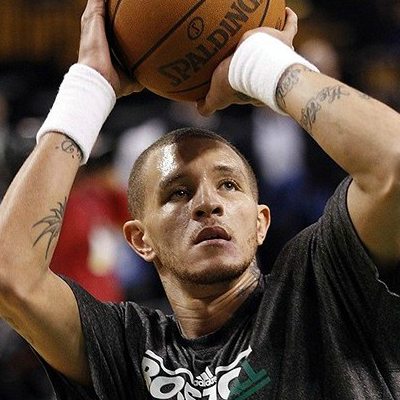 DONUT 11: Delonte's return ...
Ex-Mavs guard Delonte West has been out of the NBA for two years but will reportedly surface in the Las Vegas Summer League as a member of the Clippers. There's a sensible connection there: Doc Rivers coached him in Boston and they've maintained a relationship.
DONUT 12: The Final Word ...
Mavs coach Rick Carlisle was asked on ESPN Radio about the benefits of Spurs coach Gregg Popovich retiring in order to ease Dallas' path to success.
"No,'' Rick said. "We want to beat their ass."